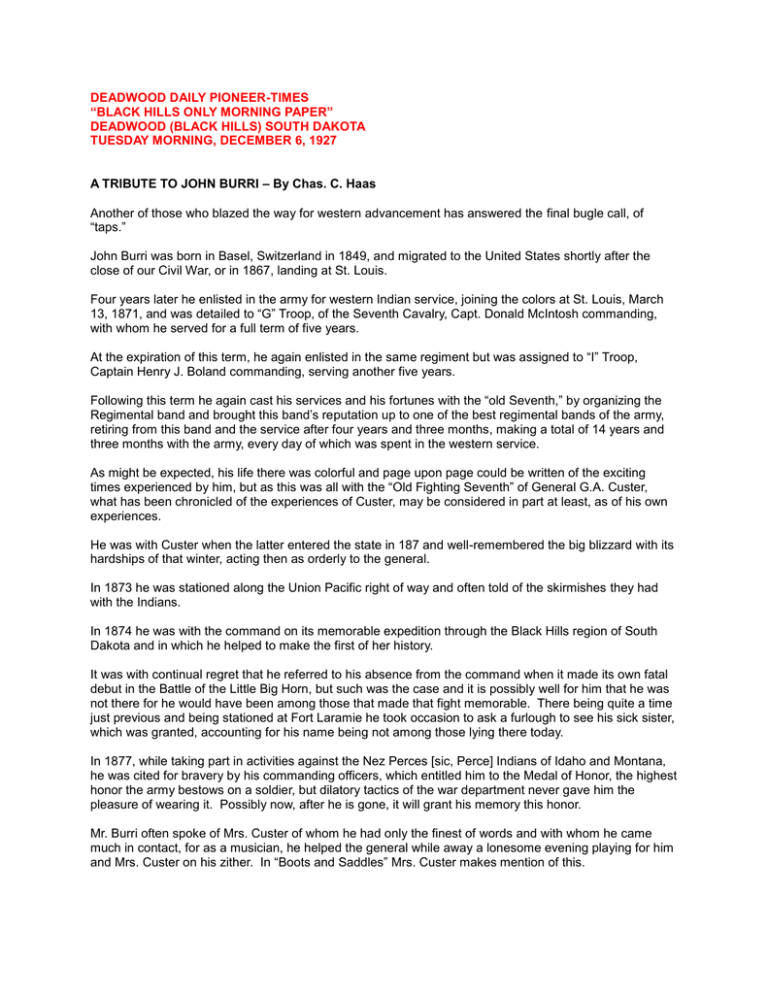 DEADWOOD DAILY PIONEER-TIMES
"BLACK HILLS ONLY MORNING PAPER"
DEADWOOD (BLACK HILLS) SOUTH DAKOTA
TUESDAY MORNING, DECEMBER 6, 1927
A TRIBUTE TO JOHN BURRI – By Chas. C. Haas
Another of those who blazed the way for western advancement has answered the final bugle call, of
"taps."
John Burri was born in Basel, Switzerland in 1849, and migrated to the United States shortly after the
close of our Civil War, or in 1867, landing at St. Louis.
Four years later he enlisted in the army for western Indian service, joining the colors at St. Louis, March
13, 1871, and was detailed to "G" Troop, of the Seventh Cavalry, Capt. Donald McIntosh commanding,
with whom he served for a full term of five years.
At the expiration of this term, he again enlisted in the same regiment but was assigned to "I" Troop,
Captain Henry J. Boland commanding, serving another five years.
Following this term he again cast his services and his fortunes with the "old Seventh," by organizing the
Regimental band and brought this band's reputation up to one of the best regimental bands of the army,
retiring from this band and the service after four years and three months, making a total of 14 years and
three months with the army, every day of which was spent in the western service.
As might be expected, his life there was colorful and page upon page could be written of the exciting
times experienced by him, but as this was all with the "Old Fighting Seventh" of General G.A. Custer,
what has been chronicled of the experiences of Custer, may be considered in part at least, as of his own
experiences.
He was with Custer when the latter entered the state in 187 and well-remembered the big blizzard with its
hardships of that winter, acting then as orderly to the general.
In 1873 he was stationed along the Union Pacific right of way and often told of the skirmishes they had
with the Indians.
In 1874 he was with the command on its memorable expedition through the Black Hills region of South
Dakota and in which he helped to make the first of her history.
It was with continual regret that he referred to his absence from the command when it made its own fatal
debut in the Battle of the Little Big Horn, but such was the case and it is possibly well for him that he was
not there for he would have been among those that made that fight memorable. There being quite a time
just previous and being stationed at Fort Laramie he took occasion to ask a furlough to see his sick sister,
which was granted, accounting for his name being not among those lying there today.
In 1877, while taking part in activities against the Nez Perces [sic, Perce] Indians of Idaho and Montana,
he was cited for bravery by his commanding officers, which entitled him to the Medal of Honor, the highest
honor the army bestows on a soldier, but dilatory tactics of the war department never gave him the
pleasure of wearing it. Possibly now, after he is gone, it will grant his memory this honor.
Mr. Burri often spoke of Mrs. Custer of whom he had only the finest of words and with whom he came
much in contact, for as a musician, he helped the general while away a lonesome evening playing for him
and Mrs. Custer on his zither. In "Boots and Saddles" Mrs. Custer makes mention of this.
After his discharge from the army, which took place at Fort Meade in 1885, he shortly thereafter took up
his residence on a homestead along the western slope of Bare [sic, Bear] Butte mountain, where he lived
until he move to Whitewood in 1899, and where he has since resided in one of the coziest homes of that
little town and which was always found kept in the strictest military order.
Along his civil honors may be cited his yearly presence in the museum building during the "Days of 76"
celebration at Deadwood, where he helped to entertain the visitors to the Black Hills with sketches of his
early life.
For the past several years he has been elected "Captain" of the State of South Dakota organization
known as "Indian Fighters."
A full military funeral will be given him by the command at Fort Meade, as well as all honors of the Pioneer
society of which he was a charter member, and in whose honor he composed a piece of music, since
accepted as their official air and named "The Black Hills March" which will be very likely played at his
funeral by the Ft. Meade band.