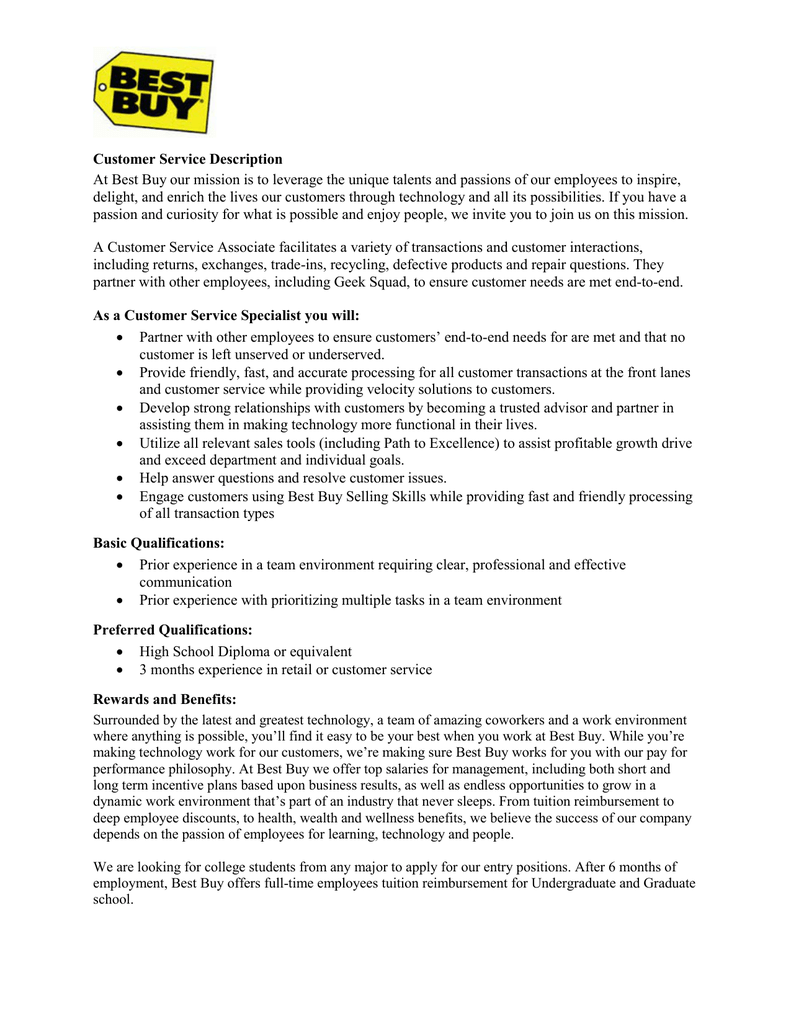 Customer Service Description
At Best Buy our mission is to leverage the unique talents and passions of our employees to inspire,
delight, and enrich the lives our customers through technology and all its possibilities. If you have a
passion and curiosity for what is possible and enjoy people, we invite you to join us on this mission.
A Customer Service Associate facilitates a variety of transactions and customer interactions,
including returns, exchanges, trade-ins, recycling, defective products and repair questions. They
partner with other employees, including Geek Squad, to ensure customer needs are met end-to-end.
As a Customer Service Specialist you will:
• Partner with other employees to ensure customers' end-to-end needs for are met and that no
customer is left unserved or underserved.
• Provide friendly, fast, and accurate processing for all customer transactions at the front lanes
and customer service while providing velocity solutions to customers.
• Develop strong relationships with customers by becoming a trusted advisor and partner in
assisting them in making technology more functional in their lives.
• Utilize all relevant sales tools (including Path to Excellence) to assist profitable growth drive
and exceed department and individual goals.
• Help answer questions and resolve customer issues.
• Engage customers using Best Buy Selling Skills while providing fast and friendly processing
of all transaction types
Basic Qualifications:
• Prior experience in a team environment requiring clear, professional and effective
communication
• Prior experience with prioritizing multiple tasks in a team environment
Preferred Qualifications:
• High School Diploma or equivalent
• 3 months experience in retail or customer service
Rewards and Benefits:
Surrounded by the latest and greatest technology, a team of amazing coworkers and a work environment
where anything is possible, you'll find it easy to be your best when you work at Best Buy. While you're
making technology work for our customers, we're making sure Best Buy works for you with our pay for
performance philosophy. At Best Buy we offer top salaries for management, including both short and
long term incentive plans based upon business results, as well as endless opportunities to grow in a
dynamic work environment that's part of an industry that never sleeps. From tuition reimbursement to
deep employee discounts, to health, wealth and wellness benefits, we believe the success of our company
depends on the passion of employees for learning, technology and people.
We are looking for college students from any major to apply for our entry positions. After 6 months of
employment, Best Buy offers full-time employees tuition reimbursement for Undergraduate and Graduate
school.