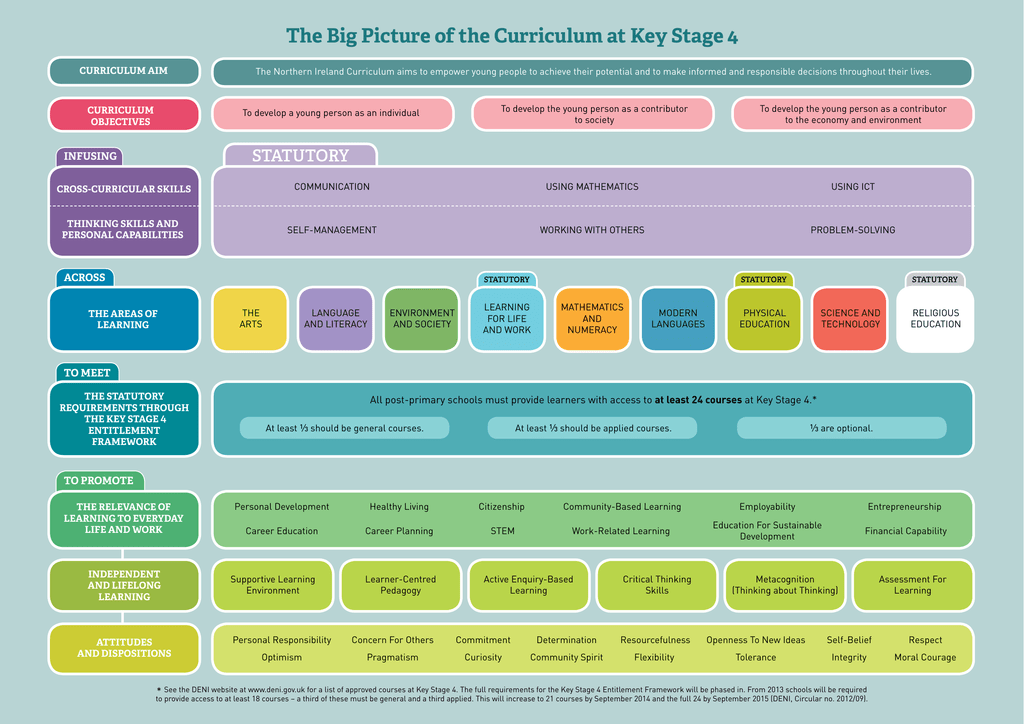 The Big Picture of the Curriculum at Key Stage 4
CURRICULUM AIM
The Northern Ireland Curriculum aims to empower young people to achieve their potential and to make informed and responsible decisions throughout their lives.
To develop a young person as an individual
To develop the young person as a contributor
to society
To develop the young person as a contributor
to the economy and environment
CROSS-CURRICULAR SKILLS
COMMUNICATION
USING MATHEMATICS
USING ICT
THINKING SKILLS AND
PERSONAL CAPABILITIES
SELF-MANAGEMENT
WORKING WITH OTHERS
PROBLEM-SOLVING
CURRICULUM
OBJECTIVES
INFUSING
ACROSS
THE AREAS OF
LEARNING
THE
ARTS
LANGUAGE
AND LITERACY
ENVIRONMENT
AND SOCIETY
LEARNING
FOR LIFE
AND WORK
MATHEMATICS
AND
NUMERACY
MODERN
LANGUAGES
PHYSICAL
EDUCATION
SCIENCE AND
TECHNOLOGY
RELIGIOUS
EDUCATION
TO MEET
THE STATUTORY
REQUIREMENTS THROUGH
THE KEY STAGE 4
ENTITLEMENT
FRAMEWORK
All post-primary schools must provide learners with access to at least 24 courses at Key Stage 4.*
At least 1/3 should be general courses.
At least 1/3 should be applied courses.
1/3
are optional.
TO PROMOTE
THE RELEVANCE OF
LEARNING TO EVERYDAY
LIFE AND WORK
INDEPENDENT
AND LIFELONG
LEARNING
ATTITUDES
AND DISPOSITIONS
Personal Development
Healthy Living
Citizenship
Community-Based Learning
Employability
Entrepreneurship
Career Education
Career Planning
STEM
Work-Related Learning
Education For Sustainable
Development
Financial Capability
Supportive Learning
Environment
Learner-Centred
Pedagogy
Active Enquiry-Based
Learning
Critical Thinking
Skills
Metacognition
(Thinking about Thinking)
Assessment For
Learning
Personal Responsibility
Concern For Others
Commitment
Determination
Resourcefulness
Openness To New Ideas
Self-Belief
Respect
Optimism
Pragmatism
Curiosity
Community Spirit
Flexibility
Tolerance
Integrity
Moral Courage
* See the DENI website at www.deni.gov.uk for a list of approved courses at Key Stage 4. The full requirements for the Key Stage 4 Entitlement Framework will be phased in. From 2013 schools will be required
to provide access to at least 18 courses – a third of these must be general and a third applied. This will increase to 21 courses by September 2014 and the full 24 by September 2015 (DENI, Circular no. 2012/09).