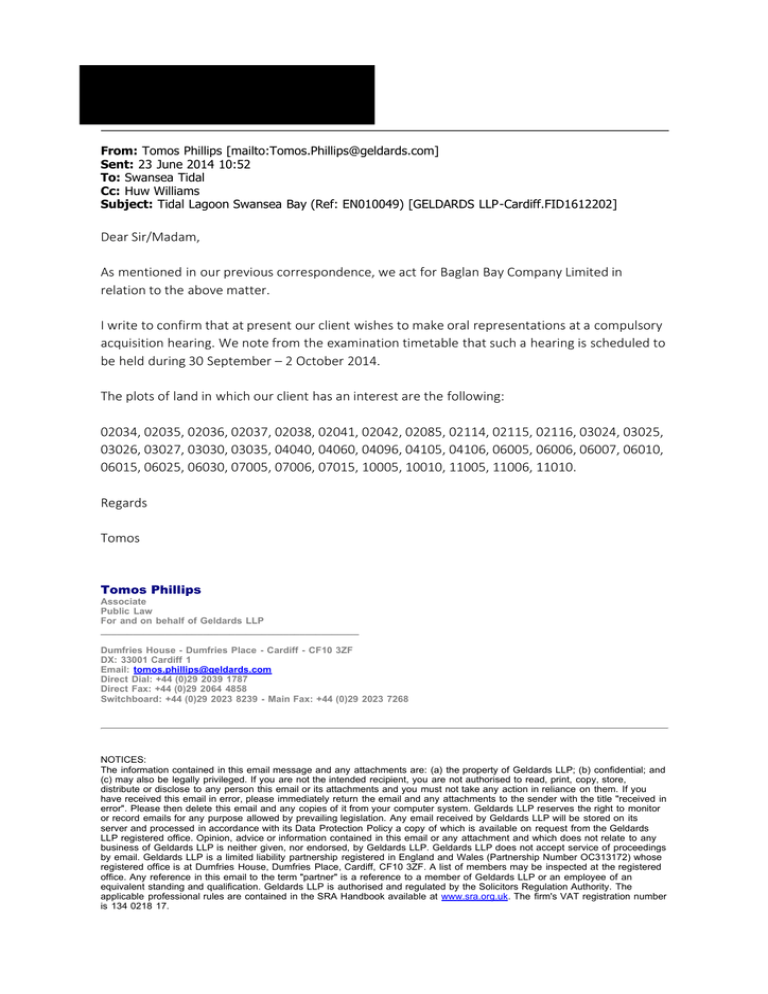 From: Tomos Phillips [mailto:Tomos.Phillips@geldards.com]
Sent: 23 June 2014 10:52
To: Swansea Tidal
Cc: Huw Williams
Subject: Tidal Lagoon Swansea Bay (Ref: EN010049) [GELDARDS LLP-Cardiff.FID1612202]
Dear Sir/Madam,
As mentioned in our previous correspondence, we act for Baglan Bay Company Limited in
relation to the above matter.
I write to confirm that at present our client wishes to make oral representations at a compulsory
acquisition hearing. We note from the examination timetable that such a hearing is scheduled to
be held during 30 September – 2 October 2014.
The plots of land in which our client has an interest are the following:
02034, 02035, 02036, 02037, 02038, 02041, 02042, 02085, 02114, 02115, 02116, 03024, 03025,
03026, 03027, 03030, 03035, 04040, 04060, 04096, 04105, 04106, 06005, 06006, 06007, 06010,
06015, 06025, 06030, 07005, 07006, 07015, 10005, 10010, 11005, 11006, 11010.
Regards
Tomos
Tomos Phillips
Associate
Public Law For and on behalf of Geldards LLP
________________________________________________
Dumfries House - Dumfries Place - Cardiff - CF10 3ZF
DX: 33001 Cardiff 1
Email: tomos.phillips@geldards.com
Direct Dial: +44 (0)29 2039 1787
Direct Fax: +44 (0)29 2064 4858 Switchboard: +44 (0)29 2023 8239 - Main Fax: +44 (0)29 2023 7268
NOTICES:
The information contained in this email message and any attachments are: (a) the property of Geldards LLP; (b) confidential; and
(c) may also be legally privileged. If you are not the intended recipient, you are not authorised to read, print, copy, store,
distribute or disclose to any person this email or its attachments and you must not take any action in reliance on them. If you
have received this email in error, please immediately return the email and any attachments to the sender with the title "received in
error". Please then delete this email and any copies of it from your computer system. Geldards LLP reserves the right to monitor
or record emails for any purpose allowed by prevailing legislation. Any email received by Geldards LLP will be stored on its
server and processed in accordance with its Data Protection Policy a copy of which is available on request from the Geldards
LLP registered office. Opinion, advice or information contained in this email or any attachment and which does not relate to any
business of Geldards LLP is neither given, nor endorsed, by Geldards LLP. Geldards LLP does not accept service of proceedings
by email. Geldards LLP is a limited liability partnership registered in England and Wales (Partnership Number OC313172) whose
registered office is at Dumfries House, Dumfries Place, Cardiff, CF10 3ZF. A list of members may be inspected at the registered
office. Any reference in this email to the term "partner" is a reference to a member of Geldards LLP or an employee of an
equivalent standing and qualification. Geldards LLP is authorised and regulated by the Solicitors Regulation Authority. The
applicable professional rules are contained in the SRA Handbook available at www.sra.org.uk. The firm's VAT registration number
is 134 0218 17.
This email was scanned by the Government Secure Intranet anti-virus service supplied by
Vodafone in partnership with Symantec. (CCTM Certificate Number 2009/09/0052.) In
case of problems, please call your organisations IT Helpdesk.
Communications via the GSi may be automatically logged, monitored and/or recorded for
legal purposes.