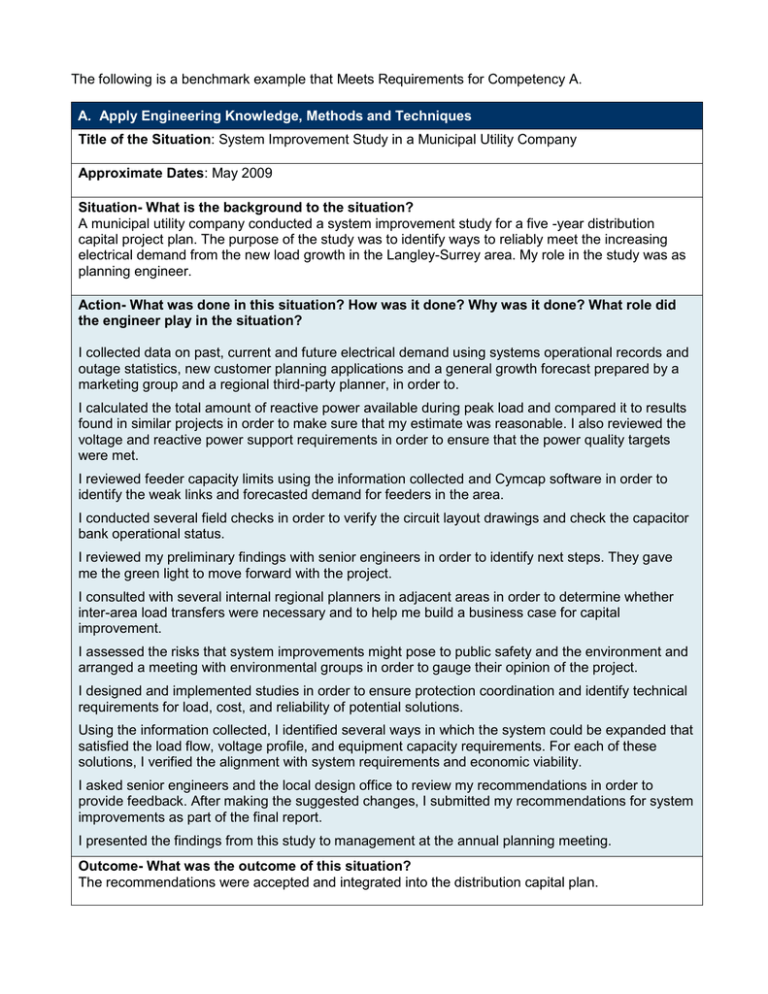 The following is a benchmark example that Meets Requirements for Competency A.
A. Apply Engineering Knowledge, Methods and Techniques
Title of the Situation: System Improvement Study in a Municipal Utility Company
Approximate Dates: May 2009
Situation- What is the background to the situation?
A municipal utility company conducted a system improvement study for a five -year distribution
capital project plan. The purpose of the study was to identify ways to reliably meet the increasing
electrical demand from the new load growth in the Langley-Surrey area. My role in the study was as
planning engineer.
Action- What was done in this situation? How was it done? Why was it done? What role did
the engineer play in the situation?
I collected data on past, current and future electrical demand using systems operational records and
outage statistics, new customer planning applications and a general growth forecast prepared by a
marketing group and a regional third-party planner, in order to.
I calculated the total amount of reactive power available during peak load and compared it to results
found in similar projects in order to make sure that my estimate was reasonable. I also reviewed the
voltage and reactive power support requirements in order to ensure that the power quality targets
were met.
I reviewed feeder capacity limits using the information collected and Cymcap software in order to
identify the weak links and forecasted demand for feeders in the area.
I conducted several field checks in order to verify the circuit layout drawings and check the capacitor
bank operational status.
I reviewed my preliminary findings with senior engineers in order to identify next steps. They gave
me the green light to move forward with the project.
I consulted with several internal regional planners in adjacent areas in order to determine whether
inter-area load transfers were necessary and to help me build a business case for capital
improvement.
I assessed the risks that system improvements might pose to public safety and the environment and
arranged a meeting with environmental groups in order to gauge their opinion of the project.
I designed and implemented studies in order to ensure protection coordination and identify technical
requirements for load, cost, and reliability of potential solutions.
Using the information collected, I identified several ways in which the system could be expanded that
satisfied the load flow, voltage profile, and equipment capacity requirements. For each of these
solutions, I verified the alignment with system requirements and economic viability.
I asked senior engineers and the local design office to review my recommendations in order to
provide feedback. After making the suggested changes, I submitted my recommendations for system
improvements as part of the final report.
I presented the findings from this study to management at the annual planning meeting.
Outcome- What was the outcome of this situation?
The recommendations were accepted and integrated into the distribution capital plan.
In An Example that Meets Requirements:
The required behaviours are adequately demonstrated.
The applicant applies the competency with minimal guidance, in the full range of typical
engineering situations
The applicant demonstrates acceptable knowledge of engineering concepts and approaches
The applicant demonstrates the required behaviours to perform safely as a licensed professional
engineer
A. Apply Engineering Knowledge, Methods and Techniques
Definition
Solves engineering problems using appropriate theoretical and practical engineering principles.
Behavioural Indicators
Defines potential issues or opportunities.
Collects and analyses relevant data.
Identifies alternate solutions based on feasibility, technology and economic assessments.
Develops solutions that achieve system requirements and specifications.
Selects and applies appropriate testing methodologies and techniques to verify solutions meet
specifications, codes and standards.
Implements engineering solutions.
Evaluates effectiveness of engineering solutions at any stage of the task lifecycle (i.e., practicality,
constructability).
Note: This competency is about assessing an applicant's ability to solve engineering problems (by
identifying alternate solutions) and whether they have been exposed to the design lifecycle. An
engineering problem in this context is defined as: a complex, multi-variable problem with an unknown
outcome that cannot be solved by using a template, where the proposed solution demonstrates
innovation.
This Example Meets Requirements Because:
The applicant demonstrated key behavioural behaviours associated with the ability to apply
Engineering Knowledge, Methods and Techniques.
The applicant collected and analyzed data on system requirements, including historical data, data
from computer simulations, and field studies. The applicant identified solutions based on feasibility,
technology and economic assessments. He/she also applied appropriate testing methodologies to
verify that solutions meet the specifications.
The project represented a typical engineering problem of moderate complexity.
The applicant worked with minimal guidance and consulted with senior colleagues when required.