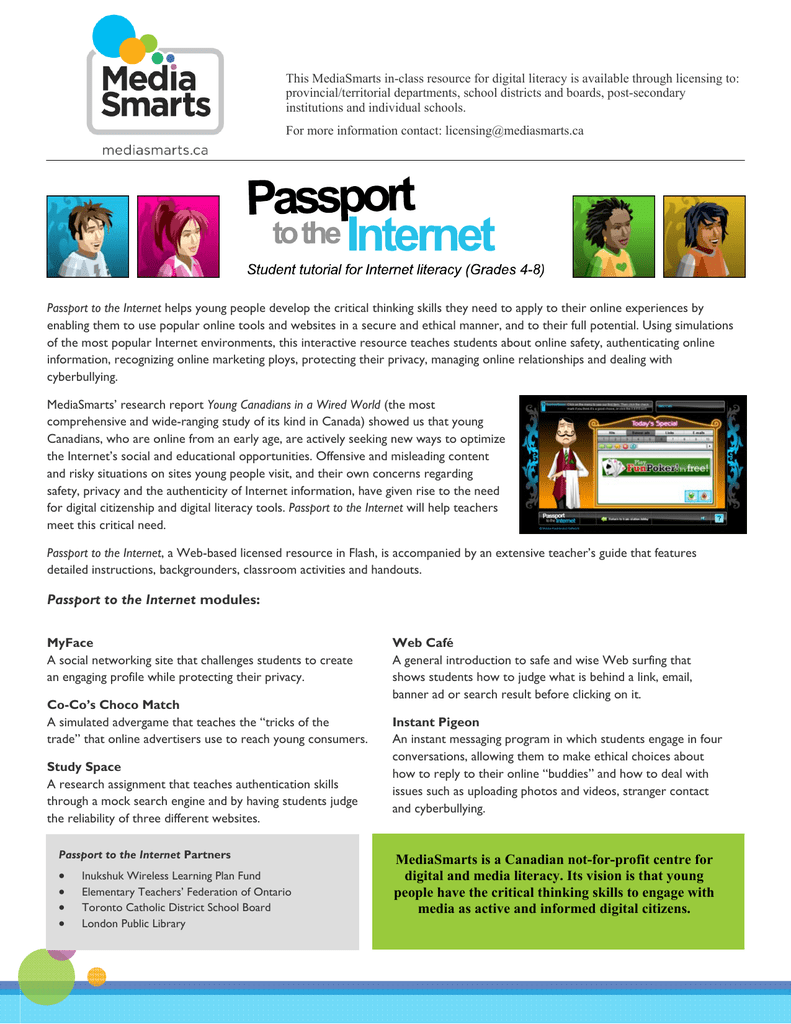 This MediaSmarts in-class resource for digital literacy is available through licensing to:
provincial/territorial departments, school districts and boards, post-secondary
institutions and individual schools.
For more information contact: [email protected]
Passport to the Internet helps young people develop the critical thinking skills they need to apply to their online experiences by
enabling them to use popular online tools and websites in a secure and ethical manner, and to their full potential. Using simulations
of the most popular Internet environments, this interactive resource teaches students about online safety, authenticating online
information, recognizing online marketing ploys, protecting their privacy, managing online relationships and dealing with
cyberbullying.
MediaSmarts' research report Young Canadians in a Wired World (the most
comprehensive and wide-ranging study of its kind in Canada) showed us that young
Canadians, who are online from an early age, are actively seeking new ways to optimize
the Internet's social and educational opportunities. Offensive and misleading content
and risky situations on sites young people visit, and their own concerns regarding
safety, privacy and the authenticity of Internet information, have given rise to the need
for digital citizenship and digital literacy tools. Passport to the Internet will help teachers
meet this critical need.
Passport to the Internet, a Web-based licensed resource in Flash, is accompanied by an extensive teacher's guide that features
detailed instructions, backgrounders, classroom activities and handouts.
Passport to the Internet modules:
MyFace
A social networking site that challenges students to create
an engaging profile while protecting their privacy.
Co-Co's Choco Match
A simulated advergame that teaches the "tricks of the
trade" that online advertisers use to reach young consumers.
Study Space
A research assignment that teaches authentication skills
through a mock search engine and by having students judge
the reliability of three different websites.
Passport to the Internet Partners




Inukshuk Wireless Learning Plan Fund
Elementary Teachers' Federation of Ontario
Toronto Catholic District School Board
London Public Library
Web Café
A general introduction to safe and wise Web surfing that
shows students how to judge what is behind a link, email,
banner ad or search result before clicking on it.
Instant Pigeon
An instant messaging program in which students engage in four
conversations, allowing them to make ethical choices about
how to reply to their online "buddies" and how to deal with
issues such as uploading photos and videos, stranger contact
and cyberbullying.
MediaSmarts is a Canadian not-for-profit centre for
digital and media literacy. Its vision is that young
people have the critical thinking skills to engage with
media as active and informed digital citizens.