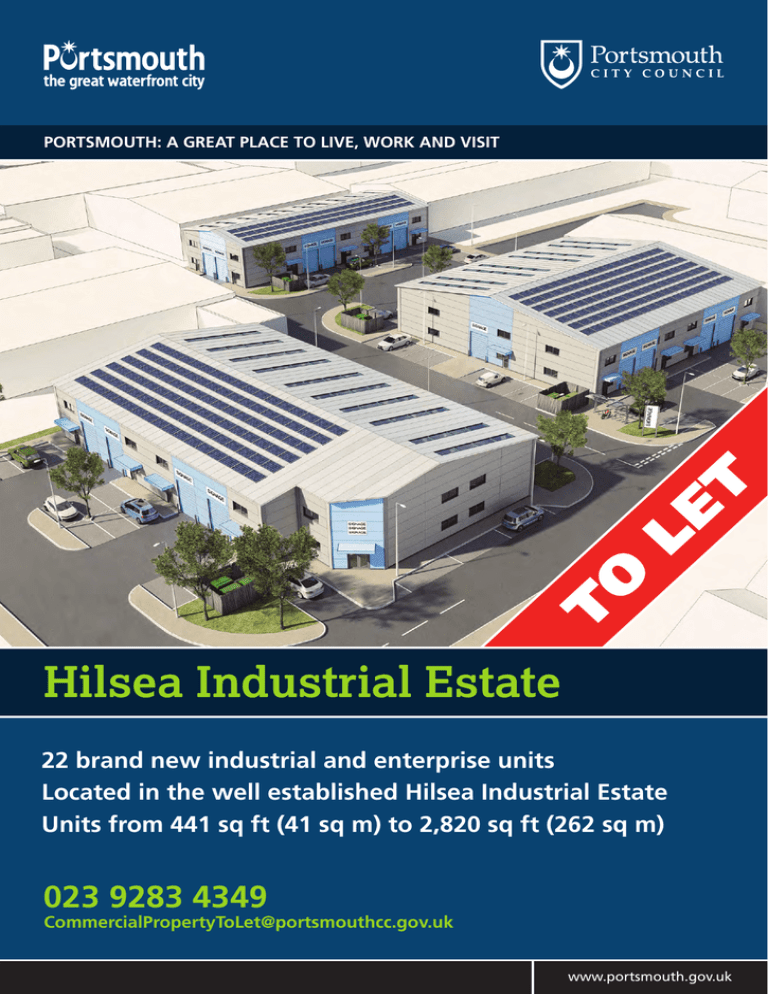 T
O
LE
T
PORTSMOUTH: A GREAT PLACE TO LIVE, WORK AND VISIT
Hilsea Industrial Estate
22 brand new industrial and enterprise units
Located in the well established Hilsea Industrial Estate
Units from 441 sq ft (41 sq m) to 2,820 sq ft (262 sq m)
023 9283 4349
[email protected]
www.portsmouth.gov.uk
Hilsea Industrial Estate
Hilsea Industrial Estate
WC
17
DE
UN
R
WC
FE
F
RO
WC
WC
19
UN
20
WC
FF
O
22
ER
11DER
16
ER
F
OF
UN
10
9
8
WC
WC
R
E
FF
RO
DE
ER
WC
WC
LIMBERLINE SPUR
WC
ER
12
15
WC
D
UN
DE
UN
18
WC
ER
13R OFF
14
F
OF
21
ER
ND
U
NEW ACCESS ROAD
UNIT A NDER
U
UNIT 1
UNIT 2
UNIT 3
UNIT U
4 NDER
UNIT 5
UNIT U
6/7
NDER
PERMITTED USE
• Unit A has consent for A3 or A5 hot food use
• All other units have B1(b), B1(c), B2 and B8 consent
TERMS
• Leases of three or five years
• Longer terms available to particular tenants on request
BUILDING 2
UNIT 8
UNIT 9
UNIT 10NDER
U
UNIT 11NDER
U
UNIT 12
UNIT 13NDER
U
UNIT 14
UNIT 15
UNIT U
16NDER
BUILDING 3
UNIT 17NDER
U
UNIT 18
UNIT 19
UNIT 20
UNIT 21NDER
U
UNIT 22NDER
U
sq m
85
OFFER
101
102
102
E
98
OFF R
188
R
E
F
F
O
262
sq m
76
76
76
OFFER
R
OFFE127
127
R
OFFE144
144
127
R
E
F
F
O
127
sq m
R
OFFE104
109
109
108
41
OFFER
R
OFFE 41
sq ft
915
1087
1098
1098
1055
2024
2820
R
FE
5
OF
6/7
ER
D
UN
M27
WC
A27
R
FE
4
R
FE
3
2
1
F
RO
Hilsea Industrial Estate
A
DE
UN
COSHAM
STATION
F
WC
UN
D
O
ER
WC WC
M275
WC
HILSEA
STATION
sq ft
818
818
818
1367
1367
1550
1550
1367
1367
sq ft
1119
1173
1173
1162
441
441
Sizes are approximate and have been rounded
© Crown Copyright and database right 2015.
Ordnance Survey licence number 100019671.
BUILDING 1
• Brand new construction
• High quality specification - BREEAM rating very good
• Power floated concrete floor 30kn/sq m
• Allocated car parking
• 6m eaves height
• Sectional electric loading doors (3.5m high)
• Three phase power
• Flexible diversification of power capacity across the
estate to suit tenant need
• Gas supply available (tenant to commission)
• Steel portal frame construction
• Removable internal party walls for future expansion
• CCTV
• Solar panel array (on building 1 initially)
• Landscaping
• Units include WC, kitchenette, bike store and office
(offices not included in smallest units)
• Floor slab design allows for installation of free standing
mezzanines (tenant to commission)
• Ducts for phone and broadband
WC
SPECIFICATION
PORTSMOUTH
INTERNATIONAL
PORT
LIMBERLINE ROAD
PORTSMOUTH
AND SOUTHSEA
STATION
We want to give local
businesses the opportunity
to flourish by providing
bespoke, modern units
for which there is a huge
demand in this area.
Cllr Luke Stubbs, Portsmouth City Council cabinet member for
planning, regeneration and economic development
PORTSMOUTH
HARBOUR
STATION
FRATTON
STATION
LOCATION
• Limberline Road, PO3 5JW
• Established freight and distribution location
• 0.5 miles from M27
• 0.5 miles from Hilsea Train Station
• 3 miles from Portsmouth International Port
Hilsea Industrial Estate
äà
åã
You can get this information in large
print, Braille, audio or in another
language by calling 023 9283 4349
Produced by: [email protected] • Published: June 2016 • Ref: 96.40
www.portsmouth.gov.uk
Portsmouth City Council hereby gives notice that to the extent
permitted by law (i) the particulars are set out as a general
outline only for the guidance of intending purchasers or
lessees and do not constitute part of an offer or contract.
(ii) all descriptions, dimensions, references to conditions and
necessary permissions for use and occupation, and other details
are given in good faith and are believed to be correct, but
their accuracy is not guaranteed and any intending purchaser,
lessee, mortgagee or other interested person should not rely
on them as statements or representations of fact and must
satisfy themselves by inspection, enquiries or otherwise as to the
correctness of each of them. (iii) no person in the employment of
Portsmouth City Council has the authority to make or give any
representation of warranty whatever in relation to this property.