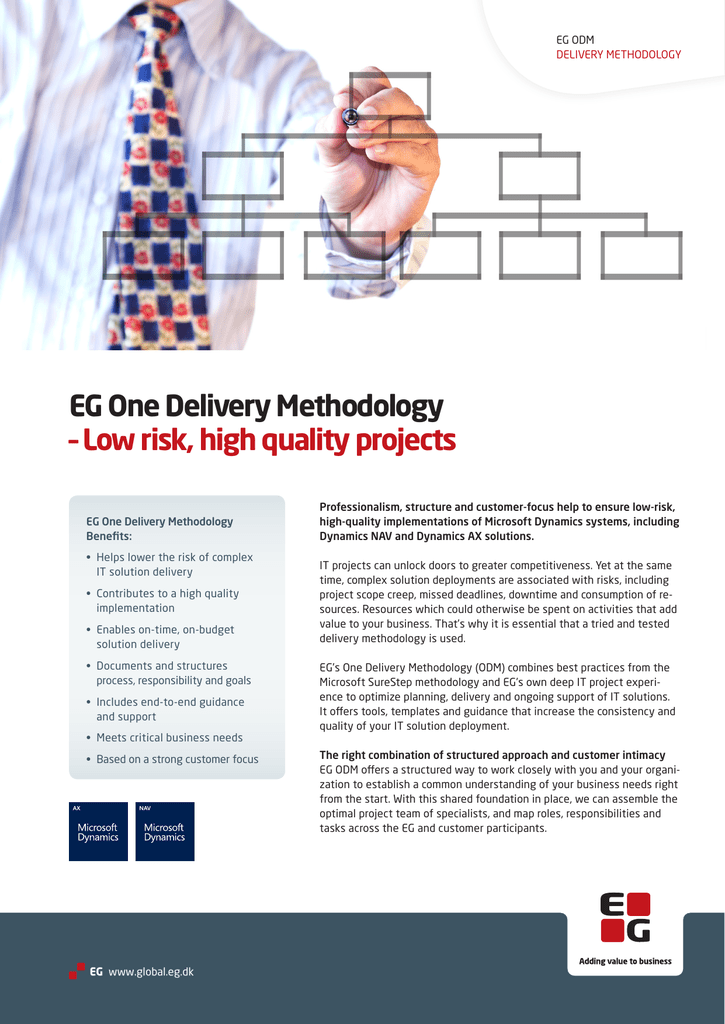 EG ODM
DELIVERY METHODOLOGY
EG One Delivery Methodology
– Low risk, high quality projects
EG One Delivery Methodology
Benefits:
• Helps lower the risk of complex
IT solution delivery
• Contributes to a high quality
implementation
• Enables on-time, on-budget
solution delivery
• Documents and structures
process, responsibility and goals
• Includes end-to-end guidance
and support
• Meets critical business needs
• Based on a strong customer focus
EG www.global.eg.dk
Professionalism, structure and customer-focus help to ensure low-risk,
high-quality implementations of Microsoft Dynamics systems, including
Dynamics NAV and Dynamics AX solutions.
IT projects can unlock doors to greater competitiveness. Yet at the same
time, complex solution deployments are associated with risks, including
project scope creep, missed deadlines, downtime and consumption of resources. Resources which could otherwise be spent on activities that add
value to your business. That's why it is essential that a tried and tested
delivery methodology is used.
EG's One Delivery Methodology (ODM) combines best practices from the
Microsoft SureStep methodology and EG's own deep IT project experience to optimize planning, delivery and ongoing support of IT solutions.
It offers tools, templates and guidance that increase the consistency and
quality of your IT solution deployment.
The right combination of structured approach and customer intimacy
EG ODM offers a structured way to work closely with you and your organization to establish a common understanding of your business needs right
from the start. With this shared foundation in place, we can assemble the
optimal project team of specialists, and map roles, responsibilities and
tasks across the EG and customer participants.
A smooth transition from deployment to operations
EG ODM is an end-to-end methodology covering all phases of the IT solution
deployment and ongoing customer lifecycle. As such, it does not stop
with the successful delivery of the solution. A smooth hand-off from the
implementation team to the training and support teams helps you get the
most out of your new solution from day one, and for the long-term.
A scalable methodology for IT project success and faster ROI
EG ODM's six phases cover implementation and upgrade of large, medium
and small Microsoft Dynamics solutions, and help ensure an on-budget,
on-time delivery of your solution.
1. Business Analysis – Mutual understanding of the total project scope
Activity:High-level requirements and business needs are collected and
documented via workshops
Outcome:A strong business case for the implementation
2. Solution Analysis – Project scope is finalized and signed off
Activity:Documentation and approval of functional requirements, including
Fit-Gap analysis, and overview of what the application is to do – as
opposed to how it works
Outcome:A qualified analysis to match business requirements
EG One Delivery Methodology
Components:
• End-to-end methodology – Spanning
the whole customer lifecycle
• Customer intimacy – An approach
for understanding your business
• Project foundation – Shared understanding, defined and documented
• Defined roles – Clearly specified EG
and customer responsibilities
• Optimal project team – Combination
of EG and customer specialists and
experts
• Long-term perspective – Smooth
hand-off to training and support
3. Design – A blueprint for implementation
Activity:Definition of how the business requirements are implemented,
including configuration of the overall Microsoft Dynamics solution
Outcome:Design of specific customizations to satisfy business needs
4. Development – The solution comes alive
Activity:The solution is developed and tested
Outcome:Typically comprising an approved standard system and vendor
setup, custom coding, integrations/interfaces and data migration
5. Deployment – A successful launch
Activity:Solution deployment, end-user training, User Acceptance Testing
(UAT) and transition to the new or upgraded production environment
Outcome: Ready to go live (any subsequent changes are placed under a ­
system-change control process)
ODM_ 01.10.2015_V1.0
6. Operation – Project closure and ongoing support
Activity:Project closure, including transition to post-production support,
and knowledge transfer to the customer
Outcome:Includes post go-live support, transitioning the solution to support
teams and project closure
IT solutions that strengthen your business and match your industry
EG is one of Scandinavia's leading suppliers of IT solutions that deliver business value for both
small and large organizations. We have more than 1600 employees, who use their knowledge
and industry insight to enable productivity improvements for our customers in Denmark, Norway
og Sweden.
© 2015 EG A/S.
Third-party trademarks and registered trademarks mentioned in this document are the property of their respective owners.
Contact EG on +45 7013 2211 or
[email protected], or read more about EG One
Delivery Methodology on www.global.eg.dk.