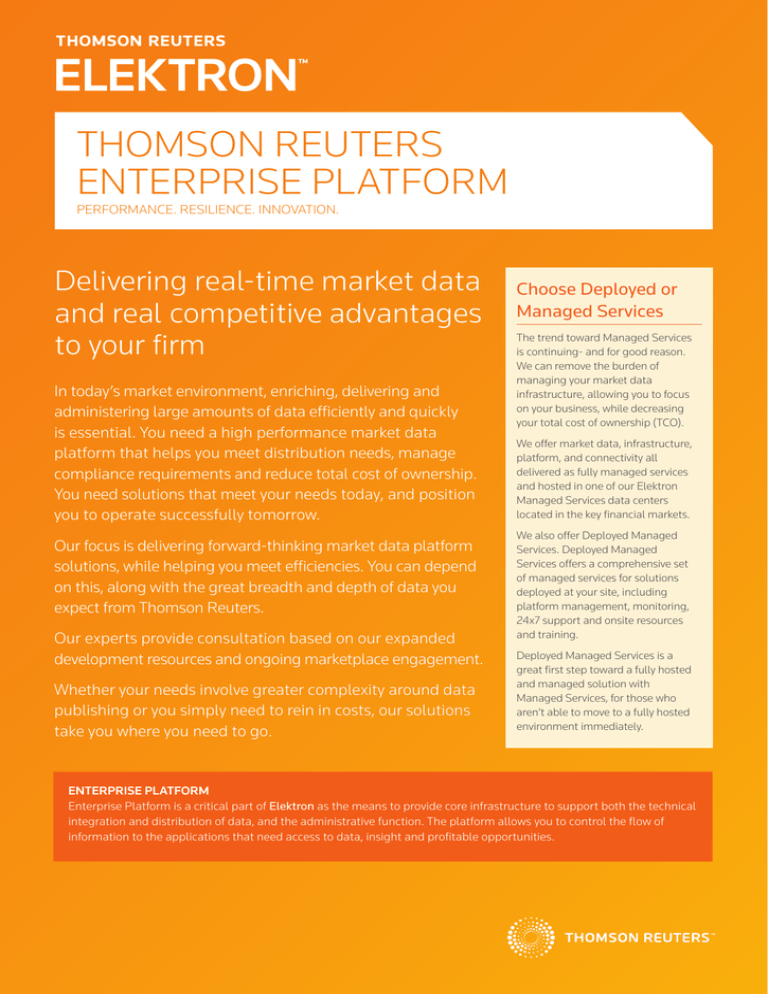 THOMSON REUTERS
ENTERPRISE PLATFORM
PERFORMANCE. RESILIENCE. INNOVATION.
Delivering real-time market data
and real competitive advantages
to your firm
In today's market environment, enriching, delivering and
administering large amounts of data efficiently and quickly
is essential. You need a high performance market data
platform that helps you meet distribution needs, manage
compliance requirements and reduce total cost of ownership.
You need solutions that meet your needs today, and position
you to operate successfully tomorrow.
Our focus is delivering forward-thinking market data platform
solutions, while helping you meet efficiencies. You can depend
on this, along with the great breadth and depth of data you
expect from Thomson Reuters.
Our experts provide consultation based on our expanded
development resources and ongoing marketplace engagement.
Whether your needs involve greater complexity around data
publishing or you simply need to rein in costs, our solutions
take you where you need to go.
Choose Deployed or
Managed Services
The trend toward Managed Services
is continuing- and for good reason.
We can remove the burden of
managing your market data
infrastructure, allowing you to focus
on your business, while decreasing
your total cost of ownership (TCO).
We offer market data, infrastructure,
platform, and connectivity all
delivered as fully managed services
and hosted in one of our Elektron
Managed Services data centers
located in the key financial markets.
We also offer Deployed Managed
Services. Deployed Managed
Services offers a comprehensive set
of managed services for solutions
deployed at your site, including
platform management, monitoring,
24x7 support and onsite resources
and training.
Deployed Managed Services is a
great first step toward a fully hosted
and managed solution with
Managed Services, for those who
aren't able to move to a fully hosted
environment immediately.
ENTERPRISE PLATFORM
Enterprise Platform is a critical part of Elektron as the means to provide core infrastructure to support both the technical
integration and distribution of data, and the administrative function. The platform allows you to control the flow of
information to the applications that need access to data, insight and profitable opportunities.
THOMSON REUTERS ENTERPRISE PLATFORM – PERFORMANCE. RESILIENCE. INNOVATION.
Benefits
Capabilities
REDUCE TCO
We help you find solutions that reduce total
cost of ownership without compromising
performance. This can be done by reducing
the number of boxes required to run your
market data infrastructure, or saving
hardware costs through managed services.
DATA ADMINISTRATION
• Administer and optimize your data usage
Also, eliminate excess market data
spend and reduce administrative costs in
managing market data entitlements.
REDUCE OPERATIONAL RISK,
COMPLY WITH REGULATIONS
When you need visibility of price publishing
we provide solutions that address
governance and regulatory requirements
and help you avoid fines and reputational
damage. When data is published from your
firm, our solution reports who published it,
and when and where it was published- and
the data never leaves your site.
A HIGH PERFORMING,
HIGHLY SCALABLE PLATFORM
• Handle dramatically higher market data
rates, while meeting business demands
for lower latency
• Automate entitlements to optimize spend
• Minimize administrative burden
• Complete audit trail to ensure compliance with licensing policies
CALCULATIONS AND ANALYTICS
• Tools to create, distribute and integrate proprietary content
• Real-time calculations, analytics and static data stored in
relational databases
DATA PUBLISHING AND DISPLAY
• We support your web-based applications – like retail broker/
banking portals
• We enable a full range of information services, including streaming
quotes, charts and news
SYSTEMS MANAGEMENT AND SUPPORT
• Integrated console for monitoring and managing performance of the
platform and data consuming applications
• Full range of support services for installations, systems health checks,
capacity management and technical training
DATA PUBLISHING TRANSPARENCY
• Respond to business governance and regulatory requirements for
transparency around data publishing by establishing audit and
compliance trails
• Leverage the latest processor
architectures for increased throughput
• Audit and control publishing with entitlement system
• Optimize bandwidth performance through
efficient binary message transport
Solving Business Challenges Together
• Be equipped to manage complex order
books, machine readable news, time
series data, FIX transactions and yield
curves – including content created by
your in-house applications
FAST, POWERFUL AND FUTURE-PROOF
We're built to help you win today – and tomorrow. Delivering real-time
data fast – normalized, integrated and tailored to meet the exact needs of
each individual user in your firm.
CUSTOMIZABLE DESIGN
A solution featuring a unique design allows seamless proprietary and
third-party integration to keep you at the very forefront of the market. It
allows seamless enhancements and easy customization to your workflow
and data requirements.
Thomson Reuters Elektron is a suite of propositions that
power the enterprise and connect global markets. Elektron
delivers low latency feeds from thousands of exchangetraded and OTC markets, along with analytics, a platform
and transactional connectivity to support financial workflow
applications. All of these capabilities can be deployed at a
customer location or delivered as a fully managed service
from any one of Thomson Reuters co-location and proximity
hosting sites around the globe. Elektron also powers the
Company's flagship desktop, Thomson Reuters Eikon.
SCALABLE. AGILE. STABLE.
Gain agility to anticipate and quickly adapt to changing market and
compliance requirements.
Visit financial.thomsonreuters.com
For more information, contact your representative or visit us online.
© 2014 Thomson Reuters. 1007060 09/14.