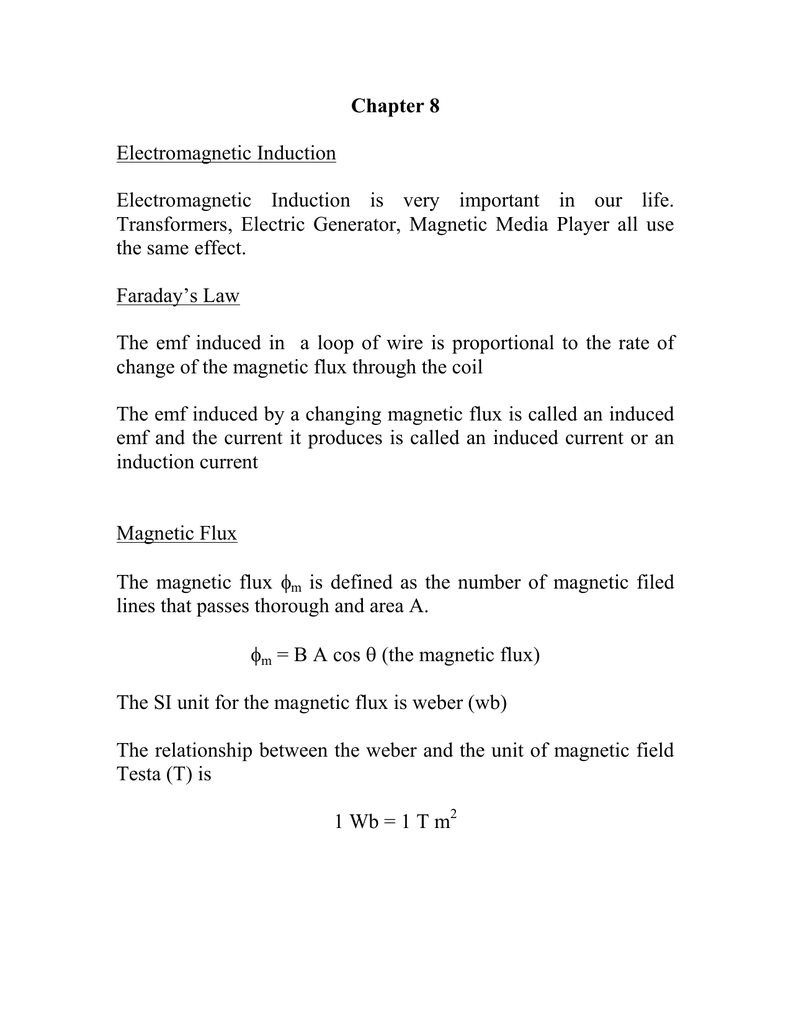 Chapter 8
Electromagnetic Induction
Electromagnetic Induction is very important in our life.
Transformers, Electric Generator, Magnetic Media Player all use
the same effect.
Faraday's Law
The emf induced in a loop of wire is proportional to the rate of
change of the magnetic flux through the coil
The emf induced by a changing magnetic flux is called an induced
emf and the current it produces is called an induced current or an
induction current
Magnetic Flux
The magnetic flux m is defined as the number of magnetic filed
lines that passes thorough and area A.
m = B A cos  (the magnetic flux)
The SI unit for the magnetic flux is weber (wb)
The relationship between the weber and the unit of magnetic field
Testa (T) is
1 Wb = 1 T m2
Lenz's Law
The direction of an induced current is such that its own magnetic
field opposes the original change in magnetic flux that induced the
current.
We can combine the Faraday's Law and Lenz's Law into these
equations:
 m
=t Change of magnetic flux per time
The minus sign indicate the direction of the emf and in agreement
with Lenz's law
If there are N number of loops (turns)
 m
=-N
t
Motional Emf
The emf generated due to moving object in a magnetic field.
The emf develop around the loop is obtained from the Faraday's
Law
L
V
x
Consider a rod with length of L, and moving with a speed v, for a
distance x
 m
BA
B( Lx)
=t = -  = - t = - t = - B L v (motional emf)
AC Generators
AC generator is widely use in Hydro electric generator plant and
Nuclear Reactor Plant
Emf
Time (s)
m = B A cos 
Angular velocity  =
 m
=t =- B A
d
dt

t
(cos ) = - B A
d
dt
(cos t)
 =  B A sin t
If there are N number of loops
 =  N B A sin t
Back EMF
Electric motor normally convert electrical energy to mechanical
energy. However, like a generator, a motor has a rotating armature
in a magnetic field. This induced emf is called back emf or counter
emf due to its polarity is opposite of the voltage that is driving the
motor
The net voltage V net = V - b
I=
Vnet V   b

R
R
B = V- IR
Transformers
Transformer is use to transform or change the value of the AC
voltage use.
There are two types of transformer
a. Step up transformer (exp: 250V to 10kV)
b. Step down transformer (exp: 250V to 5V)
The transformer consists of a primary coil and a secondary coil
with a laminated iron core.
The power for any electrical equipment should be conserved
Power in Pin = Power Out Pout
Iron Core
Primary
Coil
Secondary
Coil
A basic construction for a transformer
Pin = Pout
I1V1 = I2V2
Vs= -Ns
Vp = - Np

t

t
The ratio of Vs over Vp gives

)
Vs

t

V p N (  )
p
t
Vs N s

Vp N p
Ns (
Inductor
Inductor is basically a coil with many turns, N
N number of turns
Total magnetic flux passing through the coil = N m
The summation of magnetic flux    I
N m= L I
L = self inductance
 N m= L  I
( Nm )
I
=t = = - L t
I
= - L t
L = volt-second / ampere
A changing of current in a coil induces an emf opposing that
change, and this induces emf is proportional to the inductance of
the coil.