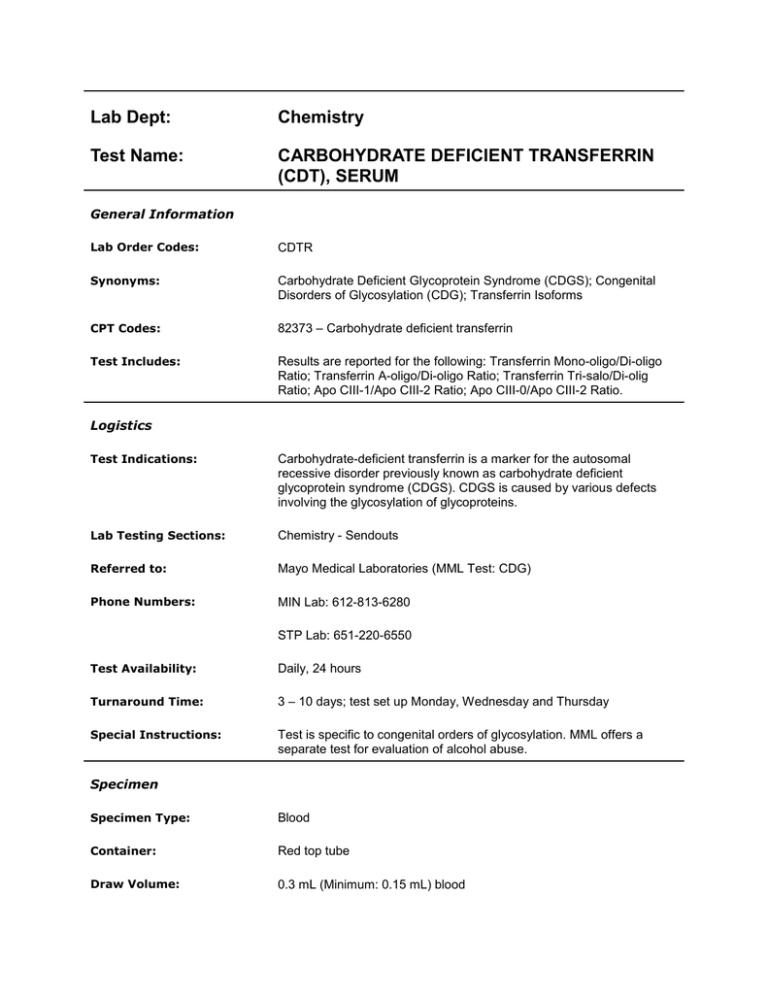 Lab Dept:
Chemistry
Test Name:
CARBOHYDRATE DEFICIENT TRANSFERRIN
(CDT), SERUM
General Information
Lab Order Codes:
CDTR
Synonyms:
Carbohydrate Deficient Glycoprotein Syndrome (CDGS); Congenital
Disorders of Glycosylation (CDG); Transferrin Isoforms
CPT Codes:
82373 – Carbohydrate deficient transferrin
Test Includes:
Results are reported for the following: Transferrin Mono-oligo/Di-oligo
Ratio; Transferrin A-oligo/Di-oligo Ratio; Transferrin Tri-salo/Di-olig
Ratio; Apo CIII-1/Apo CIII-2 Ratio; Apo CIII-0/Apo CIII-2 Ratio.
Logistics
Test Indications:
Carbohydrate-deficient transferrin is a marker for the autosomal
recessive disorder previously known as carbohydrate deficient
glycoprotein syndrome (CDGS). CDGS is caused by various defects
involving the glycosylation of glycoproteins.
Lab Testing Sections:
Chemistry - Sendouts
Referred to:
Mayo Medical Laboratories (MML Test: CDG)
Phone Numbers:
MIN Lab: 612-813-6280
STP Lab: 651-220-6550
Test Availability:
Daily, 24 hours
Turnaround Time:
3 – 10 days; test set up Monday, Wednesday and Thursday
Special Instructions:
Test is specific to congenital orders of glycosylation. MML offers a
separate test for evaluation of alcohol abuse.
Specimen
Specimen Type:
Blood
Container:
Red top tube
Draw Volume:
0.3 mL (Minimum: 0.15 mL) blood
Processed Volume:
0.1 mL (Minimum: 0.05 mL) serum
Collection:
Routine venipuncture
Special Processing:
Lab Staff: Centrifuge specimen, remove serum aliquot into a screwcapped round bottom plastic vial. Store and ship at frozen
temperatures.
Patient Preparation:
None
Sample Rejection:
Specimens other than serum; warm or cold specimens; mislabeled or
unlabeled specimens; gross hemolysis
Interpretive
Reference Range:
Congenital disorders of glycosylation
Ratio
Normal
Indeterminate
Abnormal
Transferrin Mono-oligo/Dioligo Ratio
≤0.06
0.07 – 0.09
≥0.10
Transferrin A-oligo/Di-oligo
Ratio
≤0.011
0.012 – 0.021
≥0.022
Transferrin Tri-salo/Di-oligo
Ratio
≤0.05
0.06 – 0.12
≥0.13
Apo CIII-1/Apo CIII-2 Ratio
≤2.91
2.92 – 3.68
≥3.69
Apo CIII-0/Apo CIII-2 Ratio
≤0.48
0.49 – 0.68
≥0.69
Interpretation: Results are reported as the mon-oligosaccaride/dioligosaccharide transferring ratio. The a-oligosaccharide/dioligosaccharide transferring ratio, the tri-salo/di-oligosaccharide
transferring ratio, the Apolipoprotein CIII-1/Apolipoprotein CIII-2 ratio
and the Apolipoprotein CIII-0/Apolipoprotein CIII-2 ratio. The report will
include the quantitative results and an interpretation.
Reports of abnormal results will include recommendations for additional
biochemical and molecular genetic studies to more precisely identify the
correct form of CDG. Treatment options, the name and telephone
number of contacts who may provide studies at Mayo Clinic or
elsewhere, and a telephone number for one of the laboratory directors
(if the referring physician has additional questions) will be provided.
Critical Values:
N/A
Limitations:
Other conditions such as hereditary fructose intolerance, metabolically
decompensate galactosemia, and acute liver disease may have a CDG
profile that is indistinguishable from any other true CDG-type I cases.
Relevant clinical information and the indications for the analysis should
be provided with the specimen, in particular in non-pediatric patients.
Methodology:
Affinity column followed by elution and Mass Sectrophotometry (MS)
References:
Mayo Medical Laboratories Web Page January 2013
Updates:
8/25/2009: Reference values are tied to reason for referral.
12/16/2009: Test now specific to Congenital Disorders of Glycosulation.
1/8/2013: Updated reference ranges and addition of new results.