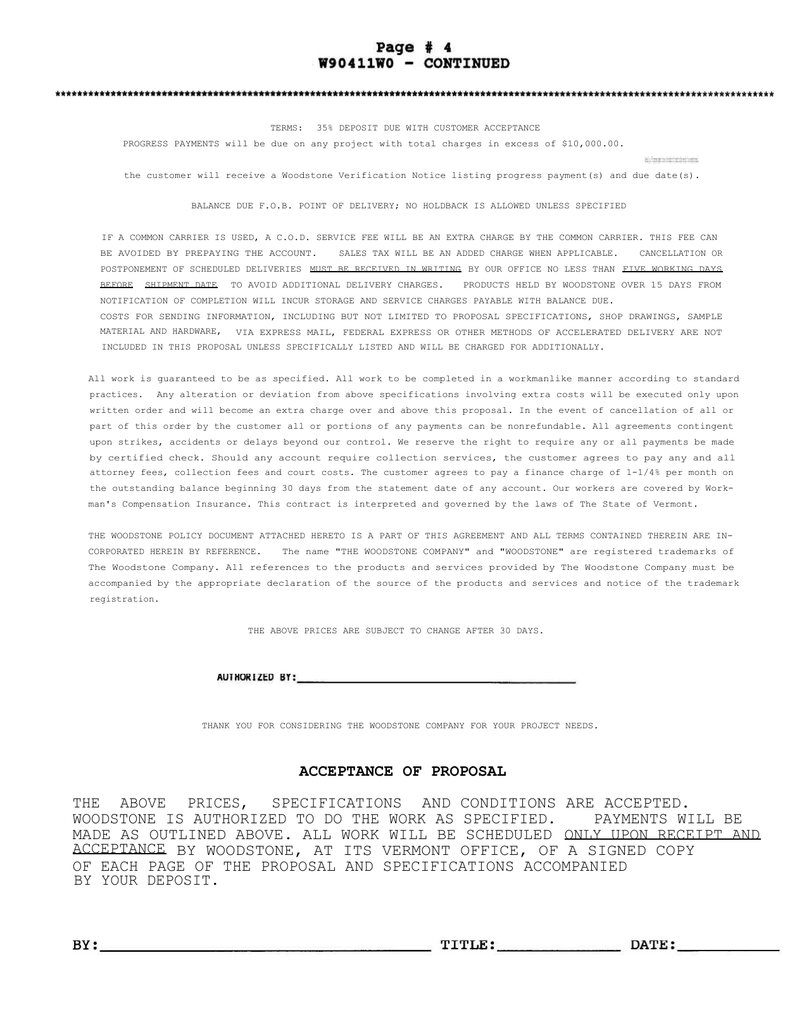 TERMS:
35% DEPOSIT DUE WITH CUSTOMER ACCEPTANCE
PROGRESS PAYMENTS will be due on any project with total charges in excess of $10,000.00.
General y, a 35% progres payment is due at the midpoint of production.Upon receipt of an ac epted proposal,
the customer will receive a Woodstone Verification Notice listing progress payment(s) and due date(s).
BALANCE DUE F.O.B. POINT OF DELIVERY; NO HOLDBACK IS ALLOWED UNLESS SPECIFIED
IF A COMMON CARRIER IS USED, A C.O.D. SERVICE FEE WILL BE AN EXTRA CHARGE BY THE COMMON CARRIER. THIS FEE CAN
BE AVOIDED BY PREPAYING THE ACCOUNT.
SALES TAX WILL BE AN ADDED CHARGE WHEN APPLICABLE.
CANCELLATION OR
POSTPONEMENT OF SCHEDULED DELIVERIES MUST BE RECEIVED IN WRITING BY OUR OFFICE NO LESS THAN FIVE WORKING DAYS
BEFORE
SHIPMENT DATE
TO AVOID ADDITIONAL DELIVERY CHARGES.
PRODUCTS HELD BY WOODSTONE OVER 15 DAYS FROM
NOTIFICATION OF COMPLETION WILL INCUR STORAGE AND SERVICE CHARGES PAYABLE WITH BALANCE DUE.
COSTS FOR SENDING INFORMATION, INCLUDING BUT NOT LIMITED TO PROPOSAL SPECIFICATIONS, SHOP DRAWINGS, SAMPLE
MATERIAL AND HARDWARE,
VIA EXPRESS MAIL, FEDERAL EXPRESS OR OTHER METHODS OF ACCELERATED DELIVERY ARE NOT
INCLUDED IN THIS PROPOSAL UNLESS SPECIFICALLY LISTED AND WILL BE CHARGED FOR ADDITIONALLY.
All work is guaranteed to be as specified. All work to be completed in a workmanlike manner according to standard
practices.
Any alteration or deviation from above specifications involving extra costs will be executed only upon
written order and will become an extra charge over and above this proposal. In the event of cancellation of all or
part of this order by the customer all or portions of any payments can be nonrefundable. All agreements contingent
upon strikes, accidents or delays beyond our control. We reserve the right to require any or all payments be made
by certified check. Should any account require collection services, the customer agrees to pay any and all
attorney fees, collection fees and court costs. The customer agrees to pay a finance charge of 1-1/4% per month on
the outstanding balance beginning 30 days from the statement date of any account. Our workers are covered by Workman's Compensation Insurance. This contract is interpreted and governed by the laws of The State of Vermont.
THE WOODSTONE POLICY DOCUMENT ATTACHED HERETO IS A PART OF THIS AGREEMENT AND ALL TERMS CONTAINED THEREIN ARE INCORPORATED HEREIN BY REFERENCE.
The name "THE WOODSTONE COMPANY" and "WOODSTONE" are registered trademarks of
The Woodstone Company. All references to the products and services provided by The Woodstone Company must be
accompanied by the appropriate declaration of the source of the products and services and notice of the trademark
registration.
THE ABOVE PRICES ARE SUBJECT TO CHANGE AFTER 30 DAYS.
THANK YOU FOR CONSIDERING THE WOODSTONE COMPANY FOR YOUR PROJECT NEEDS.
ACCEPTANCE OF PROPOSAL
THE ABOVE PRICES, SPECIFICATIONS AND CONDITIONS ARE ACCEPTED.
WOODSTONE IS AUTHORIZED TO DO THE WORK AS SPECIFIED.
PAYMENTS WILL BE
MADE AS OUTLINED ABOVE. ALL WORK WILL BE SCHEDULED ONLY UPON RECEIPT AND
ACCEPTANCE BY WOODSTONE, AT ITS VERMONT OFFICE, OF A SIGNED COPY
OF EACH PAGE OF THE PROPOSAL AND SPECIFICATIONS ACCOMPANIED
BY YOUR DEPOSIT.