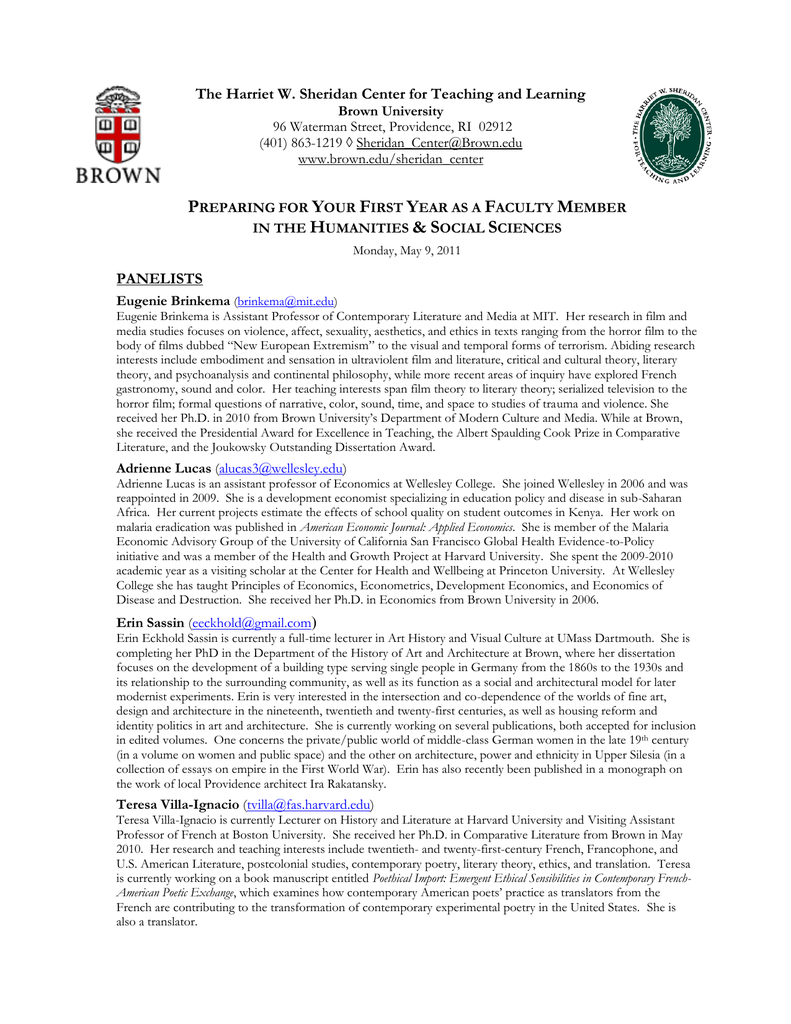 The Harriet W. Sheridan Center for Teaching and Learning
Brown University
96 Waterman Street, Providence, RI 02912
(401) 863-1219 ◊ [email protected]
www.brown.edu/sheridan_center
PREPARING FOR YOUR FIRST YEAR AS A FACULTY MEMBER
IN THE HUMANITIES & SOCIAL SCIENCES
Monday, May 9, 2011
PANELISTS
Eugenie Brinkema ([email protected])
Eugenie Brinkema is Assistant Professor of Contemporary Literature and Media at MIT. Her research in film and
media studies focuses on violence, affect, sexuality, aesthetics, and ethics in texts ranging from the horror film to the
body of films dubbed "New European Extremism" to the visual and temporal forms of terrorism. Abiding research
interests include embodiment and sensation in ultraviolent film and literature, critical and cultural theory, literary
theory, and psychoanalysis and continental philosophy, while more recent areas of inquiry have explored French
gastronomy, sound and color. Her teaching interests span film theory to literary theory; serialized television to the
horror film; formal questions of narrative, color, sound, time, and space to studies of trauma and violence. She
received her Ph.D. in 2010 from Brown University's Department of Modern Culture and Media. While at Brown,
she received the Presidential Award for Excellence in Teaching, the Albert Spaulding Cook Prize in Comparative
Literature, and the Joukowsky Outstanding Dissertation Award.
Adrienne Lucas ([email protected])
Adrienne Lucas is an assistant professor of Economics at Wellesley College. She joined Wellesley in 2006 and was
reappointed in 2009. She is a development economist specializing in education policy and disease in sub-Saharan
Africa. Her current projects estimate the effects of school quality on student outcomes in Kenya. Her work on
malaria eradication was published in American Economic Journal: Applied Economics. She is member of the Malaria
Economic Advisory Group of the University of California San Francisco Global Health Evidence-to-Policy
initiative and was a member of the Health and Growth Project at Harvard University. She spent the 2009-2010
academic year as a visiting scholar at the Center for Health and Wellbeing at Princeton University. At Wellesley
College she has taught Principles of Economics, Econometrics, Development Economics, and Economics of
Disease and Destruction. She received her Ph.D. in Economics from Brown University in 2006.
Erin Sassin ([email protected])
Erin Eckhold Sassin is currently a full-time lecturer in Art History and Visual Culture at UMass Dartmouth. She is
completing her PhD in the Department of the History of Art and Architecture at Brown, where her dissertation
focuses on the development of a building type serving single people in Germany from the 1860s to the 1930s and
its relationship to the surrounding community, as well as its function as a social and architectural model for later
modernist experiments. Erin is very interested in the intersection and co-dependence of the worlds of fine art,
design and architecture in the nineteenth, twentieth and twenty-first centuries, as well as housing reform and
identity politics in art and architecture. She is currently working on several publications, both accepted for inclusion
in edited volumes. One concerns the private/public world of middle-class German women in the late 19th century
(in a volume on women and public space) and the other on architecture, power and ethnicity in Upper Silesia (in a
collection of essays on empire in the First World War). Erin has also recently been published in a monograph on
the work of local Providence architect Ira Rakatansky.
Teresa Villa-Ignacio ([email protected])
Teresa Villa-Ignacio is currently Lecturer on History and Literature at Harvard University and Visiting Assistant
Professor of French at Boston University. She received her Ph.D. in Comparative Literature from Brown in May
2010. Her research and teaching interests include twentieth- and twenty-first-century French, Francophone, and
U.S. American Literature, postcolonial studies, contemporary poetry, literary theory, ethics, and translation. Teresa
is currently working on a book manuscript entitled Poethical Import: Emergent Ethical Sensibilities in Contemporary FrenchAmerican Poetic Exchange, which examines how contemporary American poets' practice as translators from the
French are contributing to the transformation of contemporary experimental poetry in the United States. She is
also a translator.
RESOURCES
ONLINE RESOURCES*
"PhDs - The Transition from Graduate Student to Assistant Professor", University of California–
Berkeley Career Center
"Tomorrow's Academic Careers" – postings from the Tomorrow's Professor Listserv
"Early Career Geoscience Faculty: Teaching, Research, and Managing Your Career"
NB: Although this is from a professional development website designed specifically for Geoscience
faculty, it contains a wealth of online resources relevant to all new faculty. Topics covered include
finding balance, efficient/effective teaching, developing your research program, and getting tenure.
From The Chronicle of Higher Education
 "From Graduate Student to Faculty Member"
 "Open Letter to 2010-11′s First-Time Tenure-Track Professors"
Selected "Random Thoughts" columns by Professor Richard M. Felder of North Carolina State University
 "The Effective, Efficient Professor"
NB: This article sums up the main points of Phillip Wankat's eponymous book (listed below).


"Things I wish they had told me" (coauthored with Rebecca Brent)
"The New Faculty Member"
NB: This article summarizes the key points of Robert Boice's Advice for New Faculty Members (listed below).
"How to Prepare New Courses While Keeping Your Sanity" (coauthored with Rebecca Brent)
Quentin Vicens & Philip E. Bourne, "Ten Simple Rules to Combine Teaching and Research", PLoS
Computational Biology
"Surviving the transition from grad student to new faculty member"

In a series of video clips, Carleton University Director of Learning, Technologies and Teaching Support
Carol Miles addresses topics such as advantages/disadvantages of being a new faculty member, tips when
starting your teaching career and maintaining professionalism.
BOOKS
Boice, Robert. Advice for New Faculty Members: Nihil Nimus. Allyn & Bacon, 2000.
Caplan, Paula J. Lifting a Ton of Feathers: A Woman's Guide to Surviving in the Academic World. University of
Toronto Press, 1993.
Cooper, Tuesday. The Sista' Network: African-American Women Faculty Successfully Negotiating the Road to Tenure.
Anker Publishing, 2006.
Goldsmith, John A., John Komlos and Penny Schine Gold. The Chicago Guide to Your Academic Career: A
Portable Mentor for Scholars from Graduate School through Tenure. University of Chicago Press, 2001.
See Part Two: The Academic Profession.
Lang, James M. Life on the Tenure Track: Lessons from the First Year. The Johns Hopkins University Press, 2005.
Lang, James M. On Course: A Week-by-Week Guide to Your First Semester of College Teaching. Harvard University
Press, 2008.
Lucas, Christopher J. and John W. Murry, Jr., New Faculty: A Practical Guide for Academic Beginners, PALGRAVE (St.
Martin's Press), 2002.
McKeachie, Wilbert J. and Marilla Svinicki, Teaching Tips: Strategies, Research, and Theory for College and University
Teachers, 12th edition, Houghton-Mifflin, 2006.
Menges, Robert J. and Associates, Faculty in New Jobs: A Guide to Settling In, Becoming Established, and Building
Institutional Support. Jossey-Bass, 1999.
Toth, Emily. Ms. Mentor's Impeccable Advice for Women in Academia. University of Pennsylvania Press, 1997.
Wankat, Phillip C. The Effective, Efficient Professor: Teaching, Scholarship and Service. Allyn & Bacon, 2001.
Whicker, Marcia Lynn, Jennie Jacobs Kronenfeld & Ruth Ann Strickland. Getting Tenure (Survival Skills for
Scholars). SAGE Publications, 1993.
*Clickable links for these online resources can be found on the Sheridan Center's website:
http://brown.edu/sheridan_center/consulting/jobmarket.html#first_year.