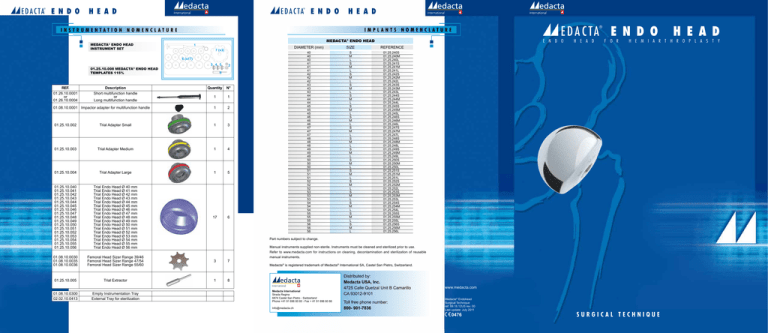 e d a c ta E N D O
®
H E A D
e d a c ta E N D O
®
H E A D
IMPLANTS NOMENCLATURE
INSTRUMENTATION NOMENCLATURE
E N D O
Medacta ENDO HEAD
®
Medacta® ENDO HEAD
Instrument Set
1
7 (x3)
6 (x17)
01.25.10.008 Medacta® Endo Head
Templates 115%
REF.
01.26.10.0001
or
01.26.10.0004
2
8
Quantity
N°
1
1
01.08.10.0001 Impactor adapter for multifunction handle
1
2
01.25.10.002
Trial Adapter Small
1
3
01.25.10.003
Trial Adapter Medium
1
4
01.25.10.004
Trial Adapter Large
1
5
01.25.10.040
01.25.10.041
01.25.10.042
01.25.10.043
01.25.10.044
01.25.10.045
01.25.10.046
01.25.10.047
01.25.10.048
01.25.10.049
01.25.10.050
01.25.10.051
01.25.10.052
01.25.10.053
01.25.10.054
01.25.10.055
01.25.10.056
Trial Endo Head Ø 40 mm
Trial Endo Head Ø 41 mm
Trial Endo Head Ø 42 mm
Trial Endo Head Ø 43 mm
Trial Endo Head Ø 44 mm
Trial Endo Head Ø 45 mm
Trial Endo Head Ø 46 mm
Trial Endo Head Ø 47 mm
Trial Endo Head Ø 48 mm
Trial Endo Head Ø 49 mm
Trial Endo Head Ø 50 mm
Trial Endo Head Ø 51 mm
Trial Endo Head Ø 52 mm
Trial Endo Head Ø 53 mm
Trial Endo Head Ø 54 mm
Trial Endo Head Ø 55 mm
Trial Endo Head Ø 56 mm
17
6
01.08.10.0030
01.08.10.0035
01.08.10.0036
Femoral Head Sizer Range 39/46
Femoral Head Sizer Range 47/54
Femoral Head Sizer Range 55/60
3
7
01.25.10.005
Trial Extractor
1
8
01.08.10.0300
02.02.10.0413
Description
Short multifunction handle
or
Long multifunction handle
3 4 5
Empty Instrumentation Tray
External Tray for sterilization
e d a c ta E N D O
®
DIAMETER (mm)
SIZE
REFERENCE
40
40
40
41
41
41
42
42
42
43
43
43
44
44
44
45
45
45
46
46
46
47
47
47
48
48
48
49
49
49
50
50
50
51
51
51
52
52
52
53
53
53
54
54
54
55
55
55
56
56
56
S
M
L
S
M
L
S
M
L
S
M
L
S
M
L
S
M
L
S
M
L
S
M
L
S
M
L
S
M
L
S
M
L
S
M
L
S
M
L
S
M
L
S
M
L
S
M
L
S
M
L
01.25.240S
01.25.240M
01.25.240L
01.25.241S
01.25.241M
01.25.241L
01.25.242S
01.25.242M
01.25.242L
01.25.243S
01.25.243M
01.25.243L
01.25.244S
01.25.244M
01.25.244L
01.25.245S
01.25.245M
01.25.245L
01.25.246S
01.25.246M
01.25.246L
01.25.247S
01.25.247M
01.25.247L
01.25.248S
01.25.248M
01.25.248L
01.25.249S
01.25.249M
01.25.249L
01.25.250S
01.25.250M
01.25.250L
01.25.251S
01.25.251M
01.25.251L
01.25.252S
01.25.252M
01.25.252L
01.25.253S
01.25.253M
01.25.253L
01.25.254S
01.25.254M
01.25.254L
01.25.255S
01.25.255M
01.25.255L
01.25.256S
01.25.256M
01.25.256L
H E A D
F O R
H E M I A R T H R O P L A S T Y
Part numbers subject to change.
Manual instruments supplied non-sterile. Instruments must be cleaned and sterilized prior to use.
Refer to www.medacta.com for instructions on cleaning, decontamination and sterilization of reusable
manual instruments.
Medacta® is registered trademark of Medacta® International SA, Castel San Pietro, Switzerland.
Medacta International
Strada Regina
6874 Castel San Pietro - Switzerland
Phone +41 91 696 60 60 - Fax + 41 91 696 60 66
Info@medacta.ch
Distributed by:
Medacta USA, Inc.
4725 Calle Quetzal Unit B Camarillo
CA 93012-9101
Toll free phone number:
800- 901-7836
www.medacta.com
Medacta® Endohead
Surgical Technique
ref: 99.18.12US rev. 00
Last update: July 2011
0476
H E A D
SURGICAL TECHNIQUE
e d a c ta E N D O
®
H E A D
I N tro d uction
Femoral neck fracture and femoral head
necrosis are surgical cases in which
hemiarthroplasty is recommended as
it seems inappropriate to replace an
healthy acetabulum, that might result
in subsequent bone loss and additional
revision problems.
Furthermore, compared to the total hip
replacement, hemiarthroplasty procedures involve shorter surgical times,
lower medical and prosthesis costs.
surgical technique
1
2
The goal is to determine the optimum head size. Careful preoperative planning is essential. A set of
X-ray templates to the scale of 1.15:1(with an x-ray of the same magnification) will help the operator
to pre-select the implant details in order to restore a hip joint corresponding to the patient's anatomy.
concept
The Medacta® Endo Head is a unipolar
prosthesis that consists in a monobloc
prosthetic femoral head made of CoCr
alloy, designed to articulate directly in the
patient's acetabulum.
CAUTION: Federal law (USA) restricts this device
to sale distribution and use by or on the order of
physician.
CONTRAINDICATIONS
PRE-OPERATIVE PLANNING
TRIAL REDUCTION
Assemble the trial adapter with the trial
Endo Head of the diameter chosen during the pre-operative planning or with the
sizer, and place the assembly on the taper
of the femoral stem in place.
Each size (S,M,L) of the trial adapter is
marked with a different colour.
Proceed with the trial reduction.
The mobility, joint stability, range of motion and leg length is tested to confirm the
final implant diameter.
Partial hip replacement is contraindicated in the following cases:
Acute, systemic or chronic infection;
}
Muscular, neurological or vascular deficiency of the affected limb making the operation
}
unjustifiable;
Bone destruction, or loss of bone characteristics that may compromise the stability of the implant;
}
}Pathologies that may compromise the functionality of the implant in any way;
}Known allergies to implant materials.
Mental or neuromuscular disorders may create an unacceptable risk to the patient and can
be a source of postoperative complications.
It is the surgeon's responsibility to ensure that the patient has no known allergy to the materials used.
3
Three sizes (S, M and L) are available
for a 12/14 Morse taper with an outer
diameter varying from 40 to 56 mm with
a 1 mm increment between sizes.
6
The Medacta® Endo Head is designed for use in partial hip arthroplasty in primary or revision surgery. The patient should be skeletally mature and the acetabular conditions should be satisfactory.
The patient's condition should be due to one or more of:
Avascular necrosis of the femoral head;
}
Acute traumatic fracture of the femoral head or neck;
}
Failure of previous traumatology surgery, where sufficient bone stock is present.
}
The Medacta® Endo Head is a product
suitable to perform hemiarthroplasty on
any hip joint whose acetabular conditions are satisfactory.
This document describes the concept
and the surgical technique for the Medacta® Endo Head implant. Carefully
read the instruction for use and for any
question concerning product compatibility contact your Medacta® representative.
It is designed to be assembled with all the
Medacta® stems.
INDICATIONS
The disassembly of the trial adapter and
the trial head is achived with the aid of the
trial extractor. Push on the trial adapter
with the trial extractor.
7
FINAL SETTING
Select the definitive implant and position
it on the stem.
WARNING
The final implant will be selected intra-operatively, because of possible discrepancies between actual conditions and templating.
4
SURGICAL APPROACHES
The choice of the surgical approach is up to the surgeon.
5
Screw the impactor adapter on the multifunction handle and use the assembly in
order to perform the final impaction of the
head on the stem.
FEMORAL HEAD SIZE
The Endo Head diameter depends on the smaller resected femoral head diameter and can be
evaluated with the aid of the femoral head sizer.
WARNING
The head diameter must be
checked in different positions
as it is not spherical.
Proceed with the final reduction.