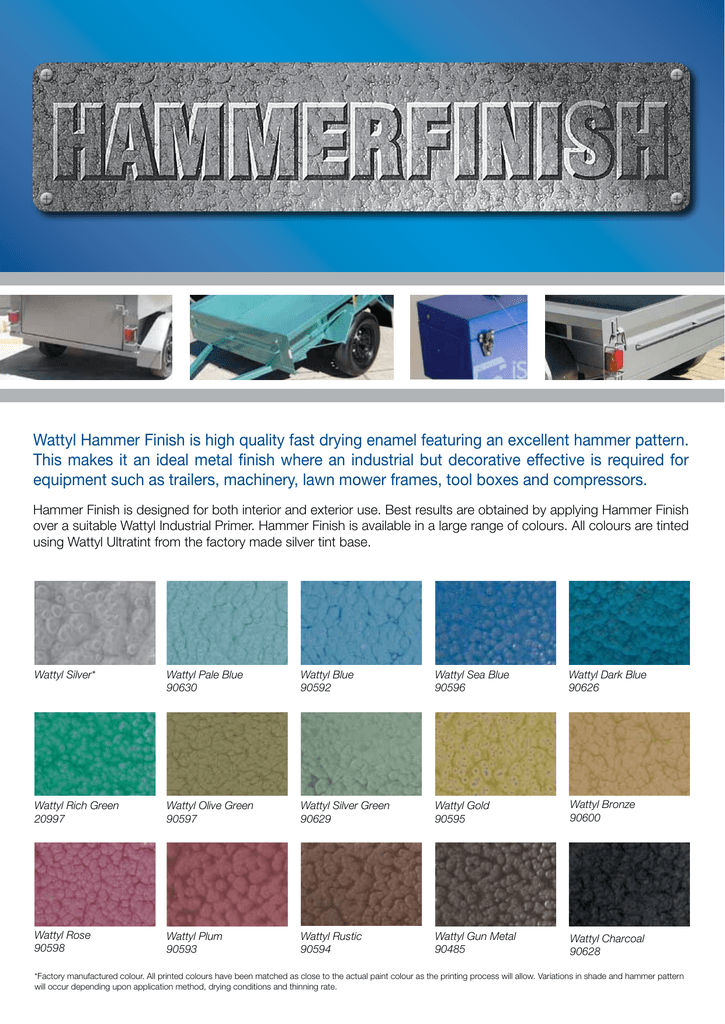 Wattyl Hammer Finish is high quality fast drying enamel featuring an excellent hammer pattern.
This makes it an ideal metal finish where an industrial but decorative effective is required for
equipment such as trailers, machinery, lawn mower frames, tool boxes and compressors.
Hammer Finish is designed for both interior and exterior use. Best results are obtained by applying Hammer Finish
over a suitable Wattyl Industrial Primer. Hammer Finish is available in a large range of colours. All colours are tinted
using Wattyl Ultratint from the factory made silver tint base.
Wattyl Silver*
Wattyl Pale Blue
90630
Wattyl Blue
90592
Wattyl Sea Blue
90596
Wattyl Dark Blue
90626
Wattyl Rich Green
20997
Wattyl Olive Green
90597
Wattyl Silver Green
90629
Wattyl Gold
90595
Wattyl Bronze
90600
Wattyl Rose
90598
Wattyl Plum
90593
Wattyl Rustic
90594
Wattyl Gun Metal
90485
Wattyl Charcoal
90628
*Factory manufactured colour. All printed colours have been matched as close to the actual paint colour as the printing process will allow. Variations in shade and hammer pattern
will occur depending upon application method, drying conditions and thinning rate.
Application Guide
Technical Data Sheet
TM2.50
Systems and
surface preparation*
Mild steel
Degrease thoroughly. Remove any rust or mill scale with a wire brush or mechanical sander.
Remove all surface preparation residue. Prime with Wattyl All Purpose Primer.
Non-ferrous metals
Degrease thoroughly. Abrade surface with a Scotch-Brite® pad or wet and dry sandpaper.
Remove all surface preparation residue. Prime with Wattyl Super Etch.
Thinning and clean up
If required, thin sparingly with L700 Industrial Enamel Thinner
Application
Apply a mist coat first, allow to 'tack off' and then apply a very full even coat.
The heavier the coat the larger and more pronounced the pattern.
Airless Spray
Nozzle orifice approx. 0.33 mm (0.013 inch)
Nozzle pressure 12 MPa (1700 psi)
Air Spray
Nozzle orifice 1.4-1.8 mm
Nozzle pressure 350-450 kPa (50-60 psi)
Touch dry
10 minutes**
Dry to handle
20 minutes**
Hard dry
24 hours**
Recoat
within 4 hours or after 16 hours**
Coverage
12m2/Lt for 25 microns (dry)
*Note: for coastal or other aggressive environments an alternative surface preparation and priming system is required.
Contact Wattyl for details.
**Note: all dry times are measured at 25°C, 50% humidity and will alter with changing temperature and humidity conditions.
Always read the technical data sheet and material safety data sheet prior to use and ensure that the product is suitable for
your application.
Our Commitment
Wattyl is a world-class company, providing innovative, quality products to meet the challenges of Australian and New Zealand
industries. We are dedicated to the supply of high performance, cost effective products to improve efficiency and reduce
operating costs.
Designed and Made in Australia and New Zealand
Products are designed by Wattyl's team of industrial chemists specifically for Australia and New Zealand's harsh and varied
environments. Wattyl's products are manufactured in Australia and New Zealand supporting the local economy.
Our Quality
Wattyl is committed to quality in the design, production and delivery of its products and services, and is accredited with
ISO9001:2000, NATA and APAS approvals.
For the latest product or specification information, customer orders or
to speak to your local industrial specialist contact Wattyl Customer Service on
Australia 132 101 - www.wattyl.com.au | New Zealand 0800 735 551 - www.wattyl.co.nz
Wattyl, Super Etch and Ultratint are registered trademarks of Wattyl Australia Pty Limited A.B.N 40 000 035 914
Scotch-Brite is a registered trademark of the 3M Company
Wattyl expresses thanks to John Pappas Trailers, WA for use of trailer images.