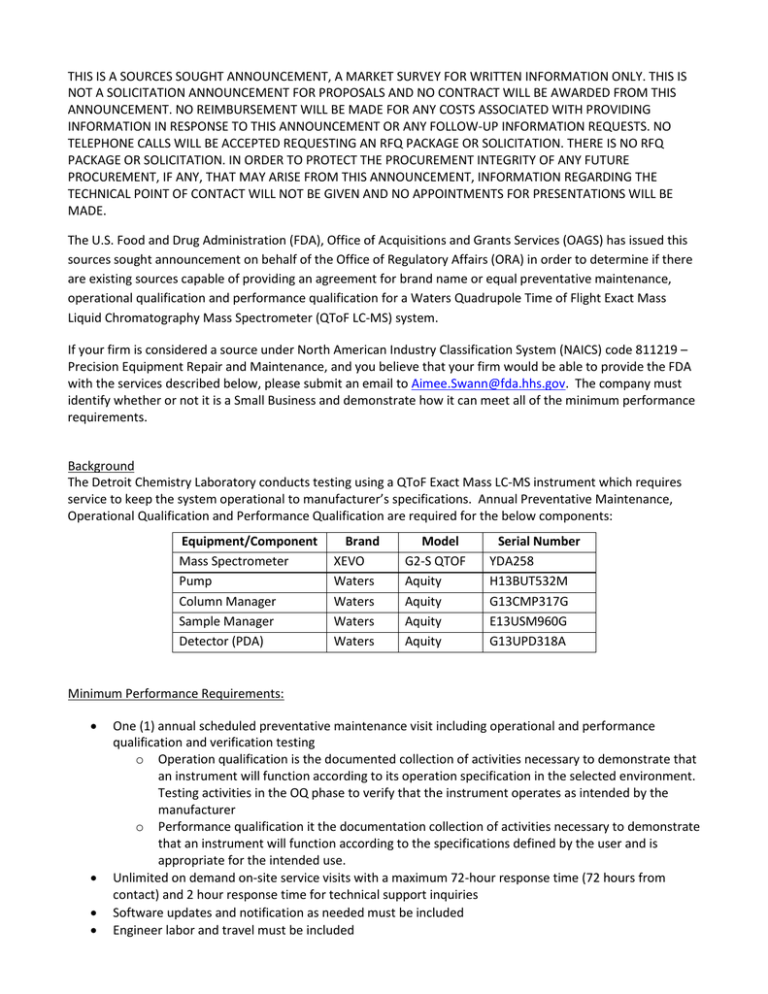 THIS IS A SOURCES SOUGHT ANNOUNCEMENT, A MARKET SURVEY FOR WRITTEN INFORMATION ONLY. THIS IS
NOT A SOLICITATION ANNOUNCEMENT FOR PROPOSALS AND NO CONTRACT WILL BE AWARDED FROM THIS
ANNOUNCEMENT. NO REIMBURSEMENT WILL BE MADE FOR ANY COSTS ASSOCIATED WITH PROVIDING
INFORMATION IN RESPONSE TO THIS ANNOUNCEMENT OR ANY FOLLOW-UP INFORMATION REQUESTS. NO
TELEPHONE CALLS WILL BE ACCEPTED REQUESTING AN RFQ PACKAGE OR SOLICITATION. THERE IS NO RFQ
PACKAGE OR SOLICITATION. IN ORDER TO PROTECT THE PROCUREMENT INTEGRITY OF ANY FUTURE
PROCUREMENT, IF ANY, THAT MAY ARISE FROM THIS ANNOUNCEMENT, INFORMATION REGARDING THE
TECHNICAL POINT OF CONTACT WILL NOT BE GIVEN AND NO APPOINTMENTS FOR PRESENTATIONS WILL BE
MADE.
The U.S. Food and Drug Administration (FDA), Office of Acquisitions and Grants Services (OAGS) has issued this
sources sought announcement on behalf of the Office of Regulatory Affairs (ORA) in order to determine if there
are existing sources capable of providing an agreement for brand name or equal preventative maintenance,
operational qualification and performance qualification for a Waters Quadrupole Time of Flight Exact Mass
Liquid Chromatography Mass Spectrometer (QToF LC-MS) system.
If your firm is considered a source under North American Industry Classification System (NAICS) code 811219 –
Precision Equipment Repair and Maintenance, and you believe that your firm would be able to provide the FDA
with the services described below, please submit an email to Aimee.Swann@fda.hhs.gov. The company must
identify whether or not it is a Small Business and demonstrate how it can meet all of the minimum performance
requirements.
Background
The Detroit Chemistry Laboratory conducts testing using a QToF Exact Mass LC-MS instrument which requires
service to keep the system operational to manufacturer's specifications. Annual Preventative Maintenance,
Operational Qualification and Performance Qualification are required for the below components:
Equipment/Component
Mass Spectrometer
Pump
Column Manager
Sample Manager
Detector (PDA)
Brand
XEVO
Waters
Waters
Waters
Waters
Model
G2-S QTOF
Aquity
Aquity
Aquity
Aquity
Serial Number
YDA258
H13BUT532M
G13CMP317G
E13USM960G
G13UPD318A
Minimum Performance Requirements:
•
•
•
•
One (1) annual scheduled preventative maintenance visit including operational and performance
qualification and verification testing
o Operation qualification is the documented collection of activities necessary to demonstrate that
an instrument will function according to its operation specification in the selected environment.
Testing activities in the OQ phase to verify that the instrument operates as intended by the
manufacturer
o Performance qualification it the documentation collection of activities necessary to demonstrate
that an instrument will function according to the specifications defined by the user and is
appropriate for the intended use.
Unlimited on demand on-site service visits with a maximum 72-hour response time (72 hours from
contact) and 2 hour response time for technical support inquiries
Software updates and notification as needed must be included
Engineer labor and travel must be included
•
•
•
Services must be performed by Waters qualified, factory trained technicians use factory-certified
replacement parts
All basic consumables required must be included
Electronic support and online technical resources for 1 user must be included
Responses to this sources sought shall demonstrate that the respondent is regularly engaged in the sale of same
or substantially similar supplies. All interested parties may respond. At a minimum, responses shall include the
following:
• Business name and bio, DUNS number, business address, business website, business size (if Small
Business or not and status if Small Business (i.e., SB, VOSB, SDVOSB, HUBZone SB, SDB, WOSB, LB), point
of contact name, mailing address (if different from business address), phone number and email address.
• Past Performance information for the manufacturer and/or sale of same or substantially similar
supplies to include date of sale, description, dollar value, client name, client address, client contact
name, client point of contact mailing address (if different from that provided for client), client point of
contact phone number, client point of contact email address, and name of the manufacturer (to include
DUNS number and size status) if not the respondent.
• Descriptive literature, brochures, marketing material, etc. detailing the nature of the supplies the
responding firm is regularly engaged in manufacturing and/or selling.
• If applicable, identification of the firm's GSA Schedule contract(s) by Schedule number and SINs that
are applicable to this potential requirement are also requested. If a large business, provide if
subcontracting opportunities exist for small business concerns. The Government is not responsible for
locating or securing any information, not identified in the response.
Confidentiality
No proprietary, classified, confidential, or sensitive information should be included in your response. The
Government reserves the right to use any non‐proprietary technical information in any resultant solicitation(s).
Interested Contractors must respond with capability statements via email to
Aimee.Swann@fda.hhs.gov on or before July 10, 2015 by 3:00pm EST.
This notice does not obligate the Government to award a contract or otherwise pay for the information
provided in response. The Government reserves the right to use information provided by respondents for any
purpose deemed necessary and legally appropriate. Any organization responding to this notice should ensure
that its response is complete and sufficiently detailed to allow the Government to determine the organization's
qualifications to perform the work. Respondents are advised that the Government is under no obligation to
acknowledge receipt of the information received or provide feedback to respondents with respect to any
information submitted. After a review of the responses received, a pre‐solicitation synopsis and solicitation may
be published in FedBizOpps. However, responses to this notice will not be considered adequate responses to a
solicitation.