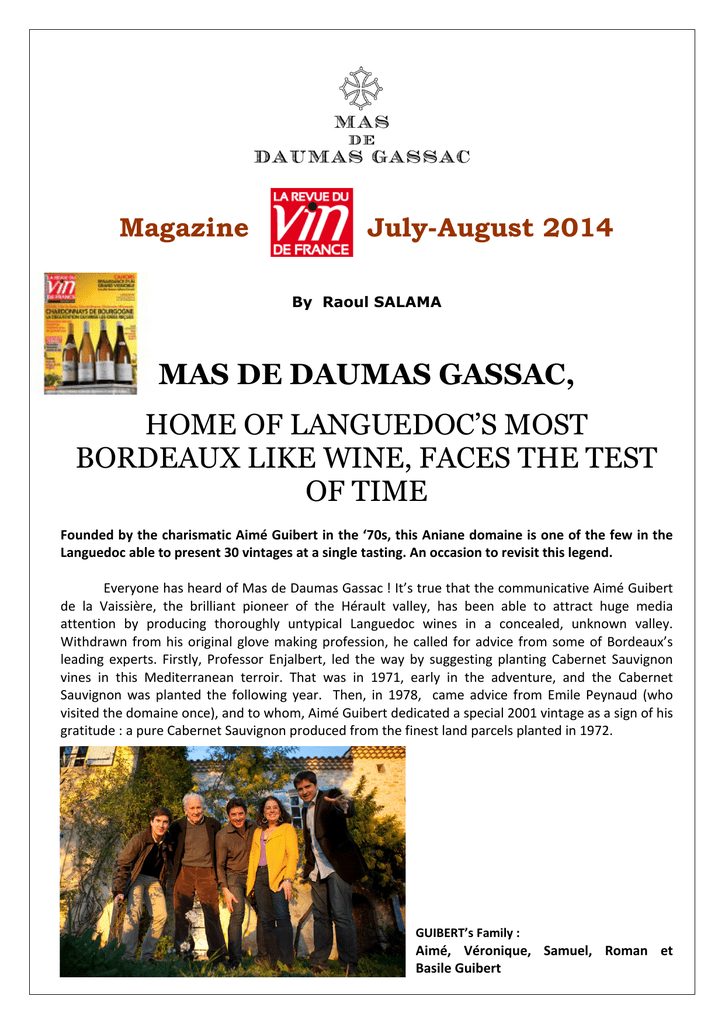 Magazine
July-August 2014
By Raoul SALAMA
MAS DE DAUMAS GASSAC,
HOME OF LANGUEDOC'S MOST
BORDEAUX LIKE WINE, FACES THE TEST
OF TIME
Founded by the charismatic Aimé Guibert in the '70s, this Aniane domaine is one of the few in the
Languedoc able to present 30 vintages at a single tasting. An occasion to revisit this legend.
Everyone has heard of Mas de Daumas Gassac ! It's true that the communicative Aimé Guibert
de la Vaissière, the brilliant pioneer of the Hérault valley, has been able to attract huge media
attention by producing thoroughly untypical Languedoc wines in a concealed, unknown valley.
Withdrawn from his original glove making profession, he called for advice from some of Bordeaux's
leading experts. Firstly, Professor Enjalbert, led the way by suggesting planting Cabernet Sauvignon
vines in this Mediterranean terroir. That was in 1971, early in the adventure, and the Cabernet
Sauvignon was planted the following year. Then, in 1978, came advice from Emile Peynaud (who
visited the domaine once), and to whom, Aimé Guibert dedicated a special 2001 vintage as a sign of his
gratitude : a pure Cabernet Sauvignon produced from the finest land parcels planted in 1972.
GUIBERT's Family :
Aimé, Véronique, Samuel, Roman et
Basile Guibert
A new Era
Aimé Guibert will be 90 in November. Since early this century, the second generation has taken up the
baton (details opposite). A gradual, painless transfer.
Some observers, however, reckon that the Mas de Daumas Gassac is no longer what it was in the early
days. Diversifying into more general markets (buying grapes from cooperatives) and selling them under
the brand name Moulin de Gassac, may have dented its image for great wines. Or it may have simply
have diluted the attention its origins attracted.
So, it was time to take stock. This year was the time to hold the vertical tasting which takes place every
ten years. But apart from judging the evolution of various vintages, we realised that few domaines,
even outside the Languedoc, were capable of presenting such a range of 30 vintages. Looking back is
important, Daumas Gassac reds have been conceived to be laid down. They need a good 10 – 15 years
for the tannins to become fine. In contrast with current fashion (easy sugar, woodiness …) they need
patience, experience … even introspection. True wine lovers understand this and by their faithfulness
never miss an opportunity to add water to this mill.
ABOUT THE TASTING
The tasting took place at the domaine in February 2014. Thirty vintages from 1979 to 2012 were
served simultaneously in identical glasses and without being decanted: the only ones missing were
1986, 1993, 1996 and 1999. In this report we have divided them into five themes: favourite vintages,
those with potential, great surprises, vintages to drink now, and those past their best. Finally it's
worth noting that from its origins as a Vin de Pays de I'Hérault, in 2011, the Mas Daumas Gassac
became an IGP Saint Guilhem-le-Désert Cité d'Aniane.
FAVOURITE VINTAGES
18,5/20
• MAS DE DAUMAS GASSAC 1982
The vintage discovered by the press. In spite of the youth of the vines, the wine has a lot of depth.
Superb on the eye. Strong and full in the mouth.
18/20
• MAS DE DAUMAS GASSAC 1988
Undoubtedly the most 'classic' vintage in the Bordeaux style. Perfect balance. No sign of
going off. Excellent length.
17,5/20
• MAS DE DAUMAS GASSAC 2011
Difficult to predict its future with certainty, but is definitely right up there in an excellent
year in the Languedoc. Toasty/grilled hints. A tiny touch of bitterness. Rich, opulent.
17/20
• MAS DE DAUMAS GASSAC 1990
Rounded and full. It's all there : elegance, length, aromatic complexity.
Thoroughly distinguished, without showing off !
17/20
• MAS DE DAUMAS GASSAC 1998
In some way this is the most Daumas Gassac of all. Archetypal or synthesized, not sure.
Swings towards tertiary on nose. Take your time drinking it.
16,5/20
• MAS DE DAUMAS GASSAC 2003
One might have feared too much astringency or early development: no at all.
Tannins present but mature. Great expectations.
16,5/20
• MAS DE DAUMAS GASSAC 1994
Very attractive wine. Grapes harvested just before rain, in a year that contrasted strongly with
elsewhere in France. Those who bought it 'en primeur' (approx 70 Francs at the time !) made a good
deal.
15/20
• MAS DE DAUMAS GASSAC 2007
Similar aromatically with the 2011, less explosive however. More mineral too. A slight tendency to a
dry end.
VINTAGES WITH POTENCIAL
17/20
• MAS DE DAUMAS GASSAC 2005
The least Cabernet Sauvignon of the range (63%), just after the 1987 (62%). Empyreumatic nose. The
Cabernet's lack of phenolic maturity is largely compensated for by the other varieties.
17/20
• MAS DE DAUMAS GASSAC 2009
Sunny, with a deep colour and distinct 'sugar'. Shimmering on the eye, rounded mouth, good tannins.
Thoroughly charming !
16,5/20
• MAS DE DAUMAS GASSAC 1989
Incredibly, the nose still seem closed. Aromas coming through slowly. Dense. Not sure it will ever
totally come through !
16/20
• MAS DE DAUMAS GASSAC 2010
Lots of fruit, on the nose as well as in the mouth. Hints of garrigue herbs and cherry. Good potential
coming through at the end.
15,5/20
• MAS DE DAUMAS GASSAC 2006
Tight nose, mouth still a bit closed. Good prognostic as the alcohol and dry extract are well balanced.
Keep for at least a minimum of 3 – 5 years.
15/20
• MAS DE DAUMAS GASSAC 2008
Homogenous wine but a touch sharp. A hint of green pepper (pyrazine) which comes through as the
Cabernet matures.
13,5/20
• MAS DE DAUMAS GASSAC 2012
Relatively light in colour. High proportion of Cabernet Sauvignon (76%). Risks fast evolution.
FOUR BROTHERS IN AIMÉ GUIBERT'S FOOTSTEPS
Four of Véronique et Aimé Guibert's sons work on
the property. Samuel (the eldest, 41) arrived in 2000
having spent seven years in Australia and New
Zealand : divides his time between Aniane and San
Francisco. He handles vinification and export. Gaël
supervises finances and the vineyard. Roman
manages the day to day business with special
emphasis on the French market. The Asian, especially
Chinese, markets have been devolved to Basile, (the
youngest, 29) who has recently returned home.
Recently set up as a simplified joint-stock company
with a rotating Chairman, transfer of assets to the second generation took place in 1999. The positive
relationship between the brothers means that succession considerations and the future of the Mas are
firmly on a back step.
GREAT SURPRISES
17,5/20
• MAS DE DAUMAS GASSAC 1995
Unlike the 1994, it rained during the 1995 harvest. Very tasty and incredibly young.
16,5/20
• MAS DE DAUMAS GASSAC 2004
Deeply coloured with a golden rim. Benefits from breathing. Terrific length, but at its present stage,
decanting is recommended.
15,5/20
• MAS DE DAUMAS GASSAC 2001
Classy. Certainly not a great beast, but has lots of precision in its structure. More spirited than
powerful.
15/20
• MAS DE DAUMAS GASSAC 1984
Vintages with a '4' are very successful at Daumas Gassac, unlike many other French wine producing
areas. Delicate, subtle, elegant. To drink…and looking forward to the 2014 !
14/20
• MAS DE DAUMAS GASSAC 1991
Another vintage with a sad reputation. A touch volatile but not really a problem. Great life in the glass.
TO DRINK NOW
15/20
• MAS DE DAUMAS GASSAC 2000
Seems seductive early on, but the mouth doesn't match all the promises in the nose. Close to its peak.
15/20
• MAS DE DAUMAS GASSAC 1997
Less complex and full than the 1998. Won't gain much by laying down.
14,5/20
• MAS DE DAUMAS GASSAC 1985
Relatively unusual nose. Very mineral (chalk). Little red fruit. It's not impossible that our view might be
due to the cleanliness of the glass or the quality of the sample.
14/20
• MAS DE DAUMAS GASSAC 1992
Old style vinification. More or less uniform. Long and stiff.
14/20
• MAS DE DAUMAS GASSAC 1987
A touch of menthol. Fresh. Analysis is close to the 1988, but not the taste.
13,5/20
• MAS DE DAUMAS GASSAC 1983
A range of red fruit (prunes, blackberry) … a touch heavy.
12,5/20
• MAS DE DAUMAS GASSAC 2002
Lacks depth. Caught in pincers between 2001 and 2003.
PAST THEIR BEST
13,5/20
• MAS DE DAUMAS GASSAC 1981
Elusive, nose hard to identify. Mouth opens midway through.
13/20
• MAS DE DAUMAS GASSAC 1980
Similar to 1981 in style, but more evolved.
12/20
• MAS DE DAUMAS GASSAC 1979
Nose not perfectly clean. Time for retirement.
AN UNOAKED WHITE THAT WILL SURPRISE YOU AS IT AGES
The Domaine also produces an excellent white, the first vintage in 1986. Made up of four
principle grapes (Viognier, Chardonnay, Petit Manseng and white Chenin), there are also
other more exotic varieties (petite Arvine, Sercial, the Israeli Neherleschol, Lebanese
Khodorni or the Armenian Tchilar !) which are added, albeit mostly in homeopathic doses !
Unlike the red, the white is created around fruit, with the objective of being drunk
relatively fast. Hence, no oak. The 2013 which has just been bottled is thoroughly flowery
and fresh (around 35 €). But a totally different approach is to put it down for a long time.
Proof is in the 1995 which is absolutely splendid at present and will delight the most expert
palates.
IN CONCLUSION
Cabernet Sauvignon (60 – 80 % of grapes) plays a crucial role in creating the Daumas Gassac style. As
well as other Atlantic varieties (Cabernet Sauvignon, Cabernet Franc and Merlot) there are Tannat,
Malbec, Pinot Noir, Syrah (absent since 2009) and other rare grapes which all add to its originality.
One notices how the wines evolve as the vines grow older which means certain vintages have more
depth and express the terroir more strongly.
Recent vintages show more precision relative to extraction, but the great years still need putting
down for 10 to 20 year to reach their peak. Their maturing is discreet and degrees of alcohol
reasonable. To sum up, this icon of the Languedoc creates wines for true connoisseurs, sold directly,
particularly en primeur, to individual customers. Experience shows that it is no cheaper several years
later on merchants' shelves.