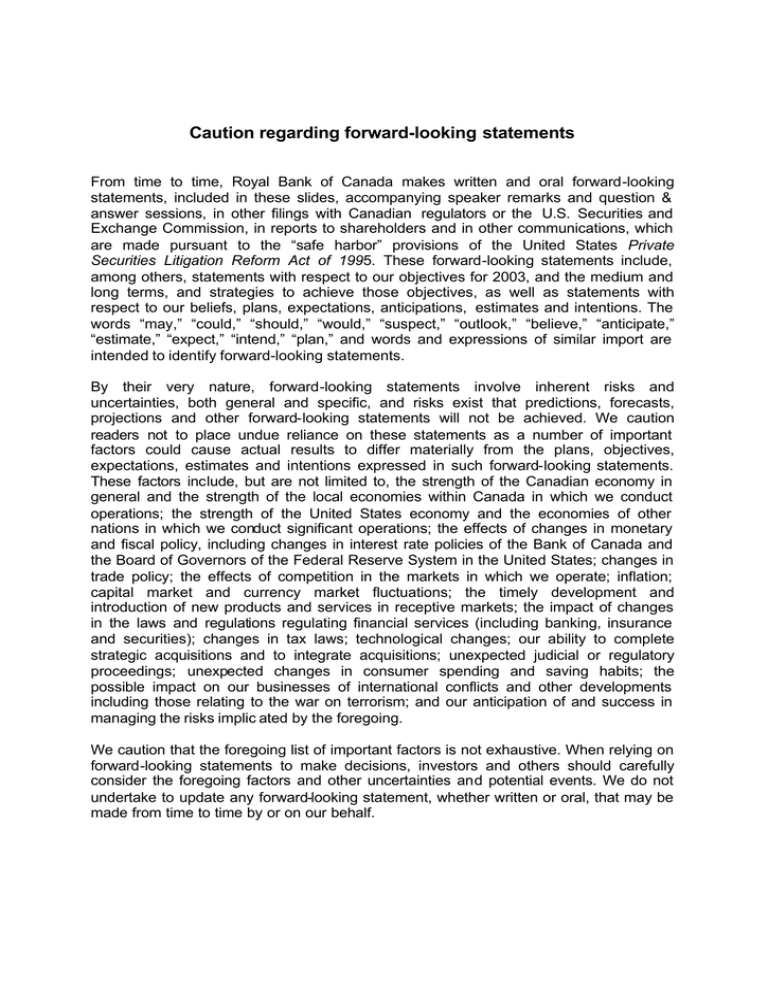 Caution regarding forward-looking statements
From time to time, Royal Bank of Canada makes written and oral forward-looking
statements, included in these slides, accompanying speaker remarks and question &
answer sessions, in other filings with Canadian regulators or the U.S. Securities and
Exchange Commission, in reports to shareholders and in other communications, which
are made pursuant to the "safe harbor" provisions of the United States Private
Securities Litigation Reform Act of 1995. These forward-looking statements include,
among others, statements with respect to our objectives for 2003, and the medium and
long terms, and strategies to achieve those objectives, as well as statements with
respect to our beliefs, plans, expectations, anticipations, estimates and intentions. The
words "may," "could," "should," "would," "suspect," "outlook," "believe," "anticipate,"
"estimate," "expect," "intend," "plan," and words and expressions of similar import are
intended to identify forward-looking statements.
By their very nature, forward-looking statements involve inherent risks and
uncertainties, both general and specific, and risks exist that predictions, forecasts,
projections and other forward-looking statements will not be achieved. We caution
readers not to place undue reliance on these statements as a number of important
factors could cause actual results to differ materially from the plans, objectives,
expectations, estimates and intentions expressed in such forward-looking statements.
These factors include, but are not limited to, the strength of the Canadian economy in
general and the strength of the local economies within Canada in which we conduct
operations; the strength of the United States economy and the economies of other
nations in which we conduct significant operations; the effects of changes in monetary
and fiscal policy, including changes in interest rate policies of the Bank of Canada and
the Board of Governors of the Federal Reserve System in the United States; changes in
trade policy; the effects of competition in the markets in which we operate; inflation;
capital market and currency market fluctuations; the timely development and
introduction of new products and services in receptive markets; the impact of changes
in the laws and regulations regulating financial services (including banking, insurance
and securities); changes in tax laws; technological changes; our ability to complete
strategic acquisitions and to integrate acquisitions; unexpected judicial or regulatory
proceedings; unexpected changes in consumer spending and saving habits; the
possible impact on our businesses of international conflicts and other developments
including those relating to the war on terrorism; and our anticipation of and success in
managing the risks implic ated by the foregoing.
We caution that the foregoing list of important factors is not exhaustive. When relying on
forward-looking statements to make decisions, investors and others should carefully
consider the foregoing factors and other uncertainties and potential events. We do not
undertake to update any forward-looking statement, whether written or oral, that may be
made from time to time by or on our behalf.