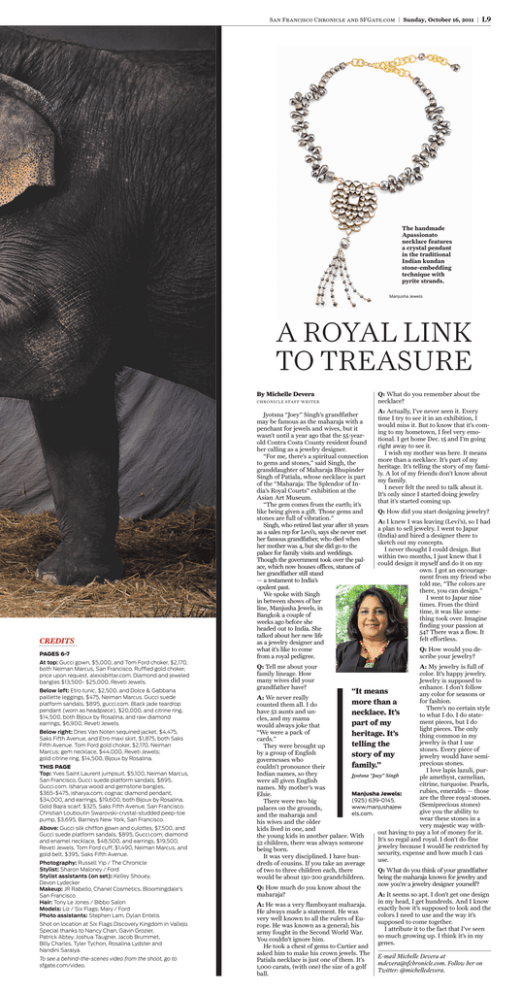 San Francisco Chronicle and SFGate.com | Sunday, October 16, 2011 |
L9
The handmade
Apassionato
necklace features
a crystal pendant
in the traditional
Indian kundan
stone-embedding
technique with
pyrite strands.
Manjusha Jewels
A ROYAL LINK
TO TREASURE
By Michelle Devera
CHRONICL E STAFF WRITER
CREDITS
PAGES 6-7
At top: Gucci gown, $5,000, and Tom Ford choker, $2,170,
both Neiman Marcus, San Francisco. Ruffled gold choker,
price upon request, alexisbittar.com. Diamond and jeweled
bangles $13,500- $25,000, Reveti Jewels.
Below left: Etro tunic, $2,500, and Dolce & Gabbana
paillette leggings, $475, Neiman Marcus. Gucci suede
platform sandals, $895, gucci.com. Black jade teardrop
pendant (worn as headpiece), $20,000, and citrine ring,
$14,500, both Bijoux by Rosalina, and raw diamond
earrings, $6,900, Reveti Jewels.
Below right: Dries Van Noten sequined jacket, $4,475,
Saks Fifth Avenue, and Etro maxi skirt, $1,875, both Saks
Fifth Avenue. Tom Ford gold choker, $2,170, Neiman
Marcus; gem necklace, $44,000, Reveti Jewels;
gold citrine ring, $14,500, Bijoux by Rosalina.
THIS PAGE
Top: Yves Saint Laurent jumpsuit, $5,100, Neiman Marcus,
San Francisco, Gucci suede platform sandals, $895,
Gucci.com. Isharya wood and gemstone bangles,
$365-$475, isharya.com; cognac diamond pendant,
$34,000, and earrings, $19,600, both Bijoux by Rosalina.
Gold Bajra scarf, $325, Saks Fifth Avenue, San Francisco.
Christian Louboutin Swarovski-crystal-studded peep-toe
pump, $3,695, Barneys New York, San Francisco.
Above: Gucci silk chiffon gown and culottes, $7,500, and
Gucci suede platform sandals, $895, Gucci.com; diamond
and enamel necklace, $48,500, and earrings, $19,500,
Reveti Jewels. Tom Ford cuff, $1,490, Neiman Marcus, and
gold belt, $395, Saks Fifth Avenue.
Photography: Russell Yip / The Chronicle
Stylist: Sharon Maloney / Ford
Stylist assistants (on set): Kelley Shouey,
Devon Lydecker
Makeup: JR Rabello, Chanel Cosmetics, Bloomingdale's
San Francisco
Hair: Tony Le Jones / Bibbo Salon
Models: Liz / Six Flags; Mary / Ford
Photo assistants: Stephen Lam, Dylan Entelis
Shot on location at Six Flags Discovery Kingdom in Vallejo.
Special thanks to Nancy Chan, Gavin Grozier,
Patrick Abtey, Joshua Taugner, Jacob Brummet,
Billy Charles, Tyler Tychon, Rosalina Lydster and
Nandini Saraiya.
To see a behind-the-scenes video from the shoot, go to
sfgate.com/video.
Jyotsna "Joey" Singh's grandfather
may be famous as the maharaja with a
penchant for jewels and wives, but it
wasn't until a year ago that the 55-yearold Contra Costa County resident found
her calling as a jewelry designer.
"For me, there's a spiritual connection
to gems and stones," said Singh, the
granddaughter of Maharaja Bhupinder
Singh of Patiala, whose necklace is part
of the "Maharaja: The Splendor of India's Royal Courts" exhibition at the
Asian Art Museum.
"The gem comes from the earth; it's
like being given a gift. Those gems and
stones are full of vibration."
Singh, who retired last year after 18 years
as a sales rep for Levi's, says she never met
her famous grandfather, who died when
her mother was 4, but she did go to the
palace for family visits and weddings.
Though the government took over the palace, which now houses offices, statues of
her grandfather still stand
— a testament to India's
opulent past.
We spoke with Singh
in between shows of her
line, Manjusha Jewels, in
Bangkok a couple of
weeks ago before she
headed out to India. She
talked about her new life
as a jewelry designer and
what it's like to come
from a royal pedigree.
Q: Tell me about your
family lineage. How
many wives did your
grandfather have?
Q: What do you remember about the
necklace?
A: Actually, I've never seen it. Every
time I try to see it in an exhibition, I
would miss it. But to know that it's coming to my hometown, I feel very emotional. I get home Dec. 15 and I'm going
right away to see it.
I wish my mother was here. It means
more than a necklace. It's part of my
heritage. It's telling the story of my family. A lot of my friends don't know about
my family.
I never felt the need to talk about it.
It's only since I started doing jewelry
that it's started coming up.
Q: How did you start designing jewelry?
A: I knew I was leaving (Levi's), so I had
a plan to sell jewelry. I went to Japur
(India) and hired a designer there to
sketch out my concepts.
I never thought I could design. But
within two months, I just knew that I
could design it myself and do it on my
own. I got an encouragement from my friend who
told me, "The colors are
there, you can design."
I went to Japur nine
times. From the third
time, it was like something took over. Imagine
finding your passion at
54? There was a flow. It
felt effortless.
Q: How would you describe your jewelry?
A: My jewelry is full of
color. It's happy jewelry.
Jewelry is supposed to
enhance. I don't follow
"It means
any color for seasons or
A: We never really
for fashion.
more
than
a
counted them all. I do
There's no certain style
have 52 aunts and unnecklace. It's
to what I do. I do statecles, and my mama
ment pieces, but I do
part of my
would always joke that
light pieces. The only
"We were a pack of
heritage. It's
thing common in my
cards."
jewelry is that I use
telling
the
They were brought up
stones. Every piece of
by a group of English
story of my
jewelry would have semigovernesses who
precious stones.
family."
couldn't pronounce their
I love lapis lazuli, purIndian names, so they
Jyotsna "Joey" Singh
ple amethyst, carnelian,
were all given English
citrine, turquoise. Pearls,
names. My mother's was
rubies, emeralds — those
Manjusha Jewels:
Elsie.
are the three royal stones.
(925) 639-0145.
There were two big
(Semiprecious stones)
www.manjushajew
palaces on the grounds,
give you the ability to
els.com.
and the maharaja and
wear these stones in a
his wives and the older
very majestic way withkids lived in one, and
out having to pay a lot of money for it.
the young kids in another palace. With
It's so regal and royal. I don't do fine
52 children, there was always someone
jewelry because I would be restricted by
being born.
security, expense and how much I can
It was very disciplined. I have hunuse.
dreds of cousins. If you take an average
of two to three children each, there
Q: What do you think of your grandfather
would be about 150-200 grandchildren.
being the maharaja known for jewelry and
now you're a jewelry designer yourself?
Q: How much do you know about the
maharaja?
A: It seems so apt. I don't get one design
in my head, I get hundreds. And I know
A: He was a very flamboyant maharaja.
exactly how it's supposed to look and the
He always made a statement. He was
colors I need to use and the way it's
very well known to all the rulers of Eusupposed to come together.
rope. He was known as a general; his
I attribute it to the fact that I've seen
army fought in the Second World War.
so much growing up. I think it's in my
You couldn't ignore him.
genes.
He took a chest of gems to Cartier and
asked him to make his crown jewels. The
E-mail Michelle Devera at
Patiala necklace is just one of them. It's
[email protected] Follow her on
1,000 carats, (with one) the size of a golf
Twitter: @michelledevera.
ball.