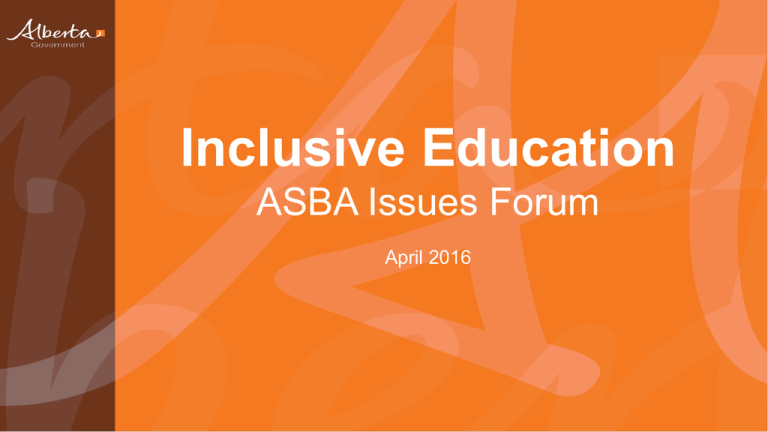 Inclusive Education
ASBA Issues Forum
April 2016
In Alberta, Inclusive Education
• Is a way of thinking and acting that demonstrates
universal acceptance of, and belonging for, all
children and students
• Reduces barriers to participation and learning so
that each and every student is a successful learner
Policy landscape
1
Setting the
Direction
Framework
(2009)
Setting the
Direction
Government
Response
(2010)
2
Education
Act
(not yet
proclaimed)
Inclusive
Education
Policy
(Guide to
Education
15/16)
Inclusive
Education
Policy
Framework
Six Policy
Directions
3
4
5
6
Responsibilities of
Alberta Education
Legislation
and Policy
Funding
(resources)
Assurance
Inclusive Education Policy
Alberta's education system is built on a valuesbased approach to accepting responsibility for all
children and students. Inclusion is a way of thinking
and acting that demonstrates universal acceptance
of, and belonging for, all children and students.
Inclusive Education Policy
To support children and students in attaining the goals as
stated in the Ministerial Order on Student Learning, school
authorities must ensure that all children and students
(Kindergarten to Grade 12), regardless of race, religious
belief, colour, gender, gender identity, gender expression,
physical disability, mental disability, family status or sexual
orientation, or any other factor(s), have access to
meaningful and relevant learning experiences that includes
appropriate instructional supports.
Value-based approach
•
•
•
•
•
•
Opportunity
Fairness
Citizenship
Choice
Diversity
Excellence
Principles of inclusive education
• Value diversity and
learner differences
• Set high expectations
• Understand strengths
and needs
• Reduce barriers
• Build capacity
• Collaborate
Inclusive
Education
Policy
Framework
A policy framework is …
• A guiding document
• Enabling
• Flexible
• It is not:
– A set of rules and
regulations
Six Policy Directions
1. Learner-centred decision making
2. Engaging families and communities
3. Evidence-based practice
4. Professional learning and collaboration
5. Leadership and vision
6. Access to supports and services
Aligns with:
Education Act (proposed)
Education Business Plan
Inclusive Education Policy
And standards and initiatives such as
 The Teacher Quality Standards
 School Leadership Standards
 Regional Collaborative Service Delivery
 Learning and Technology Policy Framework
 Welcoming, Caring, Respectful and Safe Learning
Environments
 Memorandum of Understanding for First Nations
Education in Alberta
 Programs of Study
 Accountability / Assurance
Engagement process
Phase 1:
Inform and consult
ASBA's contribution
Feedback from across Alberta
Tells us that school authorities
are committed to inclusion and
they are looking for:
 A coordinated implementation
plan
 Accountability
 One inclusive education system
for all
 Cross Ministry coordination and
alignment
Engagement process
Phase 2:
Collaborate and revise
A Working Group will be
reviewing consolidated data
from the submissions and will
be developing a final draft for
validation in Phase 3.
Engagement process
Phase 3:
Validate
Implementation (Next Steps)
• Standards for children
and students with
disabilities are being
developed.
• A plan to engage with
school authorities to
develop implementation
strategies is underway.
Table Talk
1) What are the strengths and assets of your
jurisdiction that facilitate inclusive education
for all children and students?
2) Which policy direction would be the most
challenging for your school jurisdiction?
3) Which of the policy directions would you
choose to focus on first in order to have the
biggest impact on inclusion for your
jurisdiction?