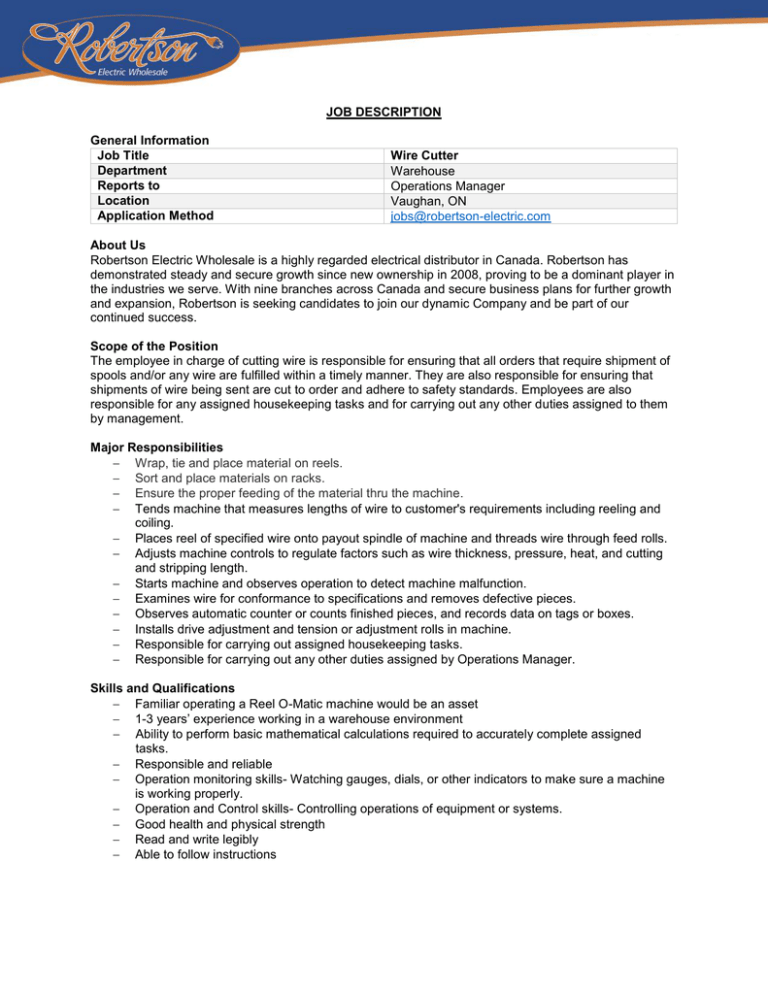 JOB DESCRIPTION
General Information
Job Title
Department
Reports to
Location
Application Method
Wire Cutter
Warehouse
Operations Manager
Vaughan, ON
[email protected]
About Us
Robertson Electric Wholesale is a highly regarded electrical distributor in Canada. Robertson has
demonstrated steady and secure growth since new ownership in 2008, proving to be a dominant player in
the industries we serve. With nine branches across Canada and secure business plans for further growth
and expansion, Robertson is seeking candidates to join our dynamic Company and be part of our
continued success.
Scope of the Position
The employee in charge of cutting wire is responsible for ensuring that all orders that require shipment of
spools and/or any wire are fulfilled within a timely manner. They are also responsible for ensuring that
shipments of wire being sent are cut to order and adhere to safety standards. Employees are also
responsible for any assigned housekeeping tasks and for carrying out any other duties assigned to them
by management.
Major Responsibilities
 Wrap, tie and place material on reels.
 Sort and place materials on racks.
 Ensure the proper feeding of the material thru the machine.
 Tends machine that measures lengths of wire to customer's requirements including reeling and
coiling.
 Places reel of specified wire onto payout spindle of machine and threads wire through feed rolls.
 Adjusts machine controls to regulate factors such as wire thickness, pressure, heat, and cutting
and stripping length.
 Starts machine and observes operation to detect machine malfunction.
 Examines wire for conformance to specifications and removes defective pieces.
 Observes automatic counter or counts finished pieces, and records data on tags or boxes.
 Installs drive adjustment and tension or adjustment rolls in machine.
 Responsible for carrying out assigned housekeeping tasks.
 Responsible for carrying out any other duties assigned by Operations Manager.
Skills and Qualifications
 Familiar operating a Reel O-Matic machine would be an asset
 1-3 years' experience working in a warehouse environment
 Ability to perform basic mathematical calculations required to accurately complete assigned
tasks.
 Responsible and reliable
 Operation monitoring skills- Watching gauges, dials, or other indicators to make sure a machine
is working properly.
 Operation and Control skills- Controlling operations of equipment or systems.
 Good health and physical strength
 Read and write legibly
 Able to follow instructions
A few reasons why it's great to work for us
 Robertson Electric Wholesale is an established and fast growing company
 Competitive salary
 Comprehensive medical and dental benefits
 Opportunities for growth and development
Robertson Electric is an equal opportunity employer.
We wish to thank all applicants for their interest but advise that only those selected for an interview will be
contacted.