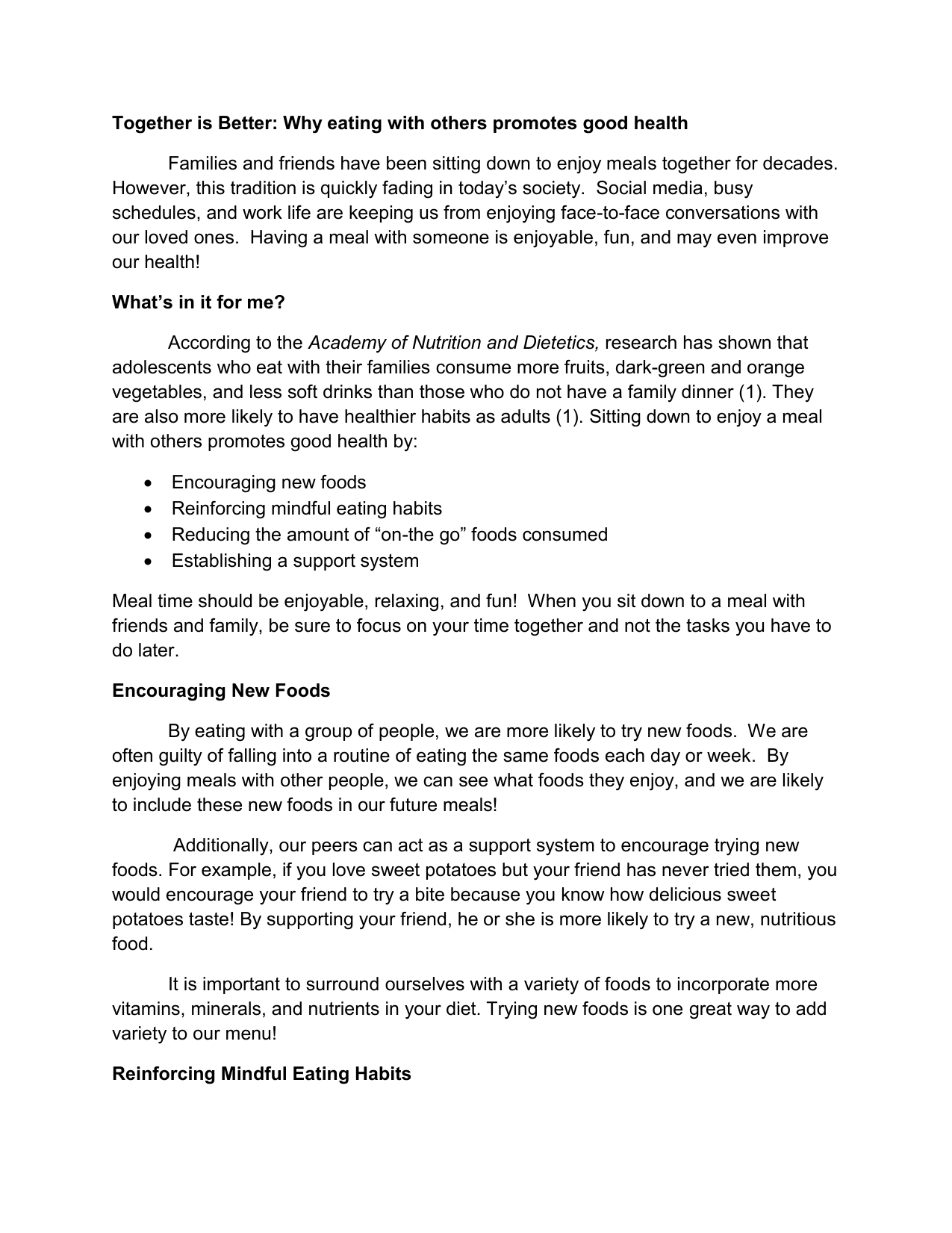 Together is Better: Why eating with others promotes good health
Families and friends have been sitting down to enjoy meals together for decades.
However, this tradition is quickly fading in today's society. Social media, busy
schedules, and work life are keeping us from enjoying face-to-face conversations with
our loved ones. Having a meal with someone is enjoyable, fun, and may even improve
our health!
What's in it for me?
According to the Academy of Nutrition and Dietetics, research has shown that
adolescents who eat with their families consume more fruits, dark-green and orange
vegetables, and less soft drinks than those who do not have a family dinner (1). They
are also more likely to have healthier habits as adults (1). Sitting down to enjoy a meal
with others promotes good health by:




Encouraging new foods
Reinforcing mindful eating habits
Reducing the amount of "on-the go" foods consumed
Establishing a support system
Meal time should be enjoyable, relaxing, and fun! When you sit down to a meal with
friends and family, be sure to focus on your time together and not the tasks you have to
do later.
Encouraging New Foods
By eating with a group of people, we are more likely to try new foods. We are
often guilty of falling into a routine of eating the same foods each day or week. By
enjoying meals with other people, we can see what foods they enjoy, and we are likely
to include these new foods in our future meals!
Additionally, our peers can act as a support system to encourage trying new
foods. For example, if you love sweet potatoes but your friend has never tried them, you
would encourage your friend to try a bite because you know how delicious sweet
potatoes taste! By supporting your friend, he or she is more likely to try a new, nutritious
food.
It is important to surround ourselves with a variety of foods to incorporate more
vitamins, minerals, and nutrients in your diet. Trying new foods is one great way to add
variety to our menu!
Reinforcing Mindful Eating Habits
Mindful eating means taking time to enjoy, savor, and think about the foods we
are eating. The next time you eat a piece of chocolate, try letting it melt in your mouth:
think about the size of the chocolate, how it feels on your tongue, and what it tastes like.
This is much more enjoyable than chomping down on a piece of chocolate in two
seconds!
By eating with friends and family, we engage in good conversation which slows
down our meals. This gives our bodies time to feel full because it takes over 20 minutes
for our brain to tell our body we are full (2). Because we are slowing down our meal
time, we are less likely to over eat. In addition, we can savor and enjoy the foods on our
plate! Eating with friends and family is a great opportunity to practice mindful eating
habits.
Reducing the amount of "on-the-go" foods
When we make plans to eat with others, we are setting aside time to eat and
enjoy good company. It is unlikely we will eat and dash away without spending time with
our friends and family. Therefore, we are less likely to eat 1 minute frozen meals or fast
foods.
On-the-go foods are typically higher in calories, fat, and are less nutrient dense
than foods that take more time to prepare (3). Spending quality time with others during
meal time gives us the opportunity to choose whole, nutritious foods that we normally
wouldn't choose while in a rush.
Establishing a Support System
Everyone needs a buddy! A great way to strengthen your relationship with others
is to plan meal times together. Our friends and family support us; they will encourage,
counsel, and praise us through all our highs and lows in life. Meal time is a great way to
reconnect with people whose opinions we value. Take time to eat with your friends and
family each week to promote good health and strong relationships.
References
1. Eat together as a family to create better eating habits. Kids Eat Right Website.
http://www.eatright.org/kids/tip.aspx?id=6442459350&term=eating%20together.
Accessed October 4, 2013.
2. Fredericton, NB. Slow down to eat less and feel full. Daily Gleaner. 2012; A9.
3. Duyff, R. Eating in the fast-food lane. Kids Eat Right Website.
http://www.eatright.org/kids/tip.aspx?id=6442462211&terms=fast%20food.
Accessed October 4, 2013.