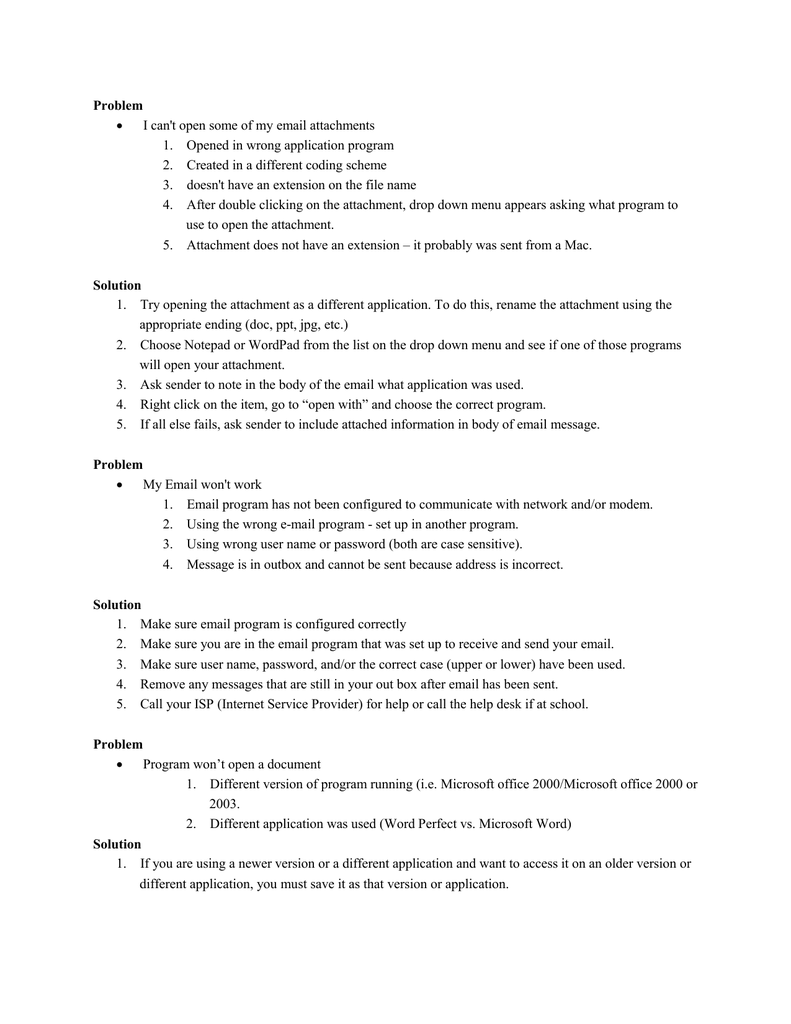 Problem

I can't open some of my email attachments
1. Opened in wrong application program
2. Created in a different coding scheme
3. doesn't have an extension on the file name
4. After double clicking on the attachment, drop down menu appears asking what program to
use to open the attachment.
5. Attachment does not have an extension – it probably was sent from a Mac.
Solution
1. Try opening the attachment as a different application. To do this, rename the attachment using the
appropriate ending (doc, ppt, jpg, etc.)
2. Choose Notepad or WordPad from the list on the drop down menu and see if one of those programs
will open your attachment.
3. Ask sender to note in the body of the email what application was used.
4. Right click on the item, go to "open with" and choose the correct program.
5. If all else fails, ask sender to include attached information in body of email message.
Problem
 My Email won't work
1. Email program has not been configured to communicate with network and/or modem.
2. Using the wrong e-mail program - set up in another program.
3. Using wrong user name or password (both are case sensitive).
4. Message is in outbox and cannot be sent because address is incorrect.
Solution
1. Make sure email program is configured correctly
2. Make sure you are in the email program that was set up to receive and send your email.
3. Make sure user name, password, and/or the correct case (upper or lower) have been used.
4. Remove any messages that are still in your out box after email has been sent.
5. Call your ISP (Internet Service Provider) for help or call the help desk if at school.
Problem
 Program won't open a document
1. Different version of program running (i.e. Microsoft office 2000/Microsoft office 2000 or
2003.
2. Different application was used (Word Perfect vs. Microsoft Word)
Solution
1. If you are using a newer version or a different application and want to access it on an older version or
different application, you must save it as that version or application.
2. Make sure the file name has an extension such as ".doc." Try adding the correct extension and
reopening.
3. Do a "Save As" and then check the drop down menu next to "Save as Type" to see if the older version
or different application is there.
4. Save your file as that version or application.
5. The newer version or different application should be able to read the older version or different
application, but if you do a "Save or Save As" it may ask if you want to upgrade the old version or
change the application.
6. Open the document into the program by opening the program such as Word and going to "open" and
selecting the file. Oftentimes, the program will convert the file to make it readable.
Problem
 My Email won't go through
1. Attachment is too big.
2. Your message is going into spam or junk mail.
Solution
1. Downsize or eliminate some attachments. You may need to send separate Emails to send multiple
files.
Add the address to your "Safe Senders" list and have the person you are sending to do the same. Check
your "Junk Mail" folder.