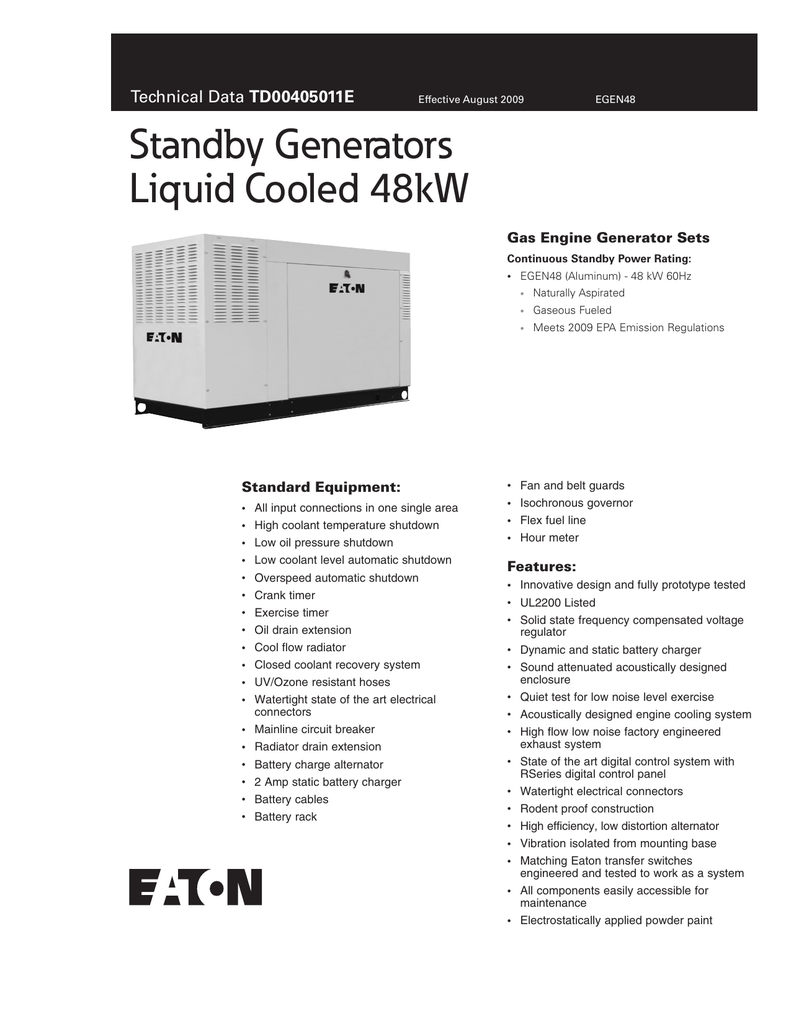 Technical Data TD00405011E
Effective August 2009
EGEN48
Standby Generators
Liquid Cooled 48kW
Gas Engine Generator Sets
Continuous Standby Power Rating:
•
Standard Equipment:
•
•
•
•
•
•
•
•
•
•
•
•
•
•
•
•
•
•
All input connections in one single area
High coolant temperature shutdown
Low oil pressure shutdown
Low coolant level automatic shutdown
Overspeed automatic shutdown
Crank timer
Exercise timer
Oil drain extension
Cool flow radiator
Closed coolant recovery system
UV/Ozone resistant hoses
Watertight state of the art electrical
connectors
Mainline circuit breaker
Radiator drain extension
Battery charge alternator
2 Amp static battery charger
Battery cables
Battery rack
•
•
•
•
EGEN48 (Aluminum) - 48 kW 60Hz
• Naturally Aspirated
•
Gaseous Fueled
•
Meets 2009 EPA Emission Regulations
Fan and belt guards
Isochronous governor
Flex fuel line
Hour meter
Features:
•
•
•
•
•
•
•
•
•
•
•
•
•
•
•
•
Innovative design and fully prototype tested
UL2200 Listed
Solid state frequency compensated voltage
regulator
Dynamic and static battery charger
Sound attenuated acoustically designed
enclosure
Quiet test for low noise level exercise
Acoustically designed engine cooling system
High flow low noise factory engineered
exhaust system
State of the art digital control system with
RSeries digital control panel
Watertight electrical connectors
Rodent proof construction
High efficiency, low distortion alternator
Vibration isolated from mounting base
Matching Eaton transfer switches
engineered and tested to work as a system
All components easily accessible for
maintenance
Electrostatically applied powder paint
Standby Generators

Technical Data TD00405011E
Effective August 2009
Generator Features:
Table 1. Specifications
•
Generator
•
Type
Synchronous
•
Rotor/Stator Insulation
Class H
•
Weight
1740 lbs.
•
Total Harmonic Distortion
<5%
Telephone Interference Factor (Tif)
<50
Alternator Output Leads 3 Phase
4 wire
Bearings
Sealed Ball
Coupling
Control Panel Features:
•
Flexible Disc
Excitation System
Revolving field heavy duty generator
Directly connected to the engine
Operating temperature rise 120 °C above a 40 °C ambient
Insulation is Class H rated at 150 °C rise
All models are fully prototyped tested
Direct
NOTE: Generator rating and performance in accordance with ISO8528-5, BS5514, SAE
J1349, ISO3046, and DIN6271 standards.
Engine
Seven Led Indicator Lights
•
System ready
•
Low fuel pressure
•
Low battery
•
Low oil pressure
•
High coolant temp/low coolant temp
•
Overspeed
•
Overcrank
Bore
3.41
Stroke
3.74
Compression Ratio
9.3:1
Intake Air System
Naturally Aspirated
Valve Seats
Precision Ground & Hardened
Lifter Type
Roller, Hydraulic
Oil Pump
Gear
Oil Filter
Full Flow Spin-On Cartridge
Crankcase Capacity
6 Quarts
Cooling System Type
Pressurized Closed
Water Pump Flow
10.8 gal/min
•
Utility sensing
Fan Speed
1050
•
Delay on utility failure for engine start
Fan Diameter
22 Inches
•
Engine warm-up before transfer
Fan Mode
Puller
•
Delay to retransfer to utility
•
•
Internal Functions:
•
3 position switch (auto, off and manual)
•
2 wire start for any transfer switch
•
Built-in 7 day exerciser
•
Selectable engine speed at exercise
•
Governor controller is built into the master control board
•
Temperature range -40 °C to 70 °C
Additional Functions:
•
Engine cooldown timer
Electronic
•
Exerciser not set
Frequency Regulation
Isochronous
•
Hour meter
Steady State Regulation
± 0.25%
Governor
Type
Fuel System
Type
Natural gas, propane vapor
Carburetor
Down Draft
Secondary Fuel Regulator
Standard
Fuel Shut Off Solenoid
Standard
Operating Fuel Pressure
5" - 14" H2O
Voltage Regulator
Type
Electronic
Sensing
Single Phase
Regulation
± 1%
Features
V/F Adjustable, Adjustable Voltage
and Gain LED Indicators
Electrical System
Battery Charge Alternator
12v 30 Amp
Static Battery Charger
2 Amp
Recommended Battery
Group 26, 525cca
System Voltage
12 Volts
2
EATON CORPORATION www.eaton.com
Rating definitions - Standby: Applicable for supplying emergency power for the
duration of the utility power outage. No overload capability is available for this rating. (All ratings in accordance with BS5514, ISO3046, ISO8528 and DIN6271).
Standby Generators
Technical Data TD00405011E
Effective August 2009
Table 2. Operating Data
kW Rating (Load Capacity/Standby Rating)
48
Engine Size
4.2 Liter V6
Generator Output Voltage/kW - 60hz
kW-LP
Amp
kW-NG
Amp
CB Size
120/240v, 1-Phase, 1.0 Pf
48
200
46
192
200
120/208v, 3-Phase, 0.8 Pf
48
166
46
160
175
120/240v, 3-Phase, 0.8 Pf
48
144
46
138
150
277/480v, 3-Phase, 0.8 Pf
48
72
46
69
80
Generator Locked Rotor Kva Available @ Voltage Dip Of 35%
Single phase or 208 3-phase
480v 3-Phase
100
110
Engine Fuel Consumption
Natural Gas
Propane
(ft3/hr.)
(gal/hr.)
cu ft/hr
Exercise cycle
88
0.94
34.4
25% of rated load
205
2.23
81
50% of rated load
370
4.03
147
75% of rated load
516
5.62
204
100% of rated load
661
7.20
261
Engine Cooling
3
Air flow (inlet air including alternator and combustion air) ft /min.
2,460
System coolant capacity US gal.
3.0
Heat rejection to coolant BTU/hr.
165,000
Max. operating air temp. on radiator °C (°F)
60 (150)
Max. ambient temperature °C (°F)
50 (140)
Combustion Air Requirements
Flow at rated power 60 Hz cfm
235
Sound Emissions In Dba
Exercising at 7 meters
60
Normal operation at 7 meters
65
Exhaust
Exhaust flow at rated output 60 Hz cfm
395
Exhaust temp. at muffler outlet °F
1100
Engine Parameters
Rated synchronous RPM 60 Hz
1800
HP at rated KW 60 Hz
75
Power Adjustment For Ambient Conditions
Temperature Duration
3% for every 10 °C above - °C
1.65% for every 10 °F above - °F
25
77
Altitude Duration
1% for every 100 m above - m
3% for every 1000 ft. above - ft.
183
600
RATING: All three phases units are rated at 0.8 power factor. All single phase units are rated at 1.0 power factor. STANDBY RATING: Standby ratings apply to installations served by a reliable utility source. The
standby rating is applicable to varying loads for the duration of a power outage. There is no overload capability for this rating. Ratings are in accordance with ISO-3046-1. Design and specifications are subject to
change without notice.
EATON CORPORATION www.eaton.com
3
Standby Generators
Technical Data TD00405011E
Effective August 2009
76.8
33.5
44.8
45.1
Front View
Side View
Figure 1. Installation Layout
Eaton Corporation
Electrical Sector
1000 Cherrington Parkway
Moon Township, PA 15108
United States
877-ETN-CARE (877-386-2273)
Eaton.com
© 2009 Eaton Corporation
All Rights Reserved
Printed in USA
Publication No. TD00405011E
August 2009
All other trademarks are property of their
respective owners.