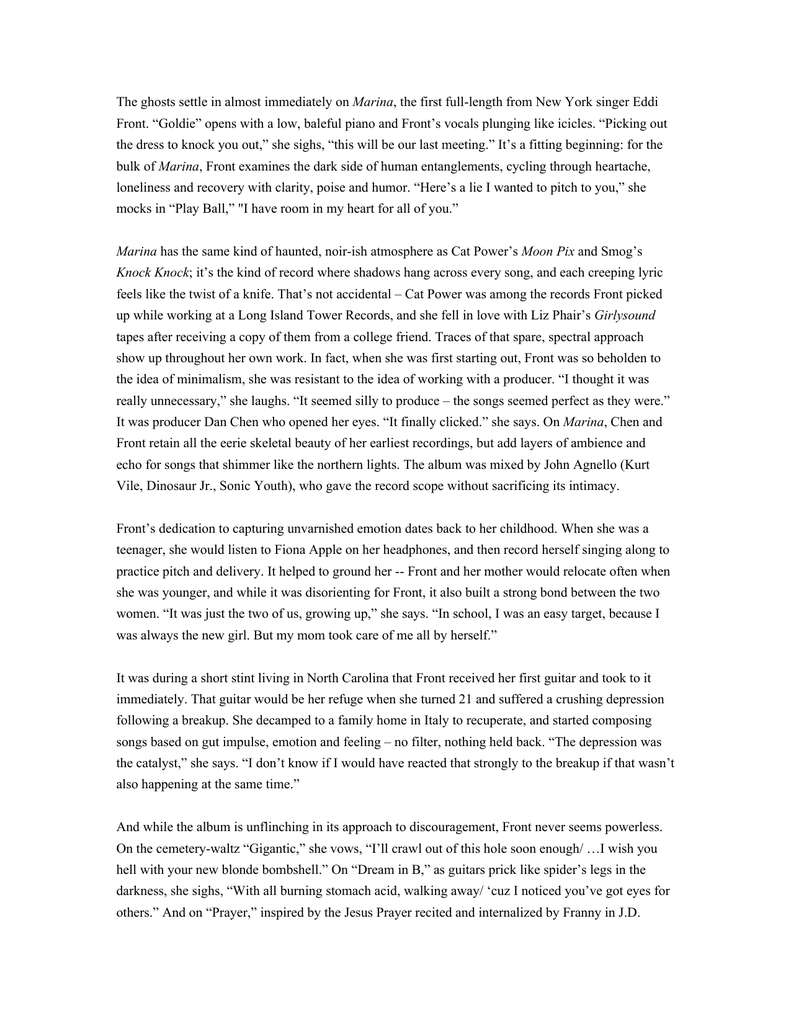 The ghosts settle in almost immediately on ​
Marina​
, the first full­length from New York singer Eddi Front. "Goldie" opens with a low, baleful piano and Front's vocals plunging like icicles. "Picking out the dress to knock you out," she sighs, "this will be our last meeting." It's a fitting beginning: for the bulk of ​
Marina​
, Front examines the dark side of human entanglements, cycling through heartache, loneliness and recovery with clarity, poise and humor. "Here's a lie I wanted to pitch to you," she mocks in "Play Ball," "I have room in my heart for all of you." Marina​
has the same kind of haunted, noir­ish atmosphere as Cat Power's ​
Moon Pix​
and Smog's Knock Knock​
; it's the kind of record where shadows hang across every song, and each creeping lyric feels like the twist of a knife. That's not accidental – Cat Power was among the records Front picked up while working at a Long Island Tower Records, and she fell in love with Liz Phair's ​
Girlysound tapes after receiving a copy of them from a college friend. Traces of that spare, spectral approach show up throughout her own work. In fact, when she was first starting out, Front was so beholden to the idea of minimalism, she was resistant to the idea of working with a producer. "I thought it was really unnecessary," she laughs. "It seemed silly to produce – the songs seemed perfect as they were." It was producer Dan Chen who opened her eyes. "It finally clicked." she says. On ​
Marina​
, Chen and Front retain all the eerie skeletal beauty of her earliest recordings, but add layers of ambience and echo for songs that shimmer like the northern lights. The album was mixed by John Agnello (Kurt Vile, Dinosaur Jr., Sonic Youth), who gave the record scope without sacrificing its intimacy. Front's dedication to capturing unvarnished emotion dates back to her childhood. When she was a teenager, she would listen to Fiona Apple on her headphones, and then record herself singing along to practice pitch and delivery. It helped to ground her ­­ Front and her mother would relocate often when she was younger, and while it was disorienting for Front, it also built a strong bond between the two women. "It was just the two of us, growing up," she says. "In school, I was an easy target, because I was always the new girl. But my mom took care of me all by herself." It was during a short stint living in North Carolina that Front received her first guitar and took to it immediately. That guitar would be her refuge when she turned 21 and suffered a crushing depression following a breakup. She decamped to a family home in Italy to recuperate, and started composing songs based on gut impulse, emotion and feeling – no filter, nothing held back. "The depression was the catalyst," she says. "I don't know if I would have reacted that strongly to the breakup if that wasn't also happening at the same time." And while the album is unflinching in its approach to discouragement, Front never seems powerless. On the cemetery­waltz "Gigantic," she vows, "I'll crawl out of this hole soon enough/ …I wish you hell with your new blonde bombshell." On "Dream in B," as guitars prick like spider's legs in the darkness, she sighs, "With all burning stomach acid, walking away/ 'cuz I noticed you've got eyes for others." And on "Prayer," inspired by the Jesus Prayer recited and internalized by Franny in J.D. Salinger's ​
Franny & Zooey​
, Front – her voice wreathed in reverb and flickering like a spirit in the distance – declares, "Lord Jesus, hear my prayer/ so that I may someday walk again." Throughout Marina​
, Front moves past her sorrow to find strength, revolve and healing. "I always feel like if I didn't have music and writing, I wouldn't be doing very well. It's been a savior for me." The album was also healing in a literal way. Front and her father, a classical violinist, had always had a distant relationship, but when she wanted a violin part on Marina, she knew whom she had to call. "We weren't close when I was growing up," she says, "but six years ago, he started reaching out and wanting to build our relationship. When I was recording the record, I realized, 'He's the best violin player in the world. It needs to be him.' Through working on the record, we got closer." In the end, ​
Marina​
is a record of recovery, of staring down darkness until the sun bleeds through. And while there are trace elements of Front's favorite authors – Raymond Carver, Lydia Davis, Charles Bukowski – the final product is uniquely her own. "I hope when people hear the record, they have a feeling for their own experiences and their own life," she says. "I hope they remember someone, or some place, that was important to them, and to not be afraid to express emotions." ​
Marina​
is not just a snapshot of a moment in time – it's the story of what it takes to get to the next moment ­­ and the one after that, and the one after that.