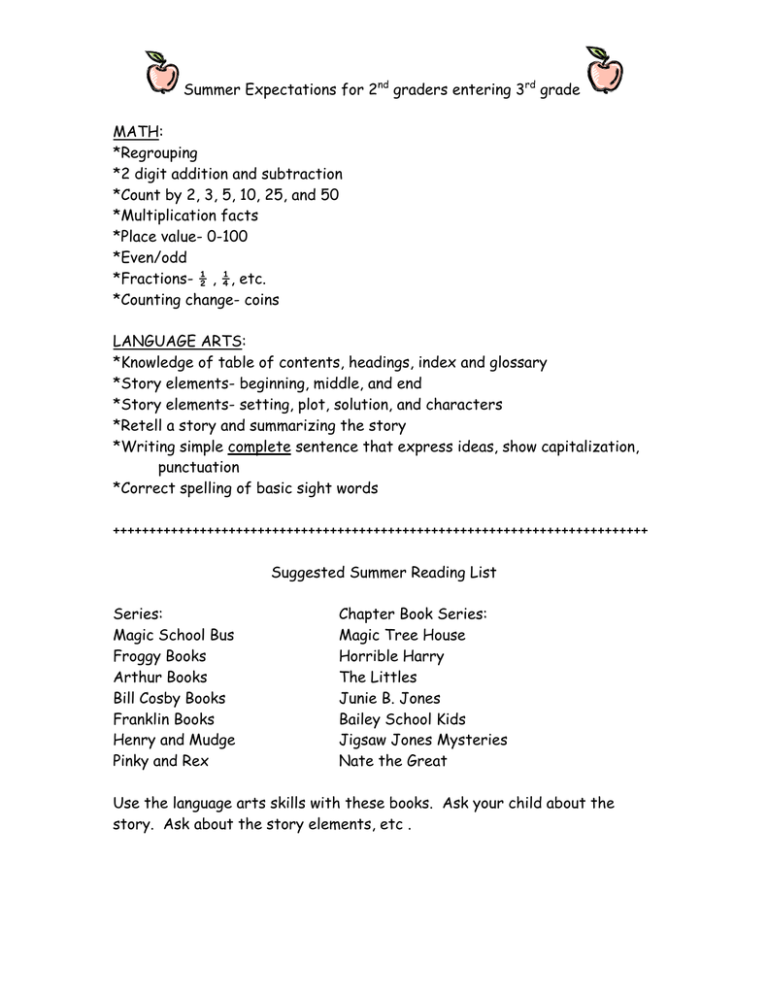 Summer Expectations for 2nd graders entering 3rd grade
MATH:
*Regrouping
*2 digit addition and subtraction
*Count by 2, 3, 5, 10, 25, and 50
*Multiplication facts
*Place value- 0-100
*Even/odd
*Fractions- ½ , ¼, etc.
*Counting change- coins
LANGUAGE ARTS:
*Knowledge of table of contents, headings, index and glossary
*Story elements- beginning, middle, and end
*Story elements- setting, plot, solution, and characters
*Retell a story and summarizing the story
*Writing simple complete sentence that express ideas, show capitalization,
punctuation
*Correct spelling of basic sight words
++++++++++++++++++++++++++++++++++++++++++++++++++++++++++++++++++++++++++
Suggested Summer Reading List
Series:
Magic School Bus
Froggy Books
Arthur Books
Bill Cosby Books
Franklin Books
Henry and Mudge
Pinky and Rex
Chapter Book Series:
Magic Tree House
Horrible Harry
The Littles
Junie B. Jones
Bailey School Kids
Jigsaw Jones Mysteries
Nate the Great
Use the language arts skills with these books. Ask your child about the
story. Ask about the story elements, etc .