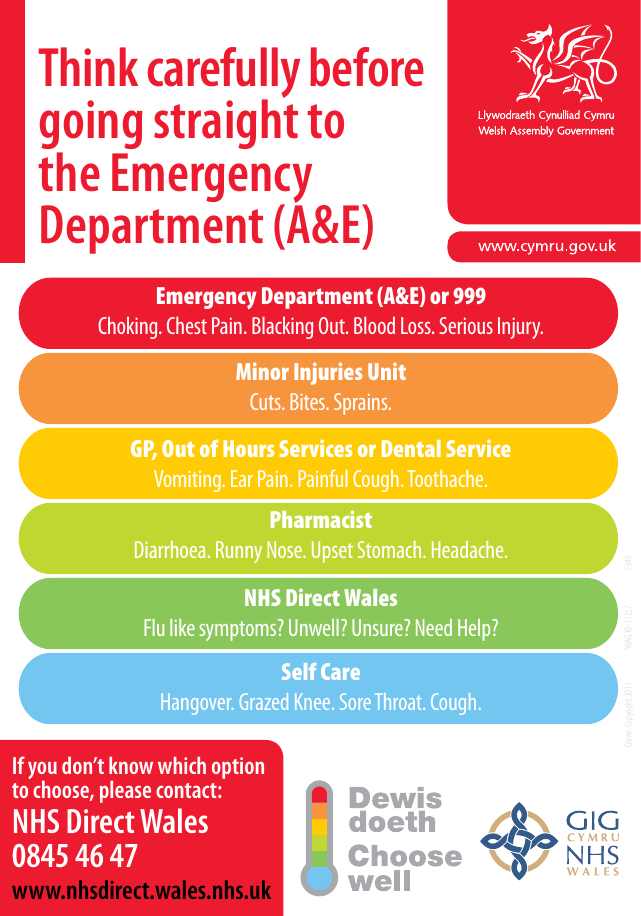 Think carefully before
going straight to
the Emergency
Department (A&E)
Emergency Department (A&E) or 999
Choking. Chest Pain. Blacking Out. Blood Loss. Serious Injury.
Minor Injuries Unit
Cuts. Bites. Sprains.
Self Care
Hangover. Grazed Knee. Sore Throat. Cough.
If you don't know which option
to choose, please contact:
NHS Direct Wales
0845 46 47
www.nhsdirect.wales.nhs.uk
WAG10-11257
NHS Direct Wales
Flu like symptoms? Unwell? Unsure? Need Help?
Crown Copyright 2011
Pharmacist
Diarrhoea. Runny Nose. Upset Stomach. Headache.
F649
GP, Out of Hours Services or Dental Service
Vomiting. Ear Pain. Painful Cough. Toothache.