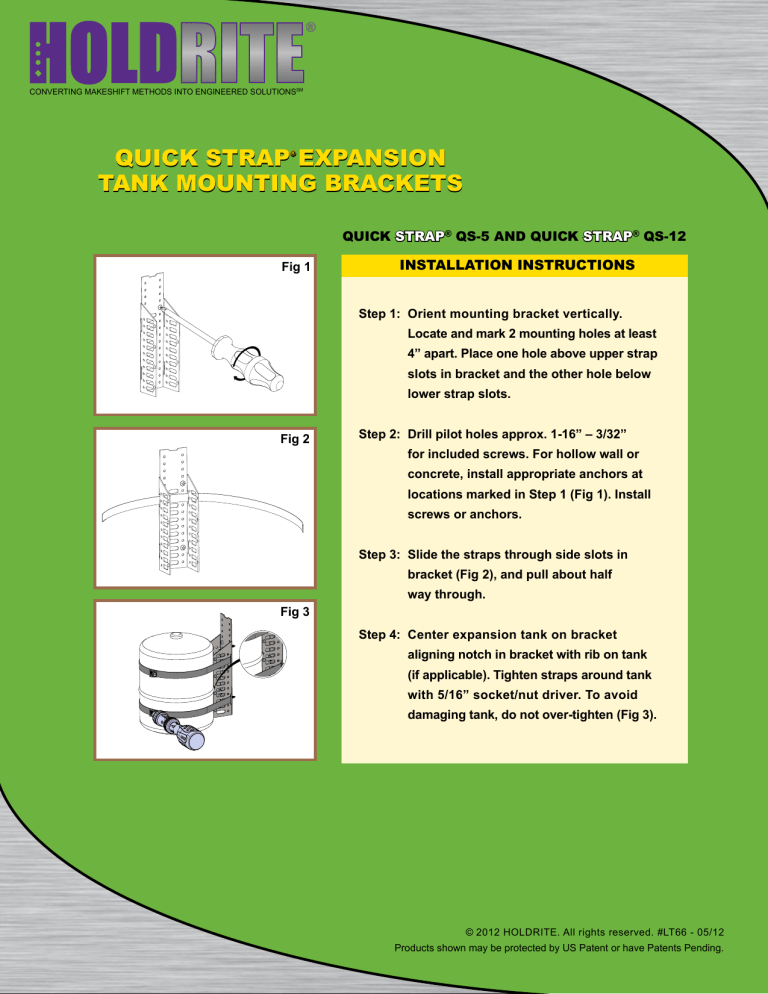 ®
CONVERTING MAKESHIFT METHODS INTO ENGINEERED SOLUTIONS SM
QUICK STRAP
®
EXPANSION
TANK MOUNTING BRACKETS
Fig 1
QUICK STRAP ® QS-5 AND QUICK STRAP ® QS-12
INSTALLATION INSTRUCTIONS
Fig 2
Fig 3
Step 1: Orient mounting bracket vertically.
Locate and mark 2 mounting holes at least
4" apart. Place one hole above upper strap slots in bracket and the other hole below lower strap slots.
Step 2: Drill pilot holes approx. 1-16" – 3/32" for included screws. For hollow wall or concrete, install appropriate anchors at locations marked in Step 1 (Fig 1). Install screws or anchors.
Step 3: Slide the straps through side slots in bracket (Fig 2), and pull about half way through.
Step 4: Center expansion tank on bracket aligning notch in bracket with rib on tank
(if applicable). Tighten straps around tank with 5/16" socket/nut driver. To avoid damaging tank, do not over-tighten (Fig 3).
© 2012 HOLDRITE. All rights reserved. #LT66 - 05/12
Products shown may be protected by US Patent or have Patents Pending.