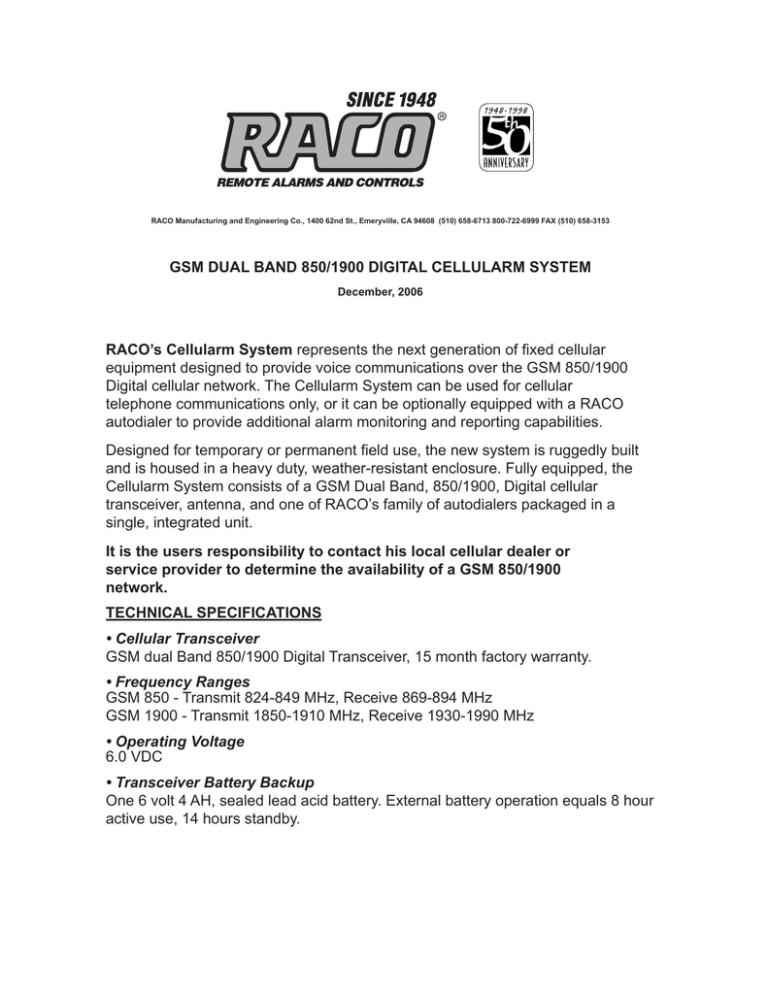 RACO Manufacturing and Engineering Co., 1400 62nd St., Emeryville, CA 94608 (510) 658-6713 800-722-6999 FAX (510) 658-3153
GSM DUAL BAND 850/1900 DIGITAL CELLULARM SYSTEM
December, 2006
RACO's Cellularm System represents the next generation of fixed cellular
equipment designed to provide voice communications over the GSM 850/1900
Digital cellular network. The Cellularm System can be used for cellular
telephone communications only, or it can be optionally equipped with a RACO
autodialer to provide additional alarm monitoring and reporting capabilities.
Designed for temporary or permanent field use, the new system is ruggedly built
and is housed in a heavy duty, weather-resistant enclosure. Fully equipped, the
Cellularm System consists of a GSM Dual Band, 850/1900, Digital cellular
transceiver, antenna, and one of RACO's family of autodialers packaged in a
single, integrated unit.
It is the users responsibility to contact his local cellular dealer or
service provider to determine the availability of a GSM 850/1900
network.
TECHNICAL SPECIFICATIONS
• Cellular Transceiver
GSM dual Band 850/1900 Digital Transceiver, 15 month factory warranty.
• Frequency Ranges
GSM 850 - Transmit 824-849 MHz, Receive 869-894 MHz
GSM 1900 - Transmit 1850-1910 MHz, Receive 1930-1990 MHz
• Operating Voltage
6.0 VDC
• Transceiver Battery Backup
One 6 volt 4 AH, sealed lead acid battery. External battery operation equals 8 hour
active use, 14 hours standby.
GSM DUAL BAND 850/1900 DIGITAL CELLULARM SYSTEM - Page 2
• Antenna
Cellularm is furnished with a flexible right angle, 2.0 dBi gain dual band dipole
antenna, connected with a standard TNC connector. If system is to be located in a
cellular fringe area or a hilly location, a higher strength antenna may be required (to
be furnished separately).
• Telephone Connection
One standard RJ 11C connector provided for standard
telephone set or autodialer. The user is to furnish splitter
if both telephone set and autodialer are to be used
together.
• Environment
Operating Temperature Range: -10 degrees C to +50 degrees C
Storage Temperature Range: -40 degrees C to +60 degrees C
Humidity Range: 5% to 95% (excludes batteries)
• Enclosure Specifications
Molded fiberglass with silicone gaskets NEMA 4X, CSA Type 3, 4, and 5; UL
Approved
• Overall Dimensions
Guard-It System: 17-1/2" H x 15-1/2"
W x 6-1/4" D All Other Systems: 171/2" H x 14-7/8" W x 12-1/4" D
Mounting Centers: 16-3/4" vertical x
12" horizontal
• Total Weight
Guard-It System 29 lbs, all other Systems 49 lbs. Includes entire packaged
system — fiberglass enclosure, cellular telephone with backup battery pack, and
autodialer.