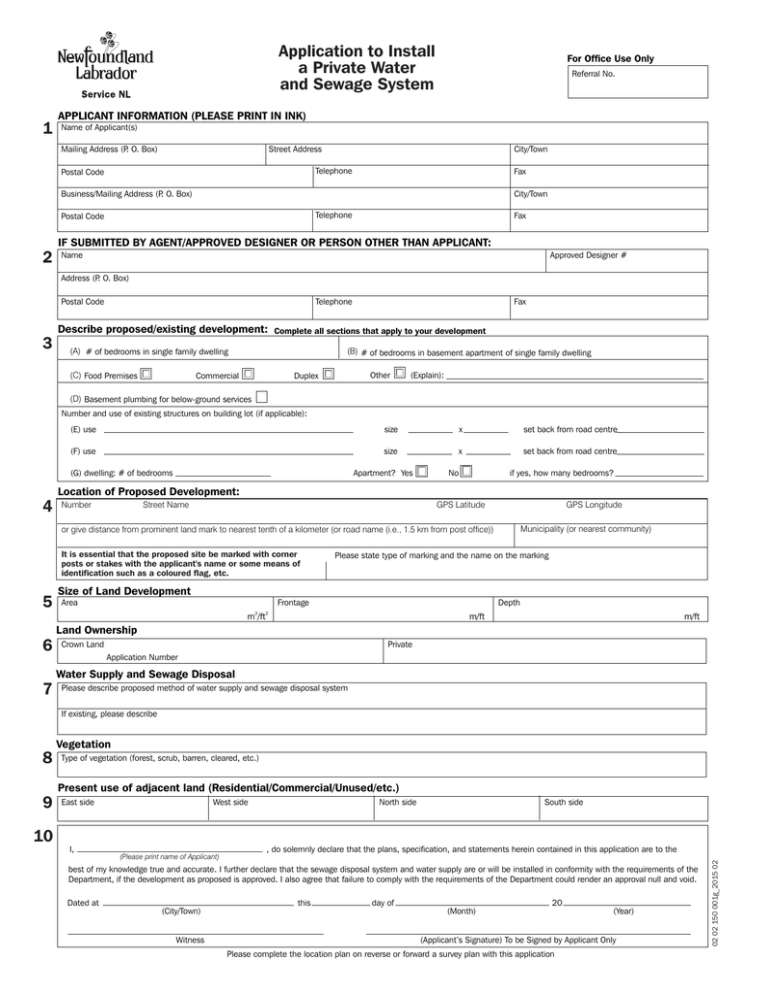 Application to Install
a Private Water
and Sewage System
1
For Office Use Only
Referral No.
APPLICANT INFORMATION (PLEASE PRINT IN INK)
Name of Applicant(s)
Mailing Address (P. O. Box)
Street Address
City/Town
Telephone
Postal Code
Fax
Business/Mailing Address (P. O. Box)
City/Town
Telephone
Postal Code
Fax
IF SUBMITTED BY AGENT/APPROVED DESIGNER OR PERSON OTHER THAN APPLICANT:
2
Name
Approved Designer #
Address (P. O. Box)
Postal Code
Telephone
Describe proposed/existing development:
3
Complete all sections that apply to your development
(A) # of bedrooms in single family dwelling
(C) Food Premises
Fax
(B) # of bedrooms in basement apartment of single family dwelling
Commercial
Other
Duplex
(Explain):
(D) Basement plumbing for below-ground services
Number and use of existing structures on building lot (if applicable):
(E) use
size
x
set back from road centre
(F) use
size
x
set back from road centre
(G) dwelling: # of bedrooms
Apartment? Yes
No
if yes, how many bedrooms?
Location of Proposed Development:
4
Number
Street Name
GPS Latitude
GPS Longitude
Municipality (or nearest community)
or give distance from prominent land mark to nearest tenth of a kilometer (or road name (i.e., 1.5 km from post office))
It is essential that the proposed site be marked with corner
posts or stakes with the applicant's name or some means of
identification such as a coloured flag, etc.
5
Please state type of marking and the name on the marking
Size of Land Development
Area
Frontage
Depth
m2/ft2
m/ft
m/ft
Land Ownership
6
Crown Land
Private
Application Number
Water Supply and Sewage Disposal
7
Please describe proposed method of water supply and sewage disposal system
If existing, please describe
Vegetation
8
Type of vegetation (forest, scrub, barren, cleared, etc.)
Present use of adjacent land (Residential/Commercial/Unused/etc.)
9
East side
West side
North side
South side
10
(Please print name of Applicant)
, do solemnly declare that the plans, specification, and statements herein contained in this application are to the
best of my knowledge true and accurate. I further declare that the sewage disposal system and water supply are or will be installed in conformity with the requirements of the
Department, if the development as proposed is approved. I also agree that failure to comply with the requirements of the Department could render an approval null and void.
Dated at
(City/Town)
Witness
this
day of
(Month)
20
(Year)
(Applicant's Signature) To be Signed by Applicant Only
Please complete the location plan on reverse or forward a survey plan with this application
02 02 150 001g_2015 02
I,
Location Plan (Note: if you answer "yes" to any of the below, please indicate location of item on sketch below)
11
1. Is there farming operation within a 610 meter (2000 ft) radius of your building lot?
Yes
No
2. Is the land part of a designated watershed area?
Yes
No
3. Are there natural watercourses, streams, rivers, ponds, etc. Within 30 meters (100 ft) from your land boundaries?
4. Are there natural watercourses, etc. Crossing or on your building lot?
Yes
Don't know
Yes
No
No
Your sketch should also provide the following information:
12
1. Size of land (dimensions)
6. Proposed or existing location of sewage disposal system
2. Location of house
7. Distance to nearest landmark
3. Location of bathroom
8. Entire floor plan (include all floors) for the proposed dwelling/establishment
4. Location and type (dug or drilled) well
9. Basement and below ground-level pipes/plumbing (if applicable)
5. Location and type of wells on adjacent or neighbours property
Please draw sketch here:
13
SAMPLE SKETCH
RIVER
BATHROOM
SEPTIC
TANK
DISPOSAL
FIELD
30 METERS
30 METERS
8 METERS
DUG WELL
8 METERS
30 METERS
MINIMUM
SHED
DITCH
NEIGHBOURS
HOUSE
DUG WELL
Please return completed application to one of the Government Service Centre offices listed below.
14
MOUNT PEARL
Motor Registration Building
P. O. Box 8700
St. John's, NL A1B 4J6
Telephone: (709) 729-6362
Facsimile: (709) 729-3980
HARBOUR GRACE
P. O. Box 512
7-9 Roddick Crescent
Harbour Grace, NL A0A 2M0
Telephone: (709) 945-3107
Facsimile: (709) 945-3114
GRAND FALLS-WINDSOR
3 Cromer Avenue
Grand Falls-Windsor, NL A2A 1W9
Telephone: (709) 292-4206
Facsimile: (709) 292-4528
CLARENVILLE
8 Myers Avenue, Suite 201
Clarenville, NL A5A 1T5
Telephone: (709) 466-4060
Facsimile: (709) 466-4070
CORNER BROOK
Sir Richard Squires Building
Corner Brook, NL A2H 6J8
Telephone: (709) 637-2860
Facsimile: (709) 637-2905
GANDER
Fraser Mall, 230 Airport Blvd.
P. O. Box 2222
Gander, NL A1V 2N9
Telephone: (709) 256-1420
Facsimile: (709) 256-1438
HAPPY VALLEY-GOOSE BAY
2 Tenth Street
P. O. Box 3014, Stn. "B"
Happy Valley-Goose Bay, NL A0P 1E0
Telephone: (709) 896-5428
Facsimile: (709) 896-4340
PRIVACY NOTICE
The Government Service Centre collects personal information relating to land development under the authority of the Health and Community Services Act and the Water
Resources Act. Personal information collected by the Government of Newfoundland and Labrador is protected under the Access to Information and Protection of Privacy (ATIPP)
Act. If you have any questions about the collection or use of this information, please contact a Government Service Centre representative at your nearest Service NL office.