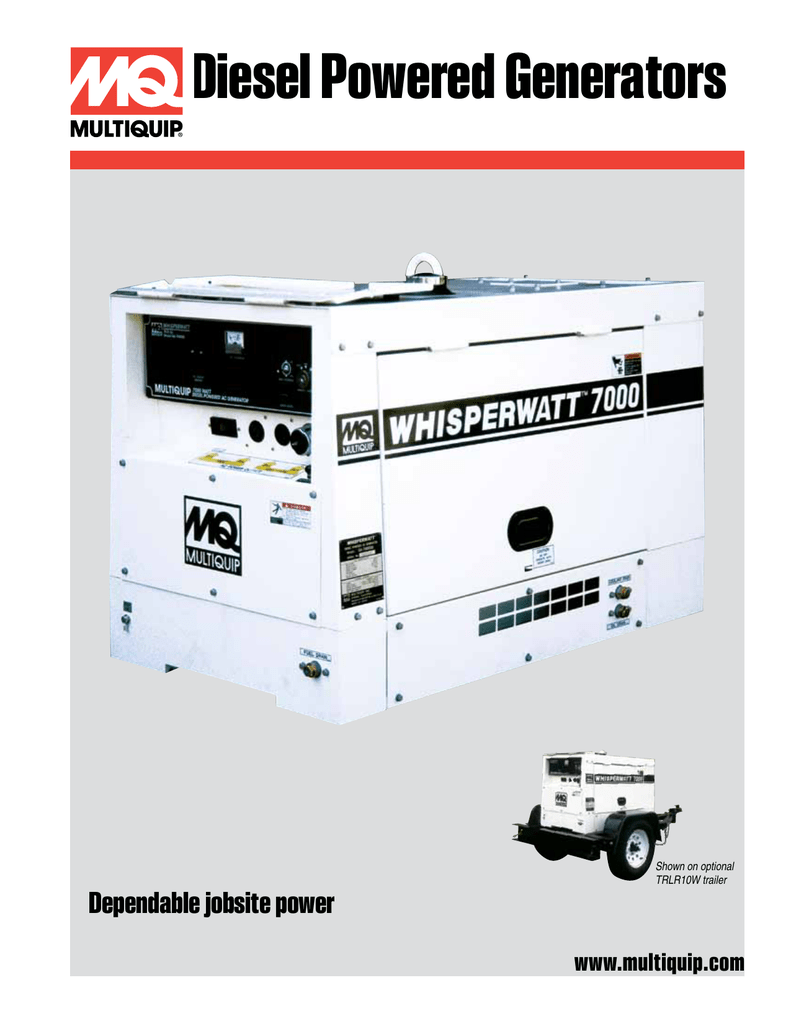 Diesel Powered Generators
Dependable jobsite power
Shown on optional
TRLR10W trailer
www.multiquip.com
DA7000SSA1
Compact, sound-attenuated package with full
instrumentation, including hour meter and warning
lights for oil, water and battery.
SPECIFICATIONS
MODEL
DA7000SSA1
Alternator Design
Brushless
Maximum Watts
7,000
Continuous Watts
6,000
Voltage
120/240V
Max. Amp @ 120V
58.3
Cont. Amp @ 120V
50
Max. Amp @ 240V
29.2
Cont. Amp @240V
25
Frequency/Phase
60 Hz / Single phase
Voltmeter
Standard
Full Power Switch
■ 7kW maximum, 6kW continuous
■ Brushless alternator design
5-20R 125V GFCI 20A
1
L5-30R 125V; T-Lock 30A
1
L14-30R 125/250V;
T-Lock 30A
1
CS-6369; 125/250VAC 50A
■ Ultra-clean AC power - voltage regulation
± 2.5%
Main Circuit Breaker
Number of Poles
■ Full-panel GFCI protection that is OSHA
and NEC compliant
Engine Model
‡‡ Engine power ratings are calculated by the individual engine manufacturer
and the rating method may vary among engine manufacturers. Multiquip Inc.
and its subsidiary companies makes no claim, representation or warranty
as to the power rating of the engine on this equipment and disclaims any
responsibility or liability of any kind whatsoever with respect to the accuracy
of the engine power rating. Users are advised to consult the engine
manufacturer's owners manual and its website for specific information
regarding the engine power rating.
* See receptacle chart on Page 7.
** Electric start models are shipped less battery.
***Alll running times computed at full load using fuel consumption rates supplied by
engine manufaturer.
‡ Requires adapter kit.
Note: Some units may be shown with optional equipment.
2
Kubota Diesel
Z482
Horsepower (KW)‡‡
12.5 (9.3)
Rated Speed — RPM
3,600
Low Oil Shutdown
Standard
Starting Systems**
Electric
Fuel Capacity — gal (ltr)
6.6 (25)
Running Time — hr. /tank***
■ Dependable Tier 4 Kubota diesel engine
1
25A
ENGINE
Engine Manufacturer
■ Quiet operation — 65 dBA @ 23 feet
N/A
RECEPTACLES* AND CIRCUIT BREAKERS
10
Fuel Gauge
Standard
Automatic Idle Control
Standard
Sound Level [email protected] 23 ft.
65
DIMENSIONS AND WEIGHT
Length — in. (cm)
45 (114)
Width — in. (cm)
25½ (65)
Height — in. (cm)
31¼ (81)
Dry Weight — lbs. (kg)
527 (239)
OPTIONS
Wheel Kit
WKT225A
Trailer
TRLR10W‡
MULTIQUIP INC.
All features and specifications are subject to change without notice.
Version (05-12_BD)
Units manufactured by Denyo Mfg. Co.
Connect with us on
POST OFFICE BOX 6254
CARSON, CA 90749
310-537-3700 • 800-421-1244
FAX: 310-537-3927
E-MAIL: [email protected]
www.multiquip.com
© COPYRIGHT 2012, MULTIQUIP INC.
Delivers dependable
performance for a variety of
industrial and commercial
applications.