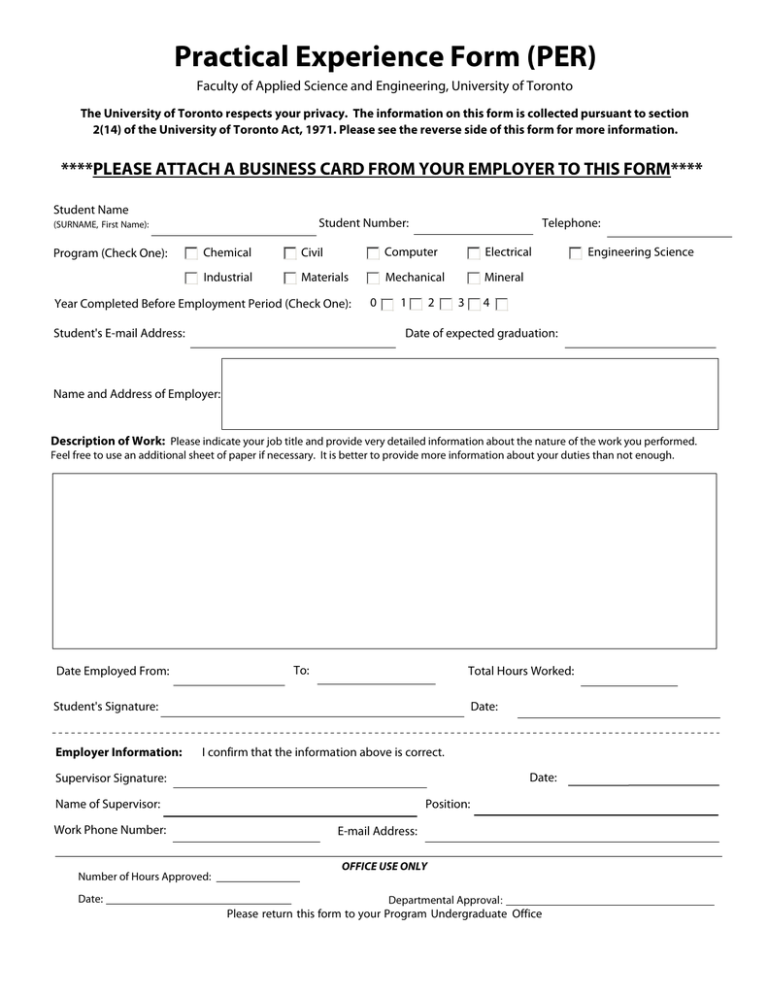 Practical Experience Form (PER)
Faculty of Applied Science and Engineering, University of Toronto
The University of Toronto respects your privacy. The information on this form is collected pursuant to section
2(14) of the University of Toronto Act, 1971. Please see the reverse side of this form for more information.
****PLEASE ATTACH A BUSINESS CARD FROM YOUR EMPLOYER TO THIS FORM****
Student Name
Student Number:
(SURNAME, First Name):
Program (Check One):
Telephone:
Chemical
Civil
Computer
Electrical
Industrial
Materials
Mechanical
Mineral
Year Completed Before Employment Period (Check One):
Student's E-mail Address:
0
1
2
3
Engineering Science
4
Date of expected graduation:
Name and Address of Employer:
Description of Work: Please indicate your job title and provide very detailed information about the nature of the work you performed.
Feel free to use an additional sheet of paper if necessary. It is better to provide more information about your duties than not enough.
To:
Date Employed From:
Total Hours Worked:
Student's Signature:
Employer Information:
Date:
I confirm that the information above is correct.
Date:
Supervisor Signature:
Name of Supervisor:
Work Phone Number:
Number of Hours Approved:
Date:
Position:
E-mail Address:
OFFICE USE ONLY
Departmental Approval:
Please return this form to your Program Undergraduate Office
Practical Experience Form (PER)
Faculty of Applied Science and Engineering, University of Toronto
Information:
Every student must complete a minimum of 600 hours of practical work before graduation. The nature of the work
should form an integral part of a student's education and career development. It therefore must contain a good
measure of responsibility (e.g., management of programs, systems, equipment, personnel, or finances), sound
judgment and effective communication, and be supportive of the professional career of the student after
graduation. Work in many facets of industry, government or public service would be acceptable for this
requirement.
This experience may be obtained at any time during the program or through the Professional Experience Year (PEY)
Program, but work done before entering the Faculty may also meet the requirement. Participation in the PEY or the
Engineering Summer Internship Program automatically satisfies the practical experience requirement, provided
that students complete and submit the requisite reports.
Practical experience certificate forms may be obtained from the Registrar's web site and should be returned when
completed and signed by the employer or supervisor. The satisfaction or non-satisfaction of this requirement for
graduation will be indicated on the student's grade report for session 4H1 S as a grade of CR (Credit) or NCR (No
Credit). Self-employment may be considered for PER, but please speak with your Academic Counsellor first before
relying on this option.
The Professional Engineers of Ontario (PEO) may allow pre-graduation experience to count towards 12 months of
the four year 'engineering experience' required for eligibility for the P.Eng. designation. For further information visit
the PEO web site www.peo.on. Please note that the records required by the PEO are separate and distinct from the
600 hours practical experience required for completion of a degree program in the Faculty of Applied Science and
Engineering.
Practical Experience Form:
Once completed, this form must be signed by you and your supervisor. If available, please attach your employer's business card to this form.
To claim hours for practical experience, you must complete the form and submit it to your program
Undergraduate Office immediately upon completion of each work experience.
Student Signature:
Date:
**Fourth year students who have not completed this requirement will not be eligible to graduate**
The University of Toronto respects your privacy. Personal information that you provide to the University is collected pursuant to
section 2(14) of the University of Toronto Act, 1971. It is collected for the purpose of administering admissions, registration,
academic programs, university-related student activities, activities of student societies, safety, financial assistance and awards,
graduation and university advancement, and reporting to government. The University is also required to report student-level
enrolment-related data to the Ministry of Training, Colleges and Universities as a condition of its receipt of operating grant funding.
The Ministry collects this enrolment data, which includes limited personal information such as Ontario Education Numbers, student
characteristics and educational outcomes, in order to administer government postsecondary funding, policies and programs,
including planning, evaluation and monitoring activities.
At all times it will be protected in accordance with the Freedom of Information and Protection of Privacy Act. If you have questions,
please refer to www.utoronto.ca/privacy or contact the University Freedom of Information and Protection of Privacy Coordinator at
McMurrich Building, room 104, 12 Queen's Park Crescent West, Toronto, ON, M5S 1A8. Tel: 416 946-5835.