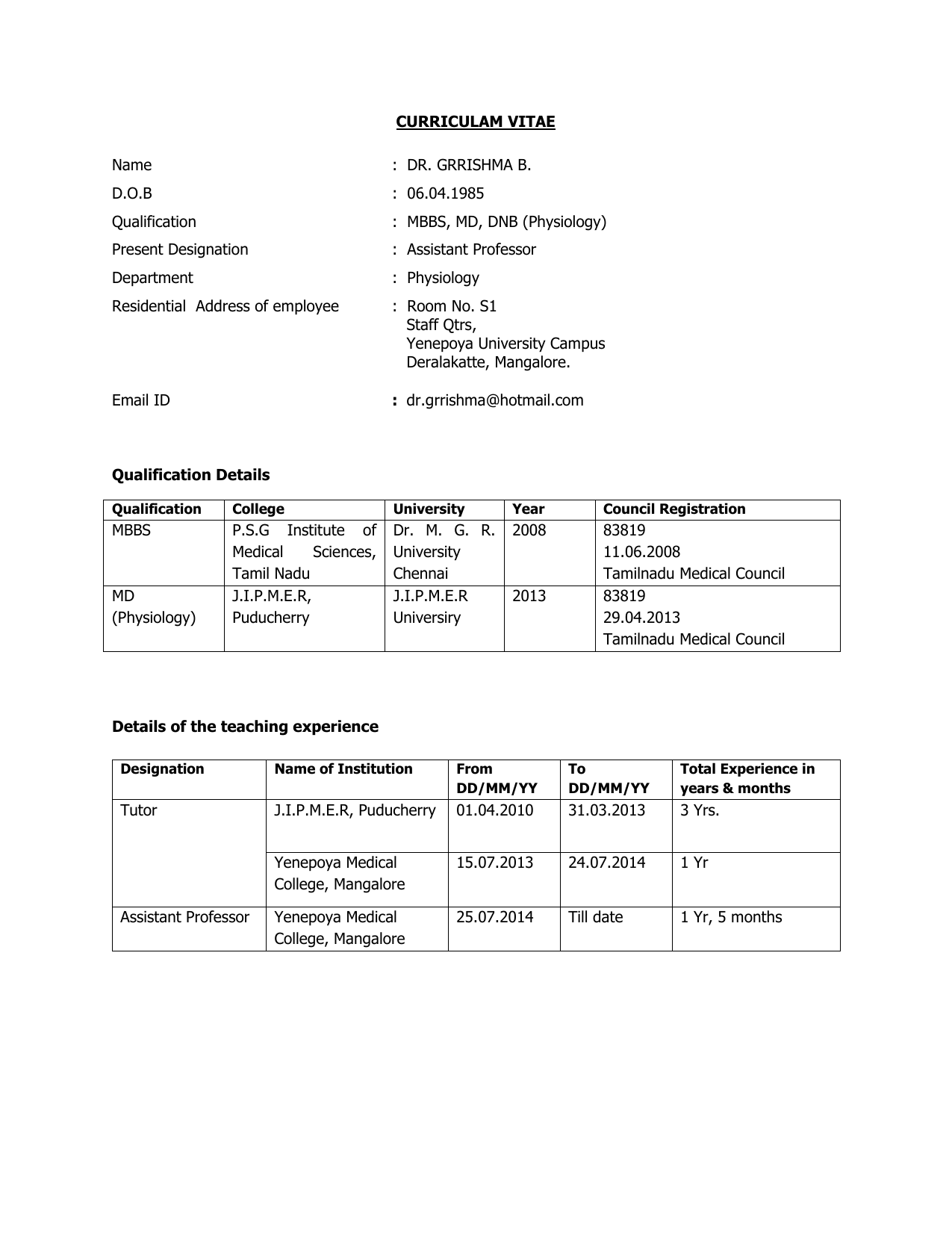 CURRICULAM VITAE
Name
: DR. GRRISHMA B.
D.O.B
: 06.04.1985
Qualification
: MBBS, MD, DNB (Physiology)
Present Designation
: Assistant Professor
Department
: Physiology
Residential Address of employee
: Room No. S1
Staff Qtrs,
Yenepoya University Campus
Deralakatte, Mangalore.
Email ID
: [email protected]
Qualification Details
Qualification
College
University
Year
Council Registration
MBBS
P.S.G Institute of
Medical
Sciences,
Tamil Nadu
J.I.P.M.E.R,
Puducherry
Dr. M. G. R.
University
Chennai
J.I.P.M.E.R
Universiry
2008
83819
11.06.2008
Tamilnadu Medical Council
83819
29.04.2013
Tamilnadu Medical Council
MD
(Physiology)
2013
Details of the teaching experience
Designation
Name of Institution
From
DD/MM/YY
To
DD/MM/YY
Total Experience in
years & months
Tutor
J.I.P.M.E.R, Puducherry
01.04.2010
31.03.2013
3 Yrs.
Yenepoya Medical
College, Mangalore
15.07.2013
24.07.2014
1 Yr
Yenepoya Medical
College, Mangalore
25.07.2014
Till date
1 Yr, 5 months
Assistant Professor
Top 5 Publications :
1. Grrishma B, Gaur GS, Velkumary S, Gurunandan U, Aswini Dutt, Dinesh T. Comparison of hand
and foot reaction times among females- a methodological study using recognition auditory reaction
time. International Journal of Current Research 2013;5(12):4272-74.
2. Grrishma B, Gurunandan U, Gaur Girwar Singh, Shobith Bangera, Aswini Dutt Raghavendra, Dinesh
Thangavel. A Comparative Study on Visual Choice Reaction Time for Different Colors in Females.
Neurology Research International 2014;2014:301473.
3. B. Grrishma, G. S. Gaur, Latha Chaturvedula, S. Velkumary, Senthil Kumar Subramanian and U.
Gurunandan. Assessment of Cardiovascular Autonomic Functions and Baroreceptor Reactivity in
Women with Premenstrual Syndrome. Indian J Physiol Pharmacol 2015;59(2):148-154.
4. Latha Rajendra Kumar, Grrishma B, Umarani J, Anwar Amemar Soofi, Kevin Pinto, Kiran Rao
Chavan, Priya Reshma Aranha, Renita Priya D'souza. Community outreach program on healthy
weight week to create awareness on the influence of behavioral factors on body mass index in
School
children.
International
Journal
of
Applied
Biology
and
Pharmaceutical
Technology2014;5(4):200-05.
5. Dinesh T , Gaur G S, Sharma V K, Madanmohan , Harichandra Kumar KT , Grrishma B. Effect of 6
Weeks of Kapalabhati Pranayama Training on Peak Expiratory Flow Rate in Young, Healthy
Volunteers. Sch. Acad. J. Biosci., 2013; 1(4):111-114.