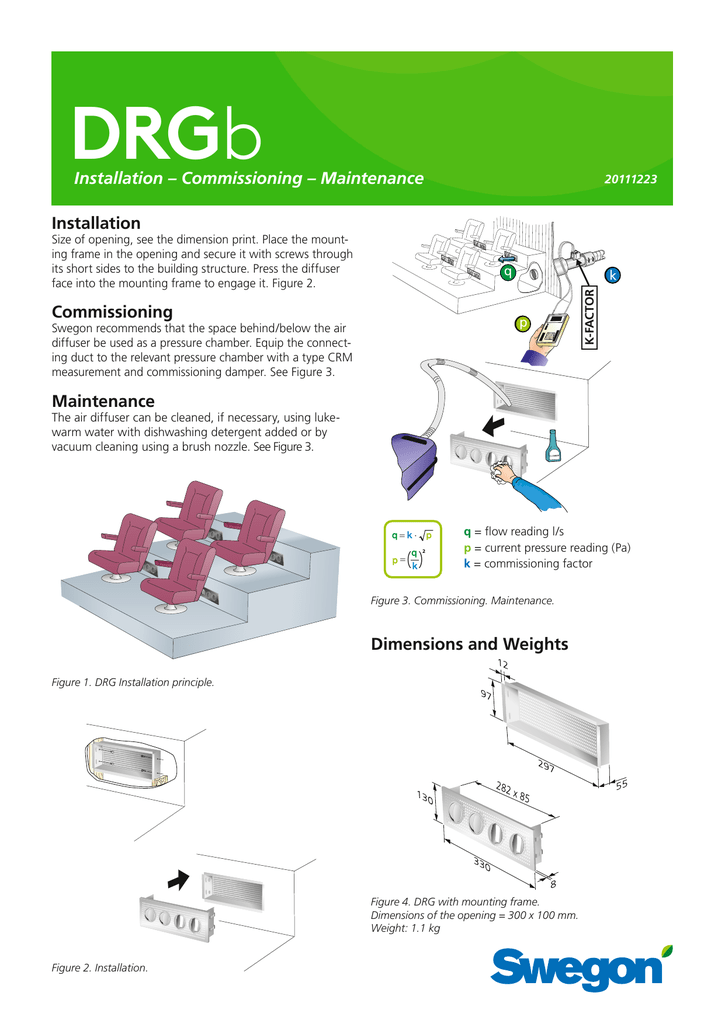 DRGb
Installation – Commissioning – Maintenance
20111223
Installation
Size of opening, see the dimension print. Place the mounting frame in the opening and secure it with screws through
its short sides to the building structure. Press the diffuser
face into the mounting frame to engage it. Figure 2.
q
p
Swegon recommends that the space behind/below the air
diffuser be used as a pressure chamber. Equip the connecting duct to the relevant pressure chamber with a type CRM
measurement and commissioning damper. See Figure 3.
K-FACTOR
Commissioning
k
Maintenance
The air diffuser can be cleaned, if necessary, using lukewarm water with dishwashing detergent added or by
vacuum cleaning using a brush nozzle. See Figure 3.
q=k⋅ p
p=
q
(k)
2
q = flow reading l/s
p = current pressure reading (Pa)
k = commissioning factor
Figure 3. Commissioning. Maintenance.
Dimensions and Weights
Figure 1. DRG Installation principle.
Figure 4. DRG with mounting frame.
Dimensions of the opening = 300 x 100 mm.
Weight: 1.1 kg
Figure 2. Installation.