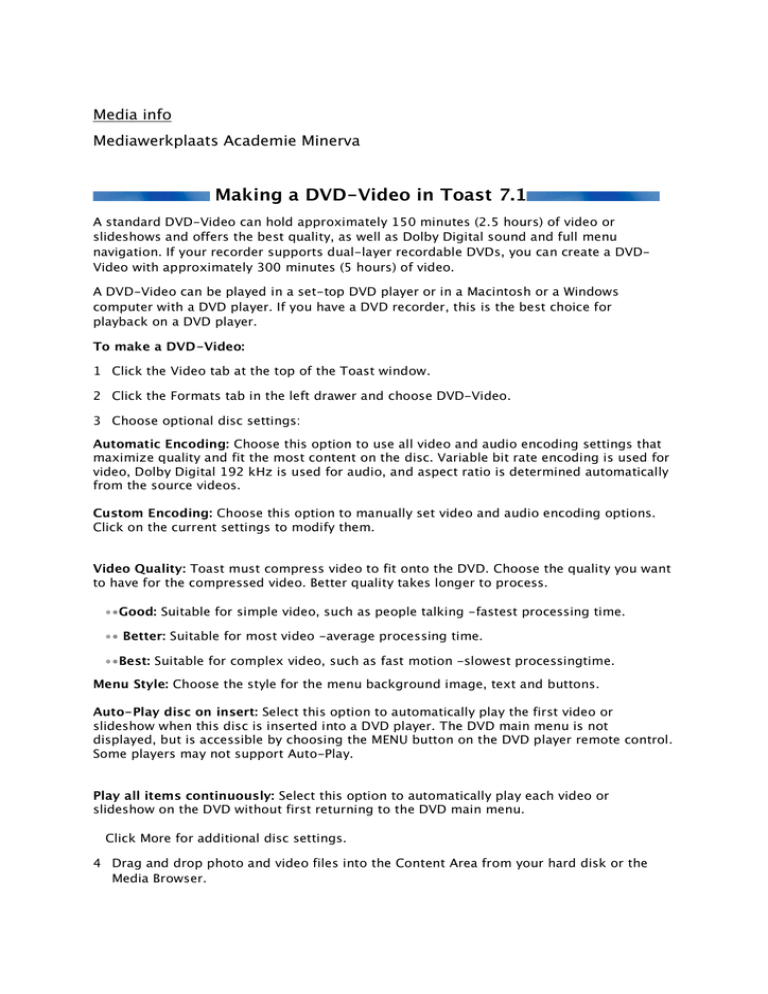 Media info
Mediawerkplaats Academie Minerva
Making a DVD-Video in Toast 7.1
A standard DVD-Video can hold approximately 150 minutes (2.5 hours) of video or
slideshows and offers the best quality, as well as Dolby Digital sound and full menu
navigation. If your recorder supports dual-layer recordable DVDs, you can create a DVDVideo with approximately 300 minutes (5 hours) of video.
A DVD-Video can be played in a set-top DVD player or in a Macintosh or a Windows
computer with a DVD player. If you have a DVD recorder, this is the best choice for
playback on a DVD player.
To make a DVD-Video:
1 Click the Video tab at the top of the Toast window.
2 Click the Formats tab in the left drawer and choose DVD-Video.
3 Choose optional disc settings:
Automatic Encoding: Choose this option to use all video and audio encoding settings that
maximize quality and fit the most content on the disc. Variable bit rate encoding is used for
video, Dolby Digital 192 kHz is used for audio, and aspect ratio is determined automatically
from the source videos.
Custom Encoding: Choose this option to manually set video and audio encoding options.
Click on the current settings to modify them.
Video Quality: Toast must compress video to fit onto the DVD. Choose the quality you want
to have for the compressed video. Better quality takes longer to process.
••Good: Suitable for simple video, such as people talking -fastest processing time.
•• Better: Suitable for most video -average processing time.
••Best: Suitable for complex video, such as fast motion -slowest processingtime.
Menu Style: Choose the style for the menu background image, text and buttons.
Auto-Play disc on insert: Select this option to automatically play the first video or
slideshow when this disc is inserted into a DVD player. The DVD main menu is not
displayed, but is accessible by choosing the MENU button on the DVD player remote control.
Some players may not support Auto-Play.
Play all items continuously: Select this option to automatically play each video or
slideshow on the DVD without first returning to the DVD main menu.
Click More for additional disc settings.
4 Drag and drop photo and video files into the Content Area from your hard disk or the
Media Browser.
To use the Media Browser, click the Media tab in the left drawer. Choose Photos to browse
your iPhoto library, choose Movies to browse your Movies folder, and choose DVD to
browse DVD-Video discs and VIDEO_TS folders. You can also use the "+" button at the
bottom of the Toast window to add files.
You can add any QuickTime supported video files, such as DV, AVI, MOV,
HDV(1080i/720p), and MPEG4. You can also add files that QuickTime doesn't support
such as iMovie HD projects, MPEG-2, VOB and DivX.
To add an iMovie HD project, first save your project and quit iMovie. Then add the
saved iMovie project file into the Content Area. You do not need to do any special
export formatting in iMovie prior to adding the project to Toast.
Each group of photos you add into the Content Area appears as a slideshow. Each
slideshow will have a button in the DVD menu that you can choose to play the
slideshow. You can duplicate, rearrange, remove or edit slideshows
Each video you add into the Content Area will have a button in the DVD menu that you
can choose to play the video. You can duplicate, rearrange, remove or trim videos.
You can also automatically import tape from a DV camcorder for your DVD.
5 Insert a blank recordable DVD.
6 Click the red Record button and choose a recorder from the list and optional
recording settings, such as "Number of Copies."
7 Click Record to continue.
Toast displays a progress bar and status information as it records your disc.
You can preview a DVD prior to burning an actual disc by saving it as a disc image and then
using the Toast Image mounter.
To preview the DVD:
1 Instead of recording, choose File > Save As Disc Image.
2 Select your disc image and choose Utilities > Mount Disc Image.
You can also select the image, control-click and choose Mount It.