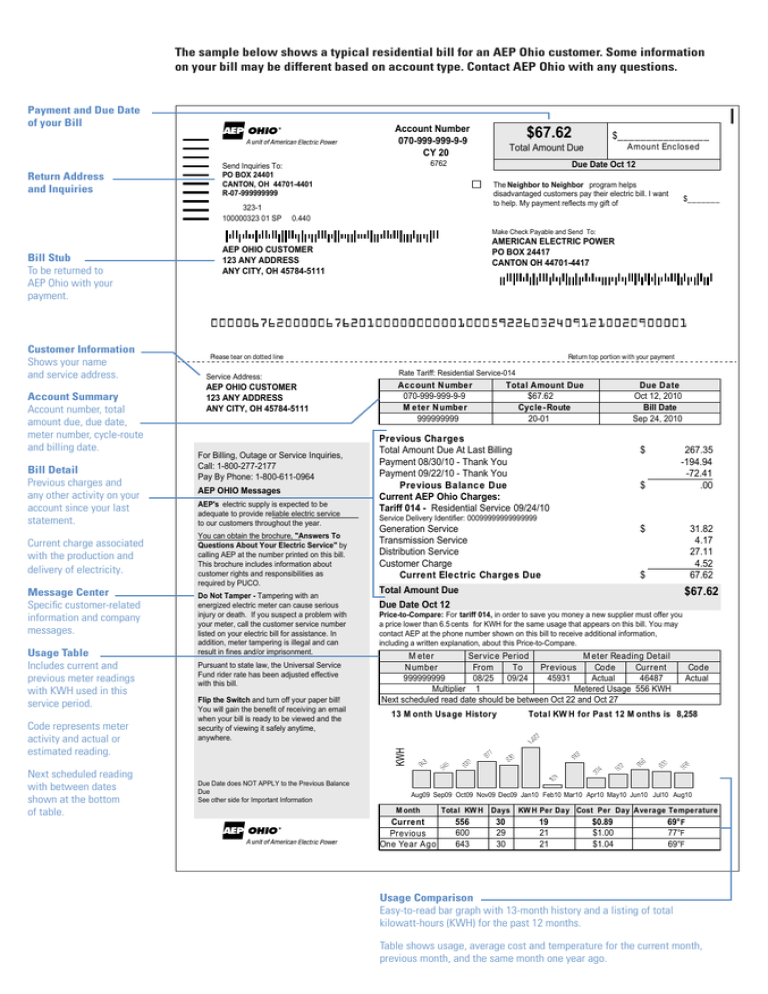 The sample below shows a typical residential bill for an AEP Ohio customer. Some information
on your bill may be different based on account type. Contact AEP Ohio with any questions.
Payment and Due Date
of your Bill
Return Address
and Inquiries
$67.62
Account Number
070-999-999-9-9
CY 20
6762
Send Inquiries To:
PO BOX 24401
CANTON, OH 44701-4401
R-07-999999999
323-1
100000323 01 SP
$________________
Amount Enclosed
Total Amount Due
Due Date Oct 12
The Neighbor to Neighbor program helps
disadvantaged customers pay their electric bill. I want
to help. My payment reflects my gift of
$_______
0.440
Make Check Payable and Send To:
Customer Information
Shows your name
and service address.
Account Summary
Account number, total
amount due, due date,
meter number, cycle-route
and billing date.
Bill Detail
Previous charges and
any other activity on your
account since your last
statement.
Current charge associated
with the production and
delivery of electricity.
Message Center
Specific customer-related
information and company
messages.
Usage Table
Includes current and
previous meter readings
with KWH used in this
service period.
Code represents meter
activity and actual or
estimated reading.
Next scheduled reading
with between dates
shown at the bottom
of table.
AMERICAN ELECTRIC POWER
PO BOX 24417
CANTON OH 44701-4417
AEP OHIO CUSTOMER
123 ANY ADDRESS
ANY CITY, OH 45784-5111
Please tear on dotted line
Service Address:
AEP OHIO CUSTOMER
123 ANY ADDRESS
ANY CITY, OH 45784-5111
For Billing, Outage or Service Inquiries,
Call: 1-800-277-2177
Pay By Phone: 1-800-611-0964
AEP OHIO Messages
AEP's electric supply is expected to be
adequate to provide reliable electric service
to our customers throughout the year.
You can obtain the brochure, "Answers To
Questions About Your Electric Service" by
calling AEP at the number printed on this bill.
This brochure includes information about
customer rights and responsibilities as
required by PUCO.
Do Not Tamper - Tampering with an
energized electric meter can cause serious
injury or death. If you suspect a problem with
your meter, call the customer service number
listed on your electric bill for assistance. In
addition, meter tampering is illegal and can
result in fines and/or imprisonment.
Pursuant to state law, the Universal Service
Fund rider rate has been adjusted effective
with this bill.
Flip the Switch and turn off your paper bill!
You will gain the benefit of receiving an email
when your bill is ready to be viewed and the
security of viewing it safely anytime,
anywhere.
Return top portion with your payment
Rate Tariff: Residential Service-014
Total Amount Due
$67.62
Cycle- Route
20-01
Account N umber
070-999-999-9-9
M eter N umber
999999999
Due Date
Oct 12, 2010
Bill Date
Sep 24, 2010
Previous Charges
Total Amount Due At Last Billing
Payment 08/30/10 - Thank You
Payment 09/22/10 - Thank You
Previous Balance Due
Current AEP Ohio Charges:
Tariff 014 - Residential Service 09/24/10
$
267.35
-194.94
-72.41
.00
$
Service Delivery Identifier: 00099999999999999
Generation Service
Transmission Service
Distribution Service
Customer Charge
Current Electric Charges Due
$
31.82
4.17
27.11
4.52
67.62
$
$67.62
Total Amount Due
Due Date Oct 12
Price-to-Compare: For tariff 014, in order to save you money a new supplier must offer you
a price lower than 6.5 cents for KWH for the same usage that appears on this bill. You may
contact AEP at the phone number shown on this bill to receive additional information,
including a written explanation, about this Price-to-Compare.
M eter Reading Detail
M eter
Service Period
Number
From
To
Previous
Code
Current
999999999
08/25 09/24
45931
Actual
46487
Multiplier 1
Metered Usage 556 KWH
Next scheduled read date should be between Oct 22 and Oct 27
13 M onth Usage History
Code
Actual
Total KW H for Past 12 M onths is 8,258
KWH
Bill Stub
To be returned to
AEP Ohio with your
payment.
Due Date does NOT APPLY to the Previous Balance
Due
See other side for Important Information
Aug09 Sep09 Oct09 Nov09 Dec09 Jan10 Feb10 Mar10 Apr10 May10 Jun10 Jul10 Aug10
M onth
Current
Previous
One Year Ago
Total KW H Days KW H Per Day Cost Per Day Average Temperature
556
600
643
30
29
30
19
21
21
$0.89
$1.00
$1.04
69° F
77°F
69°F
Usage Comparison
Easy-to-read bar graph with 13-month history and a listing of total
kilowatt-hours (KWH) for the past 12 months.
Table shows usage, average cost and temperature for the current month,
previous month, and the same month one year ago.