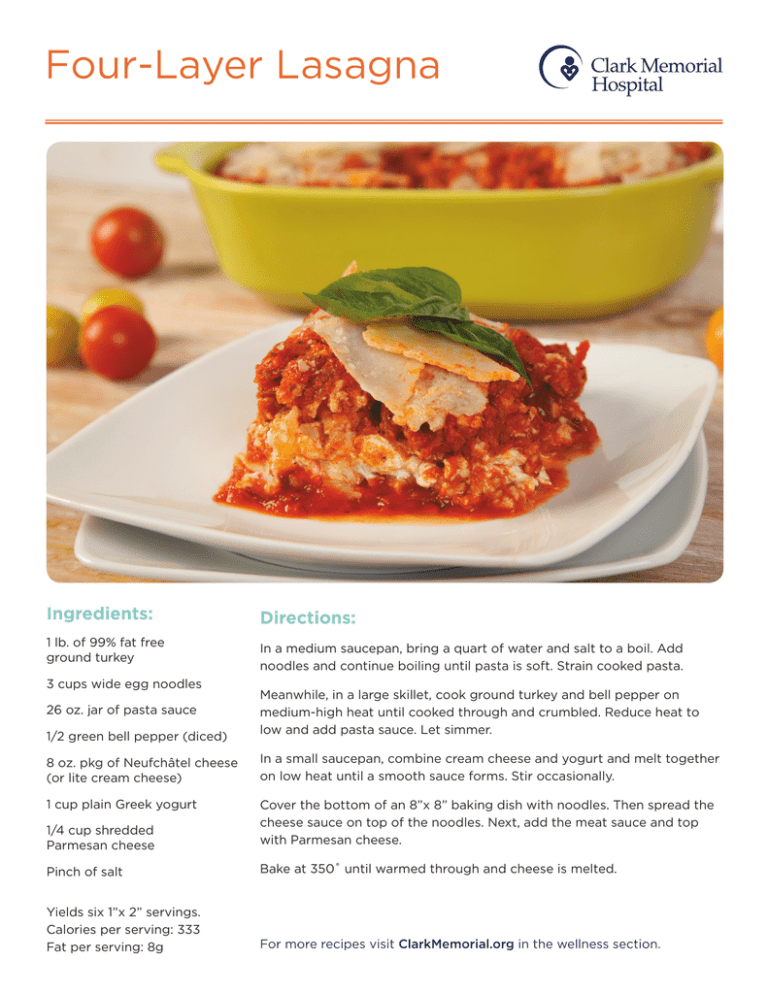 Four-Layer Lasagna
Ingredients:
Directions:
1 lb. of 99% fat free
ground turkey
In a medium saucepan, bring a quart of water and salt to a boil. Add
noodles and continue boiling until pasta is soft. Strain cooked pasta.
3 cups wide egg noodles
26 oz. jar of pasta sauce
1/2 green bell pepper (diced)
Meanwhile, in a large skillet, cook ground turkey and bell pepper on
medium-high heat until cooked through and crumbled. Reduce heat to
low and add pasta sauce. Let simmer.
8 oz. pkg of Neufchâtel cheese
(or lite cream cheese)
In a small saucepan, combine cream cheese and yogurt and melt together
on low heat until a smooth sauce forms. Stir occasionally.
1 cup plain Greek yogurt
1/4 cup shredded
Parmesan cheese
Cover the bottom of an 8"x 8" baking dish with noodles. Then spread the
cheese sauce on top of the noodles. Next, add the meat sauce and top
with Parmesan cheese.
Pinch of salt
Bake at 350˚ until warmed through and cheese is melted.
Yields six 1"x 2" servings.
Calories per serving: 333
Fat per serving: 8g
For more recipes visit ClarkMemorial.org in the wellness section.