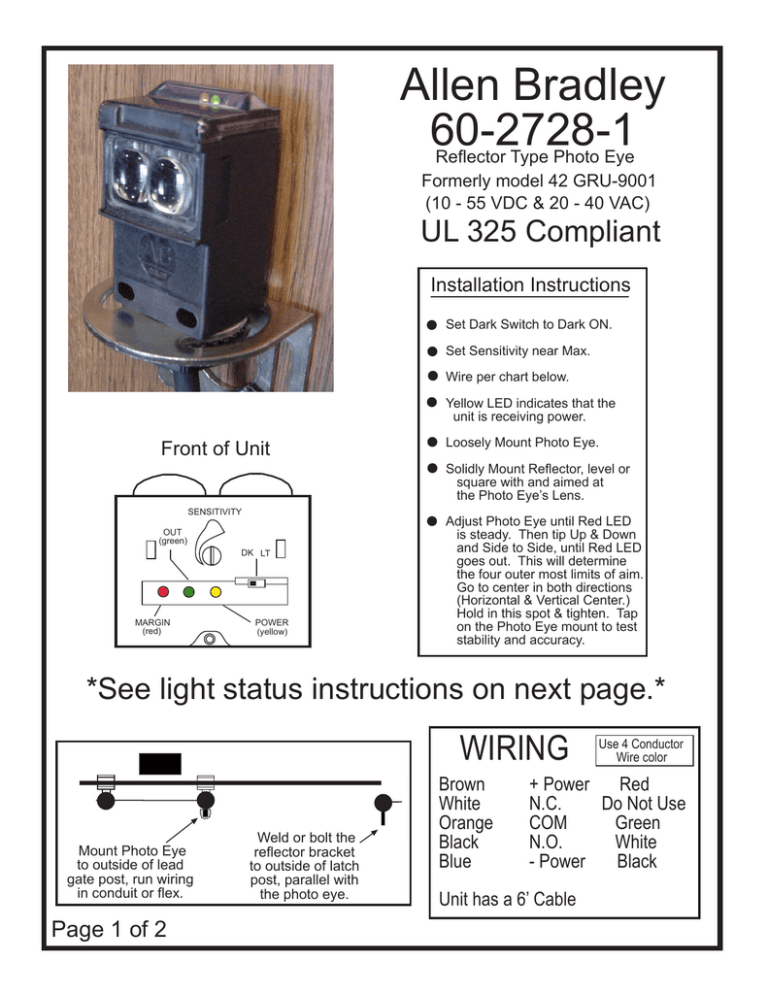 Allen Bradley
60-2728-1
Reflector Type Photo Eye
Formerly model 42 GRU-9001
(10 - 55 VDC & 20 - 40 VAC)
UL 325 Compliant
Installation Instructions
Set Dark Switch to Dark ON.
Set Sensitivity near Max.
Wire per chart below.
Yellow LED indicates that the
unit is receiving power.
Front of Unit
Loosely Mount Photo Eye.
Solidly Mount Reflector, level or
square with and aimed at
the Photo Eye's Lens.
SENSITIVITY
OUT
(green)
DK LT
MARGIN
(red)
POWER
(yellow)
Adjust Photo Eye until Red LED
is steady. Then tip Up & Down
and Side to Side, until Red LED
goes out. This will determine
the four outer most limits of aim.
Go to center in both directions
(Horizontal & Vertical Center.)
Hold in this spot & tighten. Tap
on the Photo Eye mount to test
stability and accuracy.
*See light status instructions on next page.*
WIRING
Mount Photo Eye
to outside of lead
gate post, run wiring
in conduit or flex.
Page 1 of 2
Weld or bolt the
reflector bracket
to outside of latch
post, parallel with
the photo eye.
Brown
White
Orange
Black
Blue
Use 4 Conductor
Wire color
+ Power
Red
N.C.
Do Not Use
COM
Green
N.O.
White
- Power
Black
Unit has a 6' Cable
Allen Bradley
60-2728-1
Reflector Type Photo Eye
Troubleshooting
Typical scenario, gate won't close.
Clean dust, dirt, etc. from the photo eye lenses
and the white reflector. It's best to use Rain X.
This may be the only problem. If the gate still
won't close, continue.
Loosen the screw holding down the plexiglass
cover on top, rear of the photo eye.
Photo Eye should be in DARK MODE. If not,
verify that it is installed per instructions.
Yellow LED will be on if unit is receiving power.
Green LED will be on if unit is obstructed, not
properly aimed,reflector is damaged or dirty.
Front of Unit
Red LED will be on if unit is properly aimed and
not obstructed.
Red LED will be flashing if there is a dead short
or if the unit is receiving too muchpower.
SENSITIVITY
OUT
(green)
To re-aim the Photo Eye, loosen the large black
plastic Photo Eye nut at the bottom of the
bracket. See aiming the instructions in the
Installation Instructions box on Page 1.
DK LT
MARGIN
(red)
POWER
(yellow)
LIGHT STATUS
In Dark On Mode
If unit is in Light Mode, all 3 LED's
ON indicates Normal status.
If Yellow only is on, it indicates an
obstruction or out of aim scenario.
Relay outputs will be backwards
(normally open will read normally
closed & NC will read NO).
Normal
Yellow & Red LED.
Page 2 of 2
Yellow =
Power On
Green =
Relay Energized
RED =
(steady)
Aim OK
(flashing)
Short Circuit
or Overload
Sensing
Yellow & Green LED.
There is an obstruction,
unit needs cleaned or
re-aimed, the reflector
is missing, damaged
or needs cleaned.