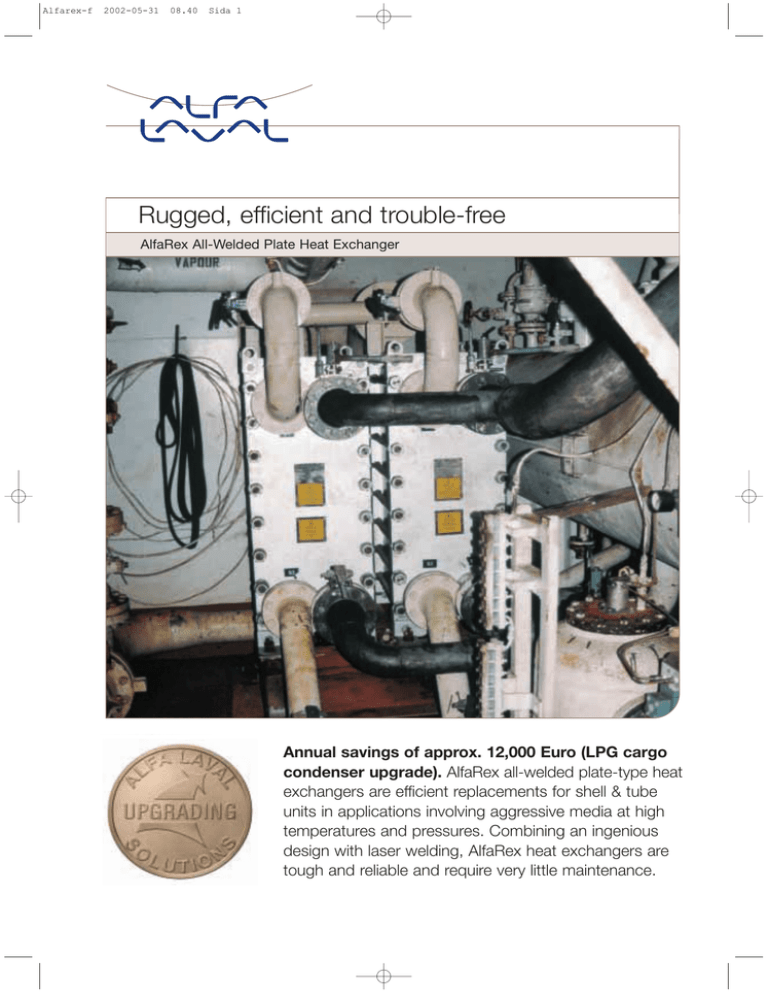 Alfarex-f
2002-05-31
08.40
Sida 1
Rugged, efficient and trouble-free
AlfaRex All-Welded Plate Heat Exchanger
Annual savings of approx. 12,000 Euro (LPG cargo
condenser upgrade). AlfaRex all-welded plate-type heat
exchangers are efficient replacements for shell & tube
units in applications involving aggressive media at high
temperatures and pressures. Combining an ingenious
design with laser welding, AlfaRex heat exchangers are
tough and reliable and require very little maintenance.
Alfarex-f
2002-05-31
08.40
Sida 2
Recognize these problems?
Low-cost, flexible installation.
• High operating costs for operators of chemical product tankers and gas carriers due to worn
shell & tube heat exchangers.
> Compact design; can be installed
without cutting holes in deckhouse
structure (existing shell & tube units
can be cut up and removed, or left
in place).
> Corrosion problems, pitted tubes.
> Pin-holes in tubes.
> Occupies far less space than other
exchangers for a given duty.
> Plugging of tubes.
> Light weight means lower trans-
> Leakage from heat exchangers.
portation and handling costs.
> Cross-contamination: media/fluids.
> Poor performance.
> Frequent costly maintenance
required.
> Frequent cleaning required; difficult
to clean.
• Frequent breakdowns resulting
in unplanned maintenance and
costly downtime.
> Worn-out shell & tube heat
exchangers difficult and costly
to retube; hole must be cut in
deckhouse structure to retube.
Replace your shell & tube
unit with an AlfaRex Plate
Heat Exchanger
> Faster cooling rate than shell & tube.
> Gasket-free design eliminates risk
of leakage.
> Rugged design ensures long service
lifetime.
The bottom line
Upgrading with AlfaRex will reduce
your operating costs. Your local
Alfa Laval representative will be
pleased to show you how you can
save money.
Low-cost, trouble-free operation.
> Titanium plates eliminate risk of
corrosion.
COST BENEFITS
Savings, Euro*
Reduction in energy cost
> Reduced maintenance due to less
heat transfer area; lower maintenance and operating costs.
> No scaling problems. Plate surface
Lower maintenance cost
Less downtime
Longer service lifetime
* Fill in the boxes with your local Alfa Laval representative to
calculate how much you can win by upgrading.
temperature is only 40°C, scaling
does not occur below 45°C.
> Virtually no cleaning required.
High performance and reliability.
> Copes with liquids, gases and
mixtures of liquids and gases.
> Copes with temperatures from
–50°C to +350°C, pressures up
to 40 bar g.
> Turbulent flow gives higher heat
transfer capacity per area unit.
> Low hold-up volume means fast
response.
EPS00003EN 0205
How to contact Alfa Laval
Contact details for all countries are
continually updated on our website.
Please visit www.alfalaval.com to
access the information direct.
> Easy to clean using Alfa Laval
Cleaning in Place, CIP, unit (this
can be permanently installed).
AlfaRex All-Welded
Plate Heat Exchanger
An efficient solution for:
• Dumping condensers
• LPG cargo condensers
• Other demanding heat exchange
applications
Alfa Laval reserves the right to change specifications without prior notification.