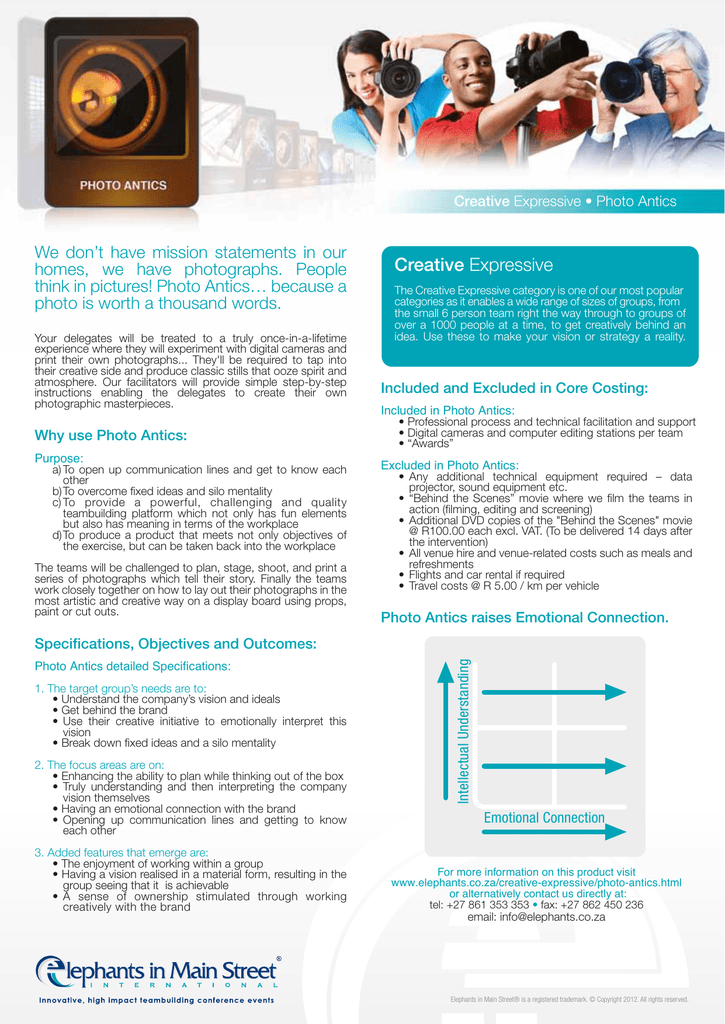 Creative Expressive • Photo Antics
We don't have mission statements in our
homes, we have photographs. People
think in pictures! Photo Antics… because a
photo is worth a thousand words.
Your delegates will be treated to a truly once-in-a-lifetime
experience where they will experiment with digital cameras and
print their own photographs... They'll be required to tap into
their creative side and produce classic stills that ooze spirit and
atmosphere. Our facilitators will provide simple step-by-step
instructions enabling the delegates to create their own
photographic masterpieces.
Why use Photo Antics:
Purpose:
a) To open up communication lines and get to know each
other
b) To overcome fixed ideas and silo mentality
c) To provide a powerful, challenging and quality
teambuilding platform which not only has fun elements
but also has meaning in terms of the workplace
d) To produce a product that meets not only objectives of
the exercise, but can be taken back into the workplace
The teams will be challenged to plan, stage, shoot, and print a
series of photographs which tell their story. Finally the teams
work closely together on how to lay out their photographs in the
most artistic and creative way on a display board using props,
paint or cut outs.
Creative Expressive
The Creative Expressive category is one of our most popular
categories as it enables a wide range of sizes of groups, from
the small 6 person team right the way through to groups of
over a 1000 people at a time, to get creatively behind an
idea. Use these to make your vision or strategy a reality.
Included and Excluded in Core Costing:
Included in Photo Antics:
• Professional process and technical facilitation and support
• Digital cameras and computer editing stations per team
• "Awards"
Excluded in Photo Antics:
• Any additional technical equipment required – data
projector, sound equipment etc.
• "Behind the Scenes" movie where we film the teams in
action (filming, editing and screening)
• Additional DVD copies of the "Behind the Scenes" movie
@ R100.00 each excl. VAT. (To be delivered 14 days after
the intervention)
• All venue hire and venue-related costs such as meals and
refreshments
• Flights and car rental if required
• Travel costs @ R 5.00 / km per vehicle
Photo Antics raises Emotional Connection.
Photo Antics detailed Specifications:
1. The target group's needs are to:
• Understand the company's vision and ideals
• Get behind the brand
• Use their creative initiative to emotionally interpret this
vision
• Break down fixed ideas and a silo mentality
2. The focus areas are on:
• Enhancing the ability to plan while thinking out of the box
• Truly understanding and then interpreting the company
vision themselves
• Having an emotional connection with the brand
• Opening up communication lines and getting to know
each other
3. Added features that emerge are:
• The enjoyment of working within a group
• Having a vision realised in a material form, resulting in the
group seeing that it is achievable
• A sense of ownership stimulated through working
creatively with the brand
Intellectual Understanding
Specifications, Objectives and Outcomes:
Emotional Connection
For more information on this product visit
www.elephants.co.za/creative-expressive/photo-antics.html
or alternatively contact us directly at:
tel: +27 861 353 353 • fax: +27 862 450 236
email: [email protected]
Elephants in Main Street® is a registered trademark. © Copyright 2012. All rights reserved.