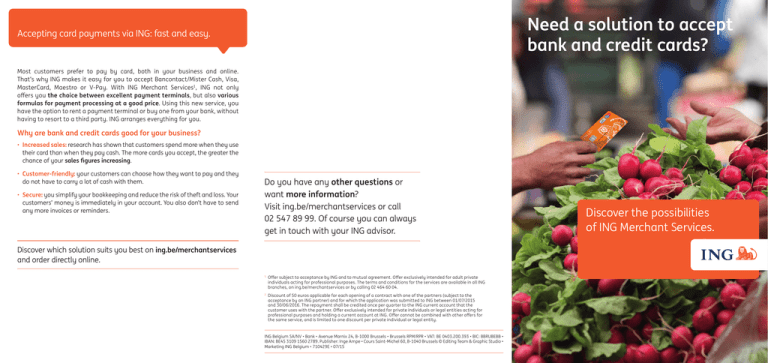 Need a solution to accept
bank and credit cards?
Accepting card payments via ING: fast and easy.
Most customers prefer to pay by card, both in your business and online.
That's why ING makes it easy for you to accept Bancontact/Mister Cash, Visa,
MasterCard, Maestro or V-Pay. With ING Merchant Services1, ING not only
offers you the choice between excellent payment terminals, but also various
formulas for payment processing at a good price. Using this new service, you
have the option to rent a payment terminal or buy one from your bank, without
having to resort to a third party. ING arranges everything for you.
Why are bank and credit cards good for your business?
• Increased sales: research has shown that customers spend more when they use
their card than when they pay cash. The more cards you accept, the greater the
chance of your sales figures increasing.
•Customer-friendly: your customers can choose how they want to pay and they
do not have to carry a lot of cash with them.
•Secure: you simplify your bookkeeping and reduce the risk of theft and loss. Your
customers' money is immediately in your account. You also don't have to send
any more invoices or reminders.
Do you have any other questions or
want more information?
Visit ing.be/merchantservices or call
02 547 89 99. Of course you can always
get in touch with your ING advisor.
Discover which solution suits you best on ing.be/merchantservices
and order directly online.
1
Offer subject to acceptance by ING and to mutual agreement. Offer exclusively intended for adult private
individuals acting for professional purposes. The terms and conditions for the services are available in all ING
branches, on ing.be/merchantservices or by calling 02 464 60 04.
2
Discount of 50 euros applicable for each opening of a contract with one of the partners (subject to the
acceptance by an ING partner) and for which the application was submitted to ING between 01/07/2015
and 30/06/2016. The repayment shall be credited once per quarter to the ING current account that the
customer uses with the partner. Offer exclusively intended for private individuals or legal entities acting for
professional purposes and holding a current account at ING. Offer cannot be combined with other offers for
the same service, and is limited to one discount per private individual or legal entity.
ING Belgium SA/NV • Bank • Avenue Marnix 24, B-1000 Brussels • Brussels RPM/RPR • VAT: BE 0403.200.393 • BIC: BBRUBEBB •
IBAN: BE45 3109 1560 2789. Publisher: Inge Ampe • Cours Saint-Michel 60, B-1040 Brussels © Editing Team & Graphic Studio •
Marketing ING Belgium • 710429E • 07/15
Discover the possibilities
of ING Merchant Services.
Accepting
payment cards
with a terminal.
Quality and security are essential in the processing of electronic payments.
That's why ING not only offers you the choice between mobile or fixed payment
terminals, but also plans for payment processing. The devices operate via the
Internet (via cable, WiFi or 3G connection) and you can buy or rent them.
What's in it for you?
•Inexpensive: you benefit from very competitive rates. When renting, you pay
a fixed monthly sum based on the number of planned Bancontact/Mister Cash
transactions and a low unit cost per additional transaction. If you already have a
payment terminal, there are no fixed monthly fees for accepting card payments.
You will only pay per completed Bancontact / Mister Cash transaction. You
benefit from a preferential rate for transactions less than 10 euros.
• Smooth transition: it is perfectly possible to maintain your current payment
terminal and to leave the payment processing to ING. Select a rate plan for this
via ING.
• User friendly: the payment terminals are fast, reliable, and you can accept
all payment cards with them. Moreover, they are equipped with the latest
technology for contactless payment (via Near Field Communication). This allows
your customers to pay small amounts quickly and securely by holding their
bank card against your payment terminal (if their bank card is equipped with
this function).
• Technical assistance: regardless of whether you rent or buy a device, you can
always count on technical assistance.
•Custom-made formulas: ING offers you various possibilities. Carry out a
simulation at ing.be/merchantservices and discover what suits you best.
You choose what you need depending on your professional situation and the
number of anticipated transactions.
Accepting
payment
cards via your
smartphone or
tablet.
Accepting
payment cards in
your webshop.
If you only have few card payments or you travel extensively, then you can
use ING ActivePay. You connect with the payment terminal using the free app
(Android and iOS) on your smartphone or tablet to accept card payments via
a Bluetooth connection. This service is ideal for those who want to offer an
additional payment service to their customers. Furthermore, it is secure for you
because you don't have to carry lots of cash with you. Naturally, you'll need an
Internet connection (via WiFi or 3G).
It's impossible to think of today's commercial landscape without webshops. Do
you want to start a webshop or place a payment page on your website? ING
supports you in this. To this end, we work together with partners who provide
everything you need: payment modules, plans for payment processing or even a
ready-made webshop.
What's in it for you?
What's in it for you?
• Entry level model: ideal for those who still do not accept card payments. Of
course you can also use this service in addition to your classic fixed payment
terminal.
•Security: our partners have accrued years of expertise and know-how.
•Inexpensive: you don't need to make any major investments because this device
is much cheaper than a traditional mobile payment terminal.
•Flexible: the device is small and fits in your pocket. You can take it everywhere
with you, just like your smartphone. This way you can receive payments
anywhere.
•Practical: the free app provides lots of practical functions and helps you to
manage your transactions. You always have an overview of all your payments
received not only with the card but also cash. This way you simplify your
accounting. Watch the demo video on ing.be/merchantservices.
Discover the different possibilities on ing.be/merchantservices.
•Advantageous: as an ING customer, you benefit from an introductory 50 euro
discount2 with our partners. This benefit applies when setting up a website or
payment page.
• Freedom of choice: you can choose which partner you want to do business with.