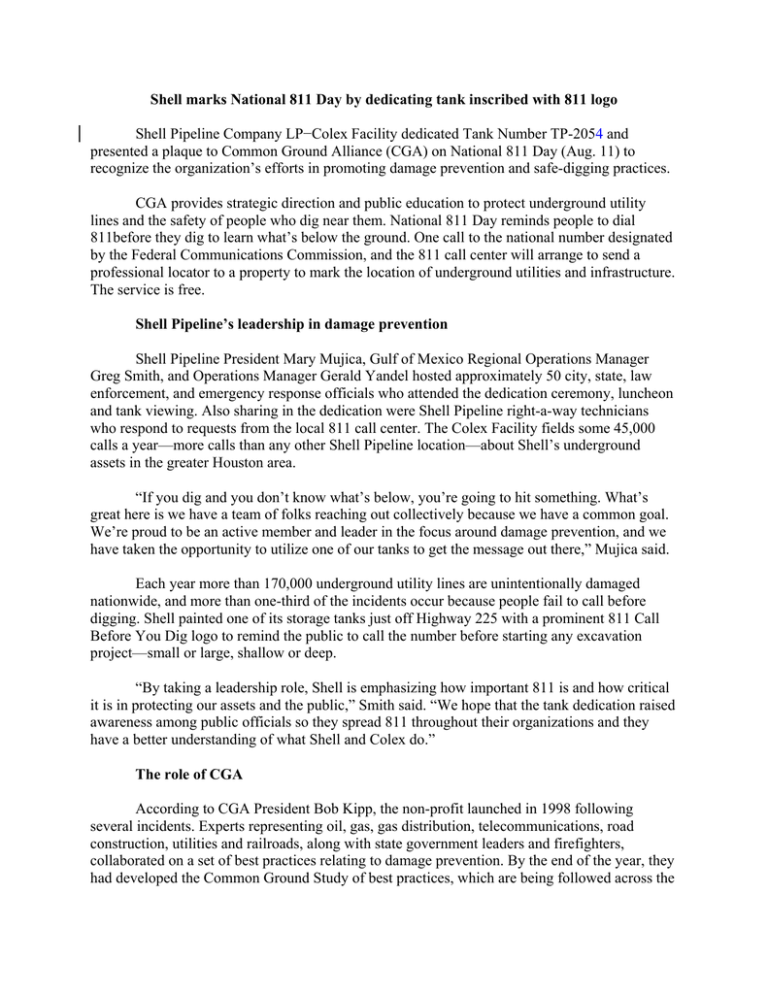 Shell marks National 811 Day by dedicating tank inscribed with 811 logo
Shell Pipeline Company LP−Colex Facility dedicated Tank Number TP-2054 and
presented a plaque to Common Ground Alliance (CGA) on National 811 Day (Aug. 11) to
recognize the organization's efforts in promoting damage prevention and safe-digging practices.
CGA provides strategic direction and public education to protect underground utility
lines and the safety of people who dig near them. National 811 Day reminds people to dial
811before they dig to learn what's below the ground. One call to the national number designated
by the Federal Communications Commission, and the 811 call center will arrange to send a
professional locator to a property to mark the location of underground utilities and infrastructure.
The service is free.
Shell Pipeline's leadership in damage prevention
Shell Pipeline President Mary Mujica, Gulf of Mexico Regional Operations Manager
Greg Smith, and Operations Manager Gerald Yandel hosted approximately 50 city, state, law
enforcement, and emergency response officials who attended the dedication ceremony, luncheon
and tank viewing. Also sharing in the dedication were Shell Pipeline right-a-way technicians
who respond to requests from the local 811 call center. The Colex Facility fields some 45,000
calls a year—more calls than any other Shell Pipeline location—about Shell's underground
assets in the greater Houston area.
"If you dig and you don't know what's below, you're going to hit something. What's
great here is we have a team of folks reaching out collectively because we have a common goal.
We're proud to be an active member and leader in the focus around damage prevention, and we
have taken the opportunity to utilize one of our tanks to get the message out there," Mujica said.
Each year more than 170,000 underground utility lines are unintentionally damaged
nationwide, and more than one-third of the incidents occur because people fail to call before
digging. Shell painted one of its storage tanks just off Highway 225 with a prominent 811 Call
Before You Dig logo to remind the public to call the number before starting any excavation
project—small or large, shallow or deep.
"By taking a leadership role, Shell is emphasizing how important 811 is and how critical
it is in protecting our assets and the public," Smith said. "We hope that the tank dedication raised
awareness among public officials so they spread 811 throughout their organizations and they
have a better understanding of what Shell and Colex do."
The role of CGA
According to CGA President Bob Kipp, the non-profit launched in 1998 following
several incidents. Experts representing oil, gas, gas distribution, telecommunications, road
construction, utilities and railroads, along with state government leaders and firefighters,
collaborated on a set of best practices relating to damage prevention. By the end of the year, they
had developed the Common Ground Study of best practices, which are being followed across the
United States. In some states the practices are becoming law. From 2004 to the present, the
organization has reduced utility damages from 450,000 to 170,000.
"We've cut damages by sixty-some percent across the country," Kipp said. "A lot of it in
the last two years has been recession-based, but if you look at the numbers, they have been on a
downward slope ever since we started."
In addition to the Aug. 11 tank dedication, Shell Pipeline hosts numerous events
throughout the year to promote the national number, including Shell Eco Marathon, Shell
Houston Open and the New Orleans Jazz Fest. Acknowledging Shell's role in helping CGA gain
exposure, Kipp said, "Shell has been one of the big supporters. This year they gave us the logo
on the Harvick car at Talladega (2010 NASCAR Sprint Cup)."
'811 so we don't have to call 911'
Texas State Representative Ken Legler was among several government officials
celebrating National 811 Day at Shell Pipeline. "811 will help solve the problem so we don't
have to call 911. Safety is first, and like Shell and many of the industries I represent, that is the
first concern. I want to make sure that everybody in my district understands that safety comes
first. I appreciate what industry does to get the word out. I think a lot of people don't realize how
much money they spend and what the employees do to make it safe for constituents in my
district," he commented.
Citing the importance of protecting pipelines, Pasadena Mayor Johnny Isbell said, "We
have hundreds of pipelines running through our city. It's extremely important that our city and
residents be aware of the problems with damaging a pipeline. It could be disastrous for our city,
as we've seen in other cities where pipelines have exploded, so it's really critical that all of our
people know about 811."
Gweneyette Broussard, senior legislative and regulatory affairs representative for Shell
Pipeline, believes the event effectively communicated Shell's commitment to safe operations and
public safety both externally and internally.
"At the dedication ceremony we had the leaders of the community who can assist us in
getting out the message about calling 811. It was a wonderful turnout and celebration for a very
important and special day," she said.
Shell employees are encouraged to act as ambassadors by informing their families,
friends and colleagues about calling 811. In Mary Mujica's e-mail about National 811 Day, she
urged Shell Pipeline employees to spread the word by using the embedded links to forward the email to friends and to post it on their preferred social networks. The tie-in with social media
served to reinforce the 811 message and Shell's partnership with CGA.