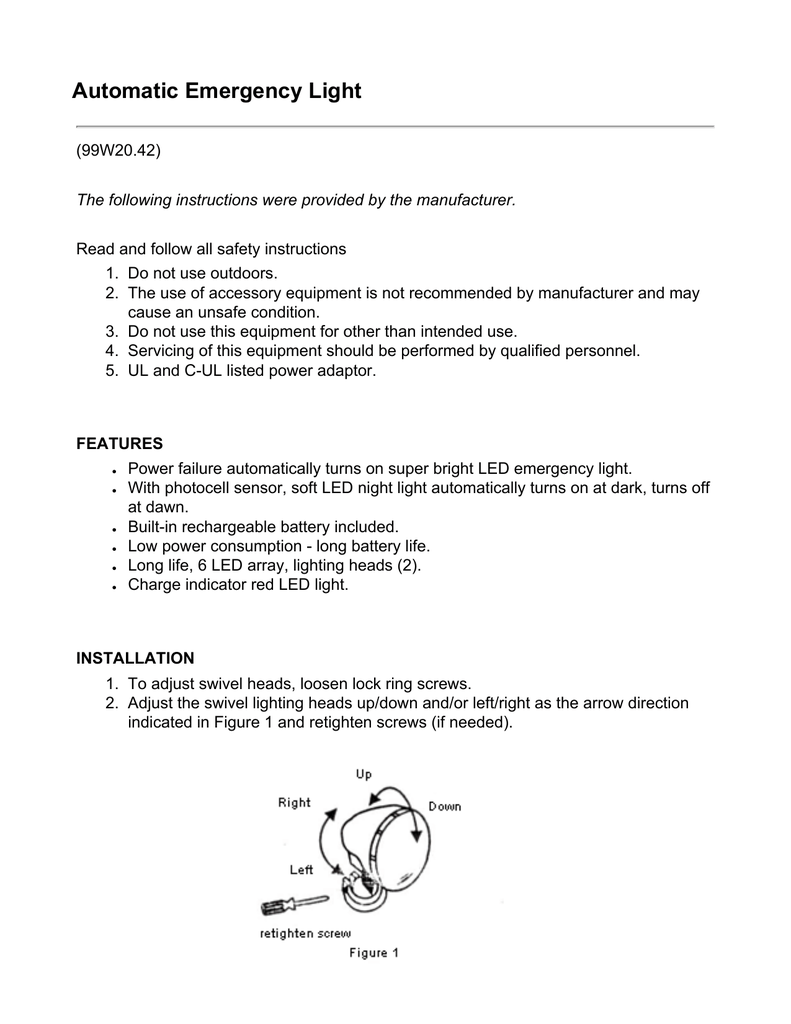 Automatic Emergency Light
(99W20.42)
The following instructions were provided by the manufacturer.
Read and follow all safety instructions
1. Do not use outdoors.
2. The use of accessory equipment is not recommended by manufacturer and may
cause an unsafe condition.
3. Do not use this equipment for other than intended use.
4. Servicing of this equipment should be performed by qualified personnel.
5. UL and C-UL listed power adaptor.
FEATURES
●
●
●
●
●
●
Power failure automatically turns on super bright LED emergency light.
With photocell sensor, soft LED night light automatically turns on at dark, turns off
at dawn.
Built-in rechargeable battery included.
Low power consumption - long battery life.
Long life, 6 LED array, lighting heads (2).
Charge indicator red LED light.
INSTALLATION
1. To adjust swivel heads, loosen lock ring screws.
2. Adjust the swivel lighting heads up/down and/or left/right as the arrow direction
indicated in Figure 1 and retighten screws (if needed).
NOTE: The rotation of the heads is limited (Figure 2). Try not to extend
beyond the angle shown, otherwise it may cause internal mechanical
damage.
3. Utilizing keyhole slots in backplate, mount unit in desired area (anchors and
screws included) (Figure 3).
Plug the power adaptor into the unit and any AC outlet (unit must be plugged into
an AC outlet to charge battery). Allow at least 48-72 hours for battery to be fully
charged to its rated capacity before initial operation (Figure 4).
The charge indicator red LED will stay lit when the unit is plugged into the power adaptor.
OPERATION
1. Set the emergency light switch to "2 Lights," "1 Light" or "OFF."
IMPORTANT - The switch controls the emergency light only.
❍ 2 Lights - both lights come on when power fails.
❍ 1 Light - one light comes on when power fails.
❍ OFF - both lights are off
NOTE: During an electrical power failure, the lights will automatically come
on and last for approximately 20 hours when the switch is set at "2 Lights"
and approximately 48 hours when the switch is set at "1 Light" position.
2. Set the night light switch to ON/AUTO/OFF.
❍
❍
❍
ON - to turn the night light on.
AUTO - there is a built-in photocell sensor to disable the night light in
daytime. The light is only activated at night (dusk).
OFF - to turn the night light off.
NOTE: Will provide 80 hours of continuous utility lighting for night light.
LED bulb life lasts 100,000 hours.
TESTING
To test, depress and hold the "TEST" button located on the lower right side panel of the
lighting system, one or two of the lighting heads should come on. When the button is
released, the light(s) will go off.
The charge indicator red LED will stay lit when the unit is plugged into the power
adaptor.
©Copyright 1998 to 2009 by Lee Valley Tools Ltd. and Veritas® Tools Inc. All rights reserved.