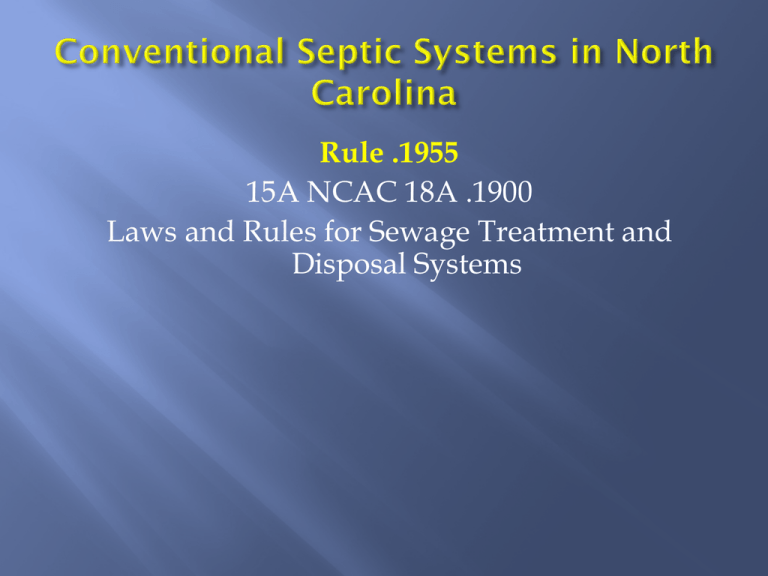 Rule .1955
15A NCAC 18A .1900
Laws and Rules for Sewage Treatment and
Disposal Systems
1.
2.
3.
4.
Collection Lines – carries sewage from facility
to septic tank
Septic Tank - separates, stores, and begins to
treat solid wastes
Distribution System - carries effluent from the
tank to the drain field
Drain Field or Nitrification Field or Soil
Absorption System - generally a series of
perforated drainpipes in aggregate buried in the
ground
Purpose: To convey raw (untreated) sewage from
the house to the septic tank
Requirements: Based on ASTM standards in
accordance with NC Plumbing Code
Requirements:

Scour Velocity
2 ft/sec (half full pipe)
1 ft/sec (full pipe)
Typically 1/8" per foot of fall for raw sewage

Cleanouts every 50' and for bends >45 degrees (4"
sewer lines)
Function as a "black box"
In
???
Out
Septic Tank
Historical Perspective:
"A mysterious contrivance consisting of a vault
hermetically closed by a hydraulic seal…it
rapidly transforms all the excrementitious
matter it receives into a homogeneous fluid…"
Louis Mouras, 1881
Factors influencing biological activity:


Composition of wastewater

Flow quantity and variability

Temperature
Purpose:

Primary Treatment: Solids removal as a function of
quiescence and retention time

Secondary Treatment: Limited anaerobic
decomposition

Storage of accumulated solids
2 compartment tank (required in NC)
Influent
Access
Access
Vent
Effluent
Freeboard
Scum
Liquid
Depth
Sludge
Invert
Baffle
Wall
Sanitary tee
w/ filter
What are septic tank effluent filters?



Mechanical filters
Constructed of corrosion-proof material
Replaces the outlet "T" of the septic tank
Why use effluent filters?



Improve quality of effluent discharged from
septic tanks
Extend life of soil absorption system
Required by North Carolina General Statutes
Purpose:

Conveys effluent from septic tank to distribution device (if
applicable) and to drainlines
Specifications:
–3" or 4" PVC (poly vinyl chloride), PE
(polyethylene) or ABS (acrylonitrilebutadiene-styrene) pipe
–May substitute corrugated PE pipe
(w/proper bedding)
–Minimum fall 1/8" per foot
Purpose:

To convey an equal portion of effluent from the
supply line to each individual drainline
Types: D-Box or Divider Tee
Equal distribution requires equal length
trenches!
Flow Divider
D-Box
Leveling Devices
Plan View:
Drainlines
D-Box
Septic Tank
Purpose:

To fully utilize each individual drainline prior to
distributing effluent to remaining line(s)
Types: Drop Box or Step Down
Serial distribution does not require equal length
trenches!
Plan View: Stepdowns
Septic Tank
Drainlines
Stepdown
Stepdown
Drop Box
Serial distribution does not require equal length
trenches!
Plan View: Drop Boxes
Septic Tank
Drop Boxes
Drainlines
Drainlines
Septic Tank
D-Box
Septic Tank
Drainlines
Stepdown
Stepdown
Specifications:




Leak proof
2' separation to septic tank and drainline(s)
As approved by LHD
Must be demonstrated by installer to perform as
designed
Purpose:

Provide storage of wastewater until treatment and
disposal can occur

Provide surface area at the soil interface for
treatment and disposal
- Trenches level in all directions (maximum fall of 1/4" per 10').
- Trenches shall follow ground contour if slope > 2% OR
- When necessary to maintain trench bottom depth
Crushed Stone Sizes #3, #4, #5, #57, #6
Specified by ASTM Standards
Tire Chips
Corrugated, perforated PE tubing
4" or 6" diameter
3 rows of 1/2" to 3/4" holes
longitudinally ~4" on centers
Orientation
of Holes
(C/S)
Purpose:


To absorb and
physically filter
components from the
effluent as well as
facilitate chemical and
biological remediation
of organic and
pathogenic materials.


Effluent Distribution

Single cells:
- grazers
- particle feeders
- scavengers

Roundworms –
free living
Also common in
activated sludge and
septic tanks.
Feed on chunks of
bacterial
floc.

Aerate soil
Biomat

A relatively
dense sewagedigesting
community of
organisms in
the immediate
area where
the aggregate
component of
the septic
system
contacts the
soil


THE OBJECTIVE OF A
LEACHING FIELD IS TO
PROVIDE UNSATURATED FLOW
OF EFFLUENT TO THE
GROUNDWATER
THE OBJECTIVE OF A
LEACHING FIELD IS TO
PROVIDE UNSATURATED FLOW
OF EFFLUENT TO THE

GROUNDWATER



LTAR – Long Term Acceptance Rate
Stated in gallons per ft² per day (gpd/ft²)
The amount of effluent that can be applied to
the Nitrification field to achieve and maintain
aerobic and unsaturated flow.
Viruses
Putting viruses in
If a sand grain

Reovirus
70-75
nanometer (10-9
meter)
perspective?
Enlarged ~57,000
times
0.5 mm - was similarly
enlarged, = ~ 94 feet high !
That nematode = 180'+ long
The pore space between sand grains = 13
feet wide !
 You would be 60 miles tall !
Early Roman Law
(governing chamber pots)
Dejecti Effusive Act
A person shall be fined and
pay damages to the
injured party for throwing
or pouring "missiles of
mirth" out an open
window and hitting
someone.
Note: Law only applied
during daylight hours.
Questions?