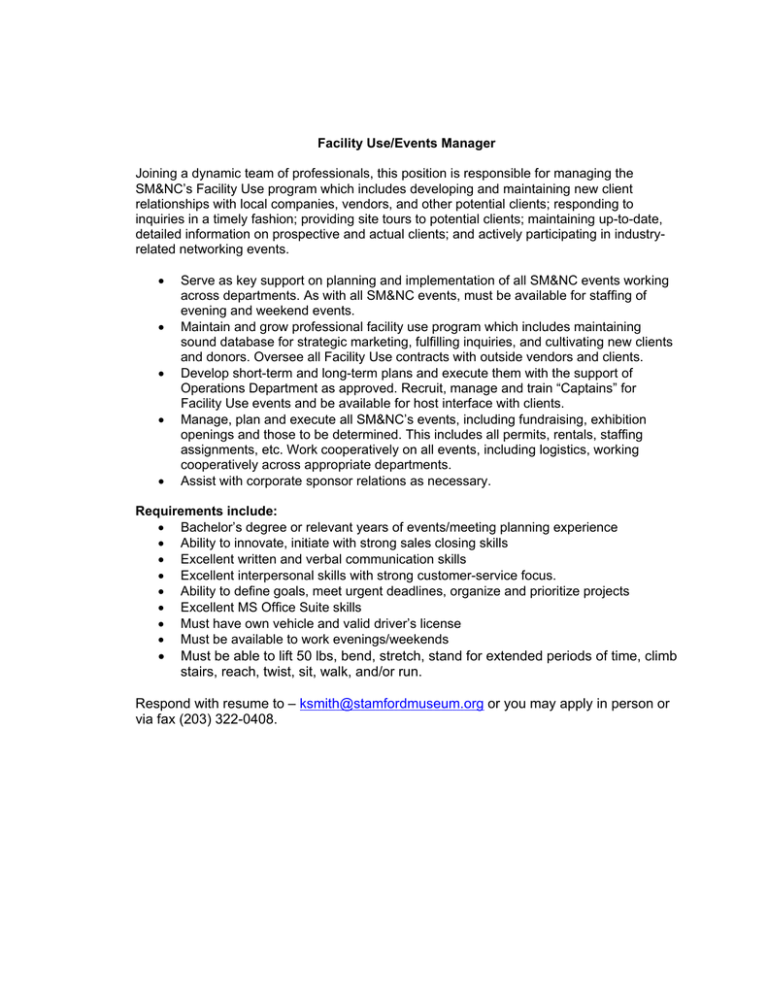 Facility Use/Events Manager
Joining a dynamic team of professionals, this position is responsible for managing the
SM&NC's Facility Use program which includes developing and maintaining new client
relationships with local companies, vendors, and other potential clients; responding to
inquiries in a timely fashion; providing site tours to potential clients; maintaining up-to-date,
detailed information on prospective and actual clients; and actively participating in industryrelated networking events.





Serve as key support on planning and implementation of all SM&NC events working
across departments. As with all SM&NC events, must be available for staffing of
evening and weekend events.
Maintain and grow professional facility use program which includes maintaining
sound database for strategic marketing, fulfilling inquiries, and cultivating new clients
and donors. Oversee all Facility Use contracts with outside vendors and clients.
Develop short-term and long-term plans and execute them with the support of
Operations Department as approved. Recruit, manage and train "Captains" for
Facility Use events and be available for host interface with clients.
Manage, plan and execute all SM&NC's events, including fundraising, exhibition
openings and those to be determined. This includes all permits, rentals, staffing
assignments, etc. Work cooperatively on all events, including logistics, working
cooperatively across appropriate departments.
Assist with corporate sponsor relations as necessary.
Requirements include:
 Bachelor's degree or relevant years of events/meeting planning experience
 Ability to innovate, initiate with strong sales closing skills
 Excellent written and verbal communication skills
 Excellent interpersonal skills with strong customer-service focus.
 Ability to define goals, meet urgent deadlines, organize and prioritize projects
 Excellent MS Office Suite skills
 Must have own vehicle and valid driver's license
 Must be available to work evenings/weekends
 Must be able to lift 50 lbs, bend, stretch, stand for extended periods of time, climb
stairs, reach, twist, sit, walk, and/or run.
Respond with resume to – ksmith@stamfordmuseum.org or you may apply in person or
via fax (203) 322-0408.