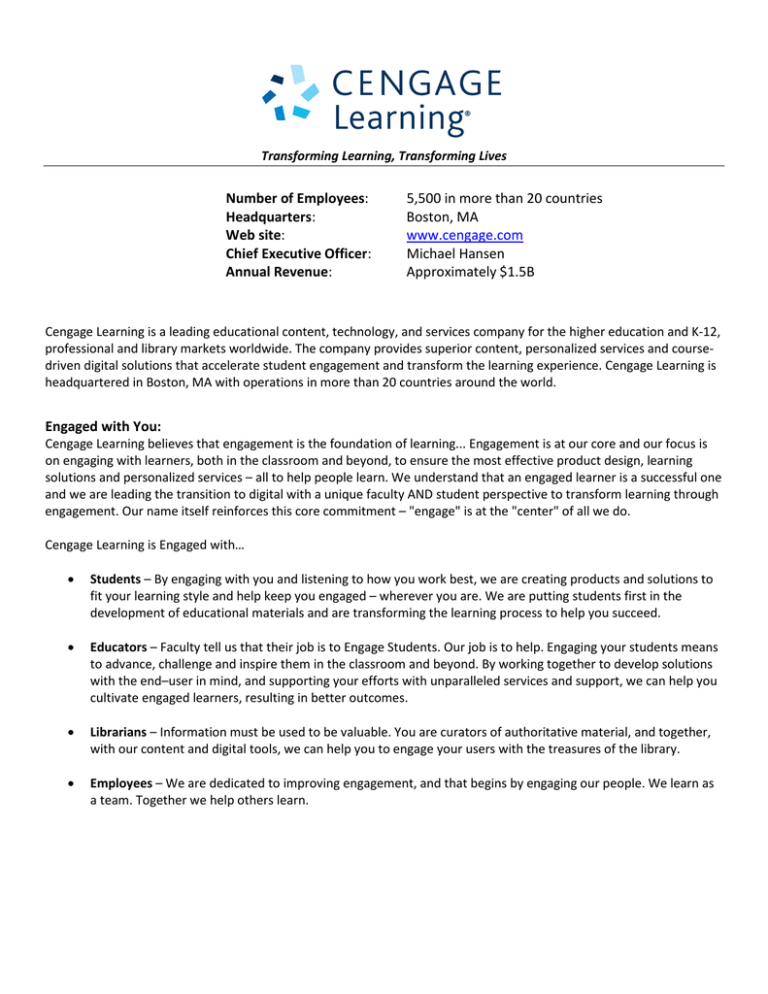 Transforming Learning, Transforming Lives
Number of Employees:
Headquarters:
Web site:
Chief Executive Officer:
Annual Revenue:
5,500 in more than 20 countries
Boston, MA
www.cengage.com
Michael Hansen
Approximately $1.5B
Cengage Learning is a leading educational content, technology, and services company for the higher education and K-12,
professional and library markets worldwide. The company provides superior content, personalized services and coursedriven digital solutions that accelerate student engagement and transform the learning experience. Cengage Learning is
headquartered in Boston, MA with operations in more than 20 countries around the world.
Engaged with You:
Cengage Learning believes that engagement is the foundation of learning... Engagement is at our core and our focus is
on engaging with learners, both in the classroom and beyond, to ensure the most effective product design, learning
solutions and personalized services – all to help people learn. We understand that an engaged learner is a successful one
and we are leading the transition to digital with a unique faculty AND student perspective to transform learning through
engagement. Our name itself reinforces this core commitment – "engage" is at the "center" of all we do.
Cengage Learning is Engaged with…
•
Students – By engaging with you and listening to how you work best, we are creating products and solutions to
fit your learning style and help keep you engaged – wherever you are. We are putting students first in the
development of educational materials and are transforming the learning process to help you succeed.
•
Educators – Faculty tell us that their job is to Engage Students. Our job is to help. Engaging your students means
to advance, challenge and inspire them in the classroom and beyond. By working together to develop solutions
with the end–user in mind, and supporting your efforts with unparalleled services and support, we can help you
cultivate engaged learners, resulting in better outcomes.
•
Librarians – Information must be used to be valuable. You are curators of authoritative material, and together,
with our content and digital tools, we can help you to engage your users with the treasures of the library.
•
Employees – We are dedicated to improving engagement, and that begins by engaging our people. We learn as
a team. Together we help others learn.