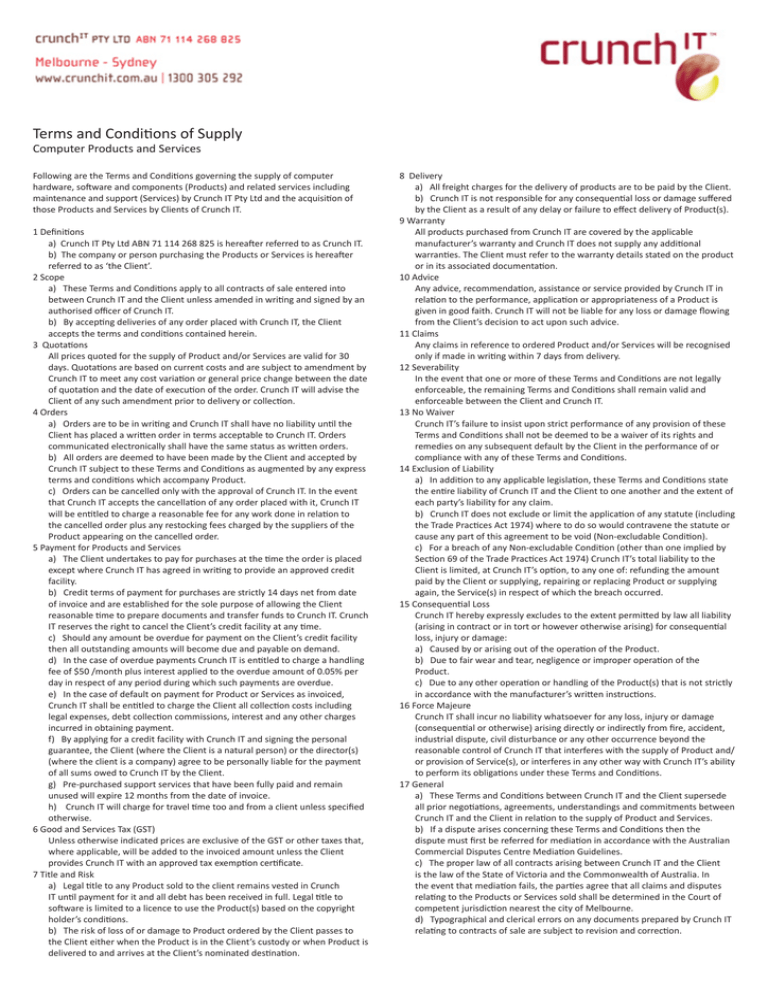 Terms and Conditions of Supply
Computer Products and Services
Following are the Terms and Conditions governing the supply of computer
hardware, software and components (Products) and related services including
maintenance and support (Services) by Crunch IT Pty Ltd and the acquisition of
those Products and Services by Clients of Crunch IT.
1 Definitions
a) Crunch IT Pty Ltd ABN 71 114 268 825 is hereafter referred to as Crunch IT.
b) The company or person purchasing the Products or Services is hereafter
referred to as 'the Client'.
2 Scope
a) These Terms and Conditions apply to all contracts of sale entered into
between Crunch IT and the Client unless amended in writing and signed by an
authorised officer of Crunch IT.
b) By accepting deliveries of any order placed with Crunch IT, the Client
accepts the terms and conditions contained herein.
3 Quotations
All prices quoted for the supply of Product and/or Services are valid for 30
days. Quotations are based on current costs and are subject to amendment by
Crunch IT to meet any cost variation or general price change between the date
of quotation and the date of execution of the order. Crunch IT will advise the
Client of any such amendment prior to delivery or collection.
4 Orders
a) Orders are to be in writing and Crunch IT shall have no liability until the
Client has placed a written order in terms acceptable to Crunch IT. Orders
communicated electronically shall have the same status as written orders.
b) All orders are deemed to have been made by the Client and accepted by
Crunch IT subject to these Terms and Conditions as augmented by any express
terms and conditions which accompany Product.
c) Orders can be cancelled only with the approval of Crunch IT. In the event
that Crunch IT accepts the cancellation of any order placed with it, Crunch IT
will be entitled to charge a reasonable fee for any work done in relation to
the cancelled order plus any restocking fees charged by the suppliers of the
Product appearing on the cancelled order.
5 Payment for Products and Services
a) The Client undertakes to pay for purchases at the time the order is placed
except where Crunch IT has agreed in writing to provide an approved credit
facility.
b) Credit terms of payment for purchases are strictly 14 days net from date
of invoice and are established for the sole purpose of allowing the Client
reasonable time to prepare documents and transfer funds to Crunch IT. Crunch
IT reserves the right to cancel the Client's credit facility at any time.
c) Should any amount be overdue for payment on the Client's credit facility
then all outstanding amounts will become due and payable on demand.
d) In the case of overdue payments Crunch IT is entitled to charge a handling
fee of $50 /month plus interest applied to the overdue amount of 0.05% per
day in respect of any period during which such payments are overdue.
e) In the case of default on payment for Product or Services as invoiced,
Crunch IT shall be entitled to charge the Client all collection costs including
legal expenses, debt collection commissions, interest and any other charges
incurred in obtaining payment.
f) By applying for a credit facility with Crunch IT and signing the personal
guarantee, the Client (where the Client is a natural person) or the director(s)
(where the client is a company) agree to be personally liable for the payment
of all sums owed to Crunch IT by the Client.
g) Pre-purchased support services that have been fully paid and remain
unused will expire 12 months from the date of invoice.
h) Crunch IT will charge for travel time too and from a client unless specified
otherwise.
6 Good and Services Tax (GST)
Unless otherwise indicated prices are exclusive of the GST or other taxes that,
where applicable, will be added to the invoiced amount unless the Client
provides Crunch IT with an approved tax exemption certificate.
7 Title and Risk
a) Legal title to any Product sold to the client remains vested in Crunch
IT until payment for it and all debt has been received in full. Legal title to
software is limited to a licence to use the Product(s) based on the copyright
holder's conditions.
b) The risk of loss of or damage to Product ordered by the Client passes to
the Client either when the Product is in the Client's custody or when Product is
delivered to and arrives at the Client's nominated destination.
8 Delivery
a) All freight charges for the delivery of products are to be paid by the Client.
b) Crunch IT is not responsible for any consequential loss or damage suffered
by the Client as a result of any delay or failure to effect delivery of Product(s).
9 Warranty
All products purchased from Crunch IT are covered by the applicable
manufacturer's warranty and Crunch IT does not supply any additional
warranties. The Client must refer to the warranty details stated on the product
or in its associated documentation.
10 Advice
Any advice, recommendation, assistance or service provided by Crunch IT in
relation to the performance, application or appropriateness of a Product is
given in good faith. Crunch IT will not be liable for any loss or damage flowing
from the Client's decision to act upon such advice.
11 Claims
Any claims in reference to ordered Product and/or Services will be recognised
only if made in writing within 7 days from delivery.
12 Severability
In the event that one or more of these Terms and Conditions are not legally
enforceable, the remaining Terms and Conditions shall remain valid and
enforceable between the Client and Crunch IT.
13 No Waiver
Crunch IT's failure to insist upon strict performance of any provision of these
Terms and Conditions shall not be deemed to be a waiver of its rights and
remedies on any subsequent default by the Client in the performance of or
compliance with any of these Terms and Conditions.
14 Exclusion of Liability
a) In addition to any applicable legislation, these Terms and Conditions state
the entire liability of Crunch IT and the Client to one another and the extent of
each party's liability for any claim.
b) Crunch IT does not exclude or limit the application of any statute (including
the Trade Practices Act 1974) where to do so would contravene the statute or
cause any part of this agreement to be void (Non-excludable Condition).
c) For a breach of any Non-excludable Condition (other than one implied by
Section 69 of the Trade Practices Act 1974) Crunch IT's total liability to the
Client is limited, at Crunch IT's option, to any one of: refunding the amount
paid by the Client or supplying, repairing or replacing Product or supplying
again, the Service(s) in respect of which the breach occurred.
15 Consequential Loss
Crunch IT hereby expressly excludes to the extent permitted by law all liability
(arising in contract or in tort or however otherwise arising) for consequential
loss, injury or damage:
a) Caused by or arising out of the operation of the Product.
b) Due to fair wear and tear, negligence or improper operation of the
Product.
c) Due to any other operation or handling of the Product(s) that is not strictly
in accordance with the manufacturer's written instructions.
16 Force Majeure
Crunch IT shall incur no liability whatsoever for any loss, injury or damage
(consequential or otherwise) arising directly or indirectly from fire, accident,
industrial dispute, civil disturbance or any other occurrence beyond the
reasonable control of Crunch IT that interferes with the supply of Product and/
or provision of Service(s), or interferes in any other way with Crunch IT's ability
to perform its obligations under these Terms and Conditions.
17 General
a) These Terms and Conditions between Crunch IT and the Client supersede
all prior negotiations, agreements, understandings and commitments between
Crunch IT and the Client in relation to the supply of Product and Services.
b) If a dispute arises concerning these Terms and Conditions then the
dispute must first be referred for mediation in accordance with the Australian
Commercial Disputes Centre Mediation Guidelines.
c) The proper law of all contracts arising between Crunch IT and the Client
is the law of the State of Victoria and the Commonwealth of Australia. In
the event that mediation fails, the parties agree that all claims and disputes
relating to the Products or Services sold shall be determined in the Court of
competent jurisdiction nearest the city of Melbourne.
d) Typographical and clerical errors on any documents prepared by Crunch IT
relating to contracts of sale are subject to revision and correction.