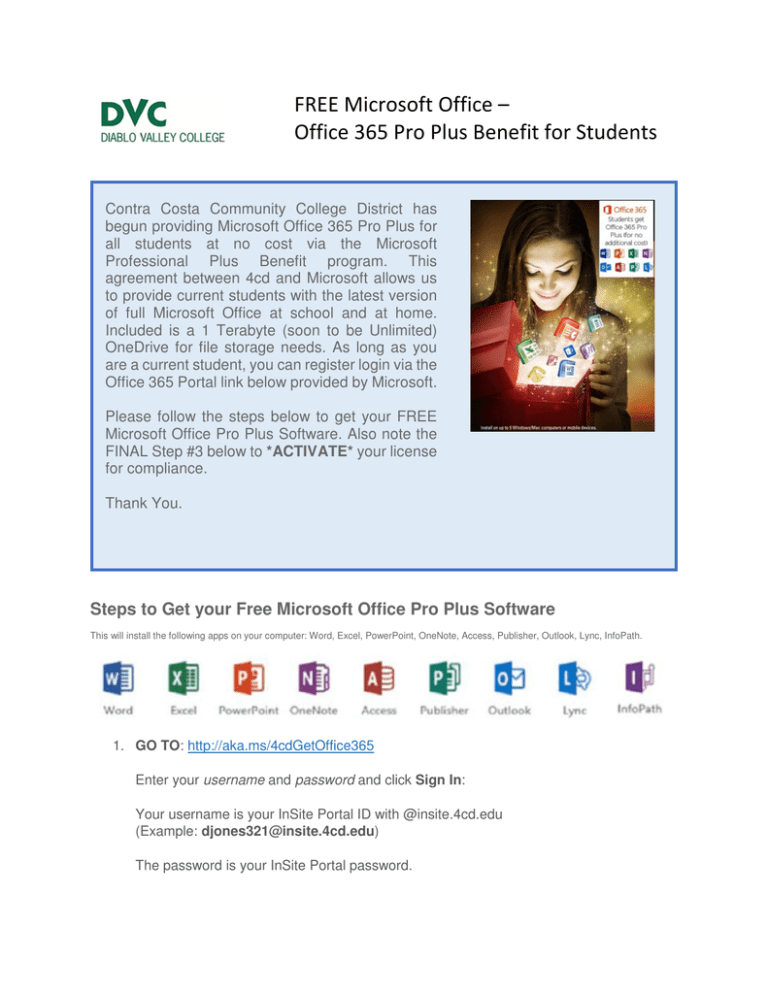 FREE Microsoft Office –
Office 365 Pro Plus Benefit for Students
Contra Costa Community College District has
begun providing Microsoft Office 365 Pro Plus for
all students at no cost via the Microsoft
Professional Plus Benefit program. This
agreement between 4cd and Microsoft allows us
to provide current students with the latest version
of full Microsoft Office at school and at home.
Included is a 1 Terabyte (soon to be Unlimited)
OneDrive for file storage needs. As long as you
are a current student, you can register login via the
Office 365 Portal link below provided by Microsoft.
Please follow the steps below to get your FREE
Microsoft Office Pro Plus Software. Also note the
FINAL Step #3 below to *ACTIVATE* your license
for compliance.
Thank You.
Steps to Get your Free Microsoft Office Pro Plus Software
This will install the following apps on your computer: Word, Excel, PowerPoint, OneNote, Access, Publisher, Outlook, Lync, InfoPath.
1. GO TO: http://aka.ms/4cdGetOffice365
Enter your username and password and click Sign In:
Your username is your InSite Portal ID with @insite.4cd.edu
(Example: djones321@insite.4cd.edu)
The password is your InSite Portal password.
2. Once logged in, click the Install now button
If you are prompted to Run or Save the file, select Run.
If you get a box asking "Do you want to allow the following program to make changes to
this computer?" Click Yes.
Microsoft Office will install in the background and after a few minutes you will receive
notice stating "Welcome to your new Office." At this screen click Next.
Follow the prompts through the installation, selecting the options you want.
3. ACTIVATE
Once install is complete, CLICK
At the Sign In prompt enter your username (example: djones321@insite.4cd.edu) and
password and click Next.
Follow the remaining prompts to complete activation.
Note: *If you don't see the Sign in to Activate, continue below by launching Microsoft Word to
Activate.
Is My Subscription Activated?
Launch Microsoft Word. If you see your username (example: djones321@insite.4cd.edu) in
the upper right hand corner similar to this, YES YOU ARE ACTIVATED, Enjoy Microsoft Office
Pro Plus!
*If you see this below, stating Sign in, click it and enter your username (example:
djones321@insite.4cd.edu) and password to Activate your subscription.