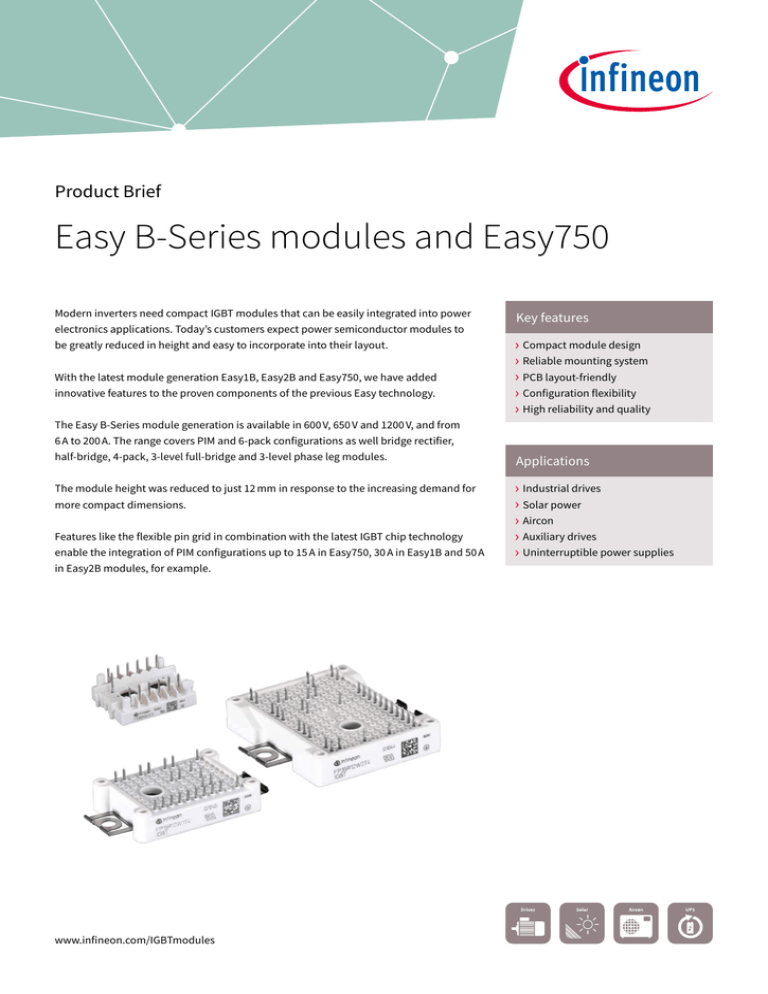 Product Brief
Easy B-Series modules and Easy750
Modern inverters need compact IGBT modules that can be easily integrated into power
electronics applications. Today's customers expect power semiconductor modules to
be greatly reduced in height and easy to incorporate into their layout.
With the latest module generation Easy1B, Easy2B and Easy750, we have added
innovative features to the proven components of the previous Easy technology.
The Easy B-Series module generation is available in 600 V, 650 V and 1200 V, and from
6 A to 200 A. The range covers PIM and 6-pack configurations as well bridge rectifier,
half-bridge, 4-pack, 3-level full-bridge and 3-level phase leg modules.
The module height was reduced to just 12 mm in response to the increasing demand for
more compact dimensions.
Features like the flexible pin grid in combination with the latest IGBT chip technology
enable the integration of PIM configurations up to 15 A in Easy750, 30 A in Easy1B and 50 A
in Easy2B modules, for example.
www.infineon.com/IGBTmodules
Key features
››Compact module design
››Reliable mounting system
››PCB layout-friendly
››Configuration flexibility
››High reliability and quality
Applications
››Industrial drives
››Solar power
››Aircon
››Auxiliary drives
››Uninterruptible power supplies
Product Brief
Easy B-Series modules and Easy750
Easy Solder Pin
PIM
Inom [A]
600 V
sixpack
1200 V
600 V
1200 V
75
50
30
20
15
10
FS75R12W2T4
FP50R06W2E3
FP30R06W1E3
FP35R12W2T4
FS50R06W1E3
FS50R12W2T4
FS30R06W1E3
FS35R12W1T4
FS20R06W1E3
FP20R06W1E3
FP25R12W2T4
FS20R06VE3_B2
FS25R12W1T4
FP15R12W1T4
FP15R06W1E3
FP15R12W2T4
FS15R06VE3_B2
FP10R06W1E3
FP10R12W1T4
FS10R06VE3_B2
6
Easy750
Easy1B
Easy2B
FS6R06VE3_B2
Easy PressFIT
Inom [A]
PIM
600 V
sixpack
1200 V
600 V
75
50
30
1200 V
FS75R12W2T4_B11
FP50R06W2E3_B11
FP30R06W1E3_B11
FP35R12W2T4_B11
FS50R06W1E3_B11
FS50R12W2T4_B11
FS30R06W1E3_B11
FS35R12W1T4_B11
FS20R06W1E3_B11
20
FP20R06W1E3_B11
FP25R12W2T4_B11
15
FP15R06W1E3_B11
FP15R12W1T4_B11
10
FP10R06W1E3_B11
FP10R12W1T4_B11
FS25R12W1T4_B11
6
Published by
Infineon Technologies AG
85579 Neubiberg, Germany
© 2016 Infineon Technologies AG.
All Rights Reserved.
Please note!
THIS DOCUMENT IS FOR INFORMATION PURPOSES ONLY AND
ANY INFORMATION GIVEN HEREIN SHALL IN NO EVENT BE
REGARDED AS A WARRANTY, GUARANTEE OR DESCRIPTION OF
ANY FUNCTIONALITY, CONDITIONS AND/OR QUALITY OF OUR
PRODUCTS OR ANY SUITABILITY FOR A PARTICULAR PURPOSE.
WITH REGARD TO THE TECHNICAL SPECIFICATIONS OF OUR
PRODUCTS, WE KINDLY ASK YOU TO REFER TO THE RELEVANT
PRODUCT DATA SHEETS PROVIDED BY US. OUR CUSTOMERS AND
THEIR TECHNICAL DEPARTMENTS ARE REQUIRED TO EVALUATE
THE SUITABILITY OF OUR PRODUCTS FOR THE INTENDED
APPLICATION.
WE RESERVE THE RIGHT TO CHANGE THIS DOCUMENT AND/OR
THE INFORMATION GIVEN HEREIN AT ANY TIME.
Order Number: B133-H9054-V7-7600-EU-EC-P
Date: 05 / 2016
Easy1B
Easy2B
Additional information
For further information on technologies, our products, the
application of our products, delivery terms and conditions
and/or prices, please contact your nearest Infineon Technologies
office (www.infineon.com).
Warnings
Due to technical requirements, our products may contain
dangerous substances. For information on the types in question,
please contact your nearest Infineon Technologies office.
Except as otherwise explicitly approved by us in a written
document signed by authorized representatives of Infineon
Technologies, our products may not be used in any lifeendangering applications, including but not limited to medical,
nuclear, military, life-critical or any other applications where a
failure of the product or any consequences of the use thereof
can result in personal injury.