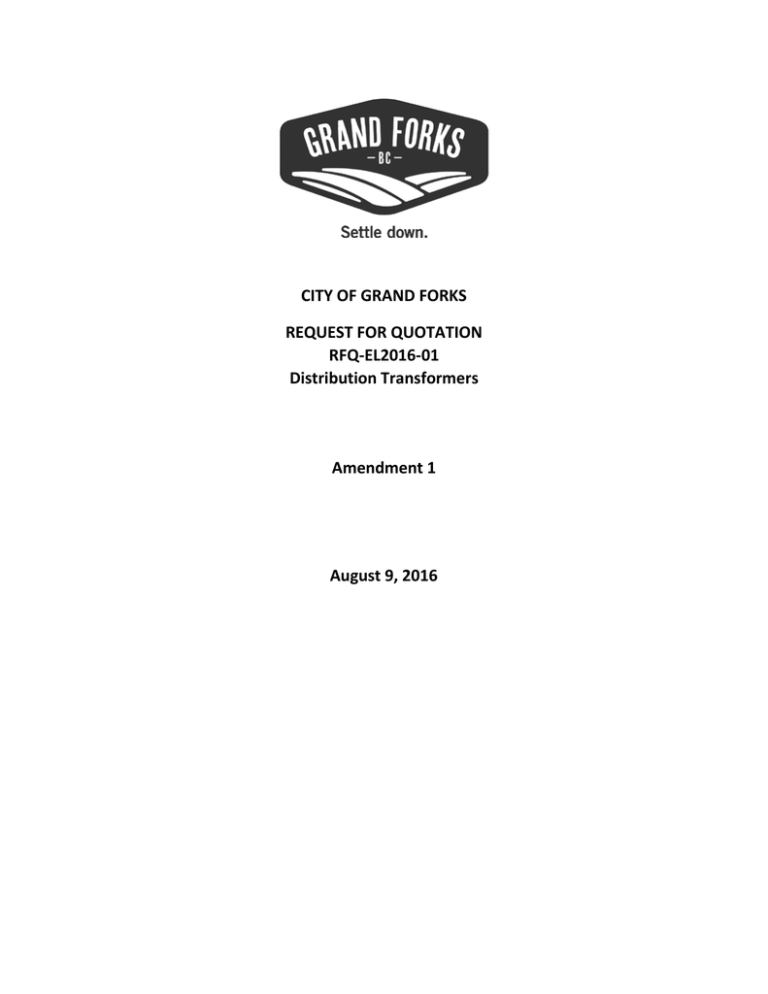 CITY OF GRAND FORKS
REQUEST FOR QUOTATION
RFQ-EL2016-01
Distribution Transformers
Amendment 1
August 9, 2016
Add Section 12.0 to RFQ-EL2016-01
12.0 – Question and Answers
Q1: Taps are required on the 7,200V winding are they also required on the 2,400V windings?
A1: Taps are for the 7,200 V winding. For operation at 2,400V it is acceptable that the tap changer
must be positioned at Neutral (100%). If the vendor offers a tap changer that functions over the
full range of 95 to 105% at both voltages that is also acceptable.
Q2: The Tender is for Pole Mount Distribution transformers, How do the amendments to C227.3
and C227.4 affect this order?
A2: Amendments in sec 1.2 and 1.3 are generic for quotations including pad mount transformers.
Since this quote is for Pole Mount units only amendments to C227.3 and C227.4 do not apply.
Please note the Sec 1.1 amendments to C2.2-06 do apply.
Q3: How will the losses be factored into the quotation evaluation?
A3: Quotes will be evaluated on a Total ownership Cost (TOC) basis with losses valued at:
No Load Losses = $ 7.0497
Load Losses = $ 1.7624
Hence the TOC = (Quote Price) + $ 7.0497 x (No Load Losses) + $ 1.7624 x (Load Losses)
All else being equal Grand Forks will evaluate quotes based on Total Ownership Cost, not solely
the quoted price.